Hassan is seven years old. He loves sitting on the shikara, a wooden boat, as Abba rows it through the beautiful Dal Lake in Srinagar, Kashmir. It's autumn and the breeze is cool but not unfriendly. There is an uneasy silence in Srinagar, something Hassan isn't used to.
The city had been deserted since the past month. There are a lot of soldiers in every nook and corner, and people are not allowed to go out as easily as before.
As the shikara wades through the lake, Hassan hears a rumble. He looks down
at his tummy and frowns. There are two things Hassan loves, shikara rides
and food.
Hassan clutches his tummy and looks at the other shikaras, tied at the banks. Everyone is at home. Some shikaras have round flowers on them. Their shape reminds him of pooris.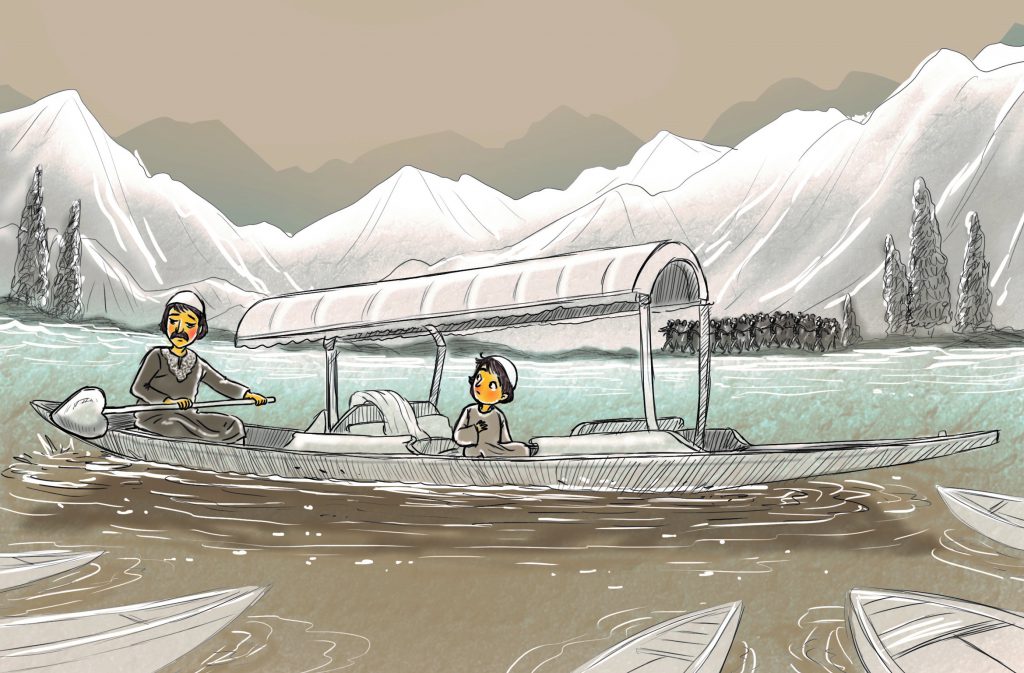 Hassan looks at Abba with big brown eyes. Abba is busy ferrying the empty shikara to the side of the Dal Lake, his eyes searching for something. They haven't had even a single tourist and Abba is worried because no tourists mean no money.
Hassan hears the rumble again and closes his eyes. Images of magical
round sweet swims through his mind. Roth or yummy scrumptious cookies come to his mind. He can smell the cardamom. He can see the sugar sprinkled on them. He can taste the crumbling butter. The image explodes with flavours.
Suddenly, Hassan sits upright. Maybe he will ask Ammi to make those yummy round pieces of delight again. Not roth, the other savoury ones. His newfound love.
Hassan leans on the sides of the shikara and his thoughts go back to few months ago. He vividly remembers the two kids yelling at each other.
Abba was ferrying a family on vacation on Dal Lake and Hassan was helping Abba. Hassan had found the twins interesting. Listening to them talk, he couldn't understand the language, but he hadn't seen anyone twist their tongue like that while speaking.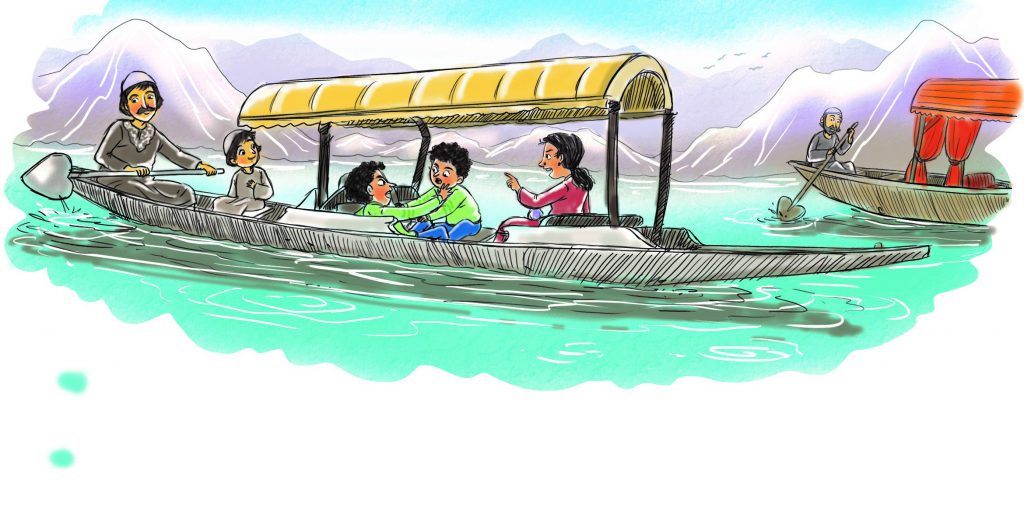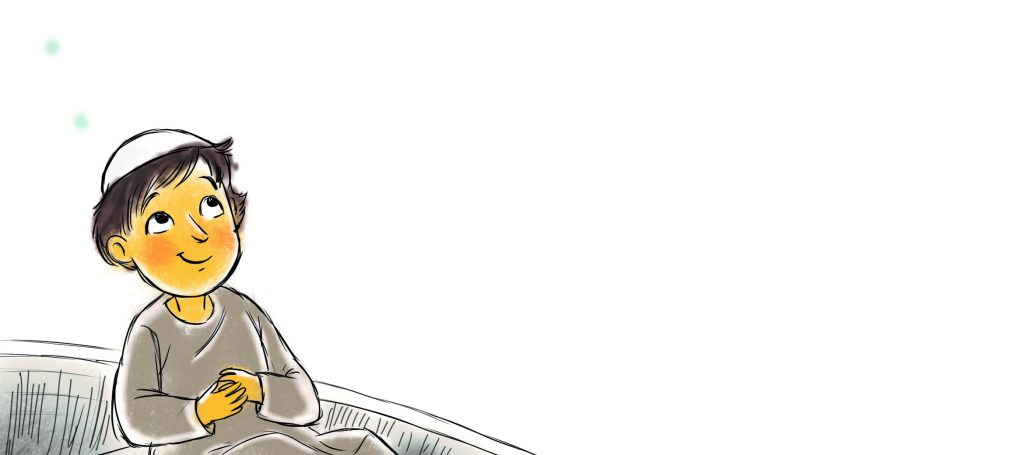 The twins had been pulling each other's hair. "Subbu. Srini. Sit down and don't rock the shikara. Remember, this is your last ride before we catch our flight home." The mother had scolded the boys.
"Amma, it's Srini. I didn't do anything. And why is this our last shikara ride?" One of the twins had said.
Hassan looked at them unable to hide a smile. They were identical—he wondered how their Amma told them apart.
"I will explain it to you later when we are on the way home. Here, eat something," said Amma, holding out a cloth bag to the twins.
As soon as the twins tore open the bag. Hassan's eyes and nose betrayed him. He saw two round light brown pieces he hadn't seen before.
Everything was forgotten. The twins forgot their fight and Hassan forgot his hunger. "You both get one each. Don't quarrel," said Amma.
Srini frowned and took one piece. As he bit into it, Hassan could hear the crush of fresh and fried flour. The round piece broke into small pieces of deliciousness
in his mind. Srini licked his lips and so did Hassan.
Hassan was drowning in the sound of heaven. It was at that moment, from the corner of his eyes, he noticed Subbu come flying at Srini, grabbing his snack. In a split second, Srini tumbled down and his tiny feet slipped over the sides of the shikara.
There was dead silence on the shikara. In the most heroic moment of his life, Hassan leapt to the side and held on to Srini's wrist who hung on to dear life.
The silence was broken by screams filling the air. Abba put the oars on the side and came running to help the children. Within seconds, Srini was pulled and everyone rejoiced.
Amma pulled a shaken Srini and scared Subbu into a tight embrace.
With a grateful smile and tears of relief in her eyes, Amma turned to Hassan, "Thank you so much, son. Would you like some?" she asked, pushing the cloth bag filled with savoury magic towards Hassan who couldn't have asked for more.
With a shy smile, Hassan picked one, biting into it. Instantly, his mouth was filled with the taste of roasted rice, spluttering cumin and dainty sesame seeds. He looked down at the remaining crescent in his hand. This tasted better than roth.
"Would you like some more murukku?" Subbu asked Hassan as he wiped his nose, who nodded because he couldn't speak.
Hassan rushed home that day and asked Ammi to make murukkus for him, afraid that she wouldn't know how to. But she had and how delicious they had been.
"Hassan," Abba called.
But Hassan didn't hear. He was still lost in a world where a dozen giant murukkus were swimming around his shikara.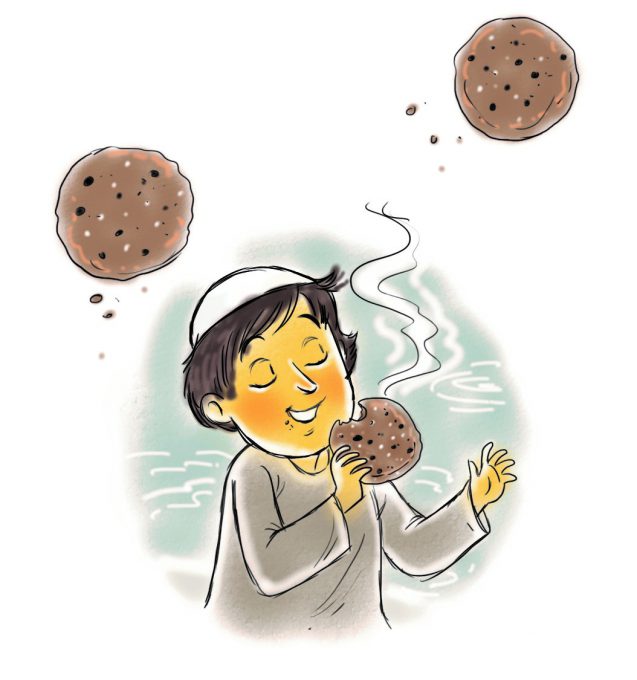 "HASSAN," Abba's loud voice pulled him out of his daydream.
Depositing the shikara and locking it up safely at the boarding point, Hassan and Abba started walking home.
Walking through the roads, Hassan heard a group of grown-ups talking about an 'Article'. Hassan knew all about articles and prepositions but wasn't sure why everybody was suddenly so interested in them.
Racing the last few yards, Hassan reached home and sat on the steps waiting for Ammi. The roads were deserted and empty. Ali and Imran, his best friends, had not come out to play since the last few weeks. Abba had asked Hassan not
to burst the leftover firecrackers from Eid. Hassan was sad, but soon he started thinking of murukkus again.
"Hassan, your school will remain shut this week, too. You have to stay at home. No going outside and playing," said Abba sternly.
'Where is Ammi?' Hassan asked impatiently, school and games are forgotten.
"The phones are still not working so I haven't been able to reach her. I hope she is safe. You wait here while I go look for her again. Stay at home, Hassan." Abba said, his voice unusually firm.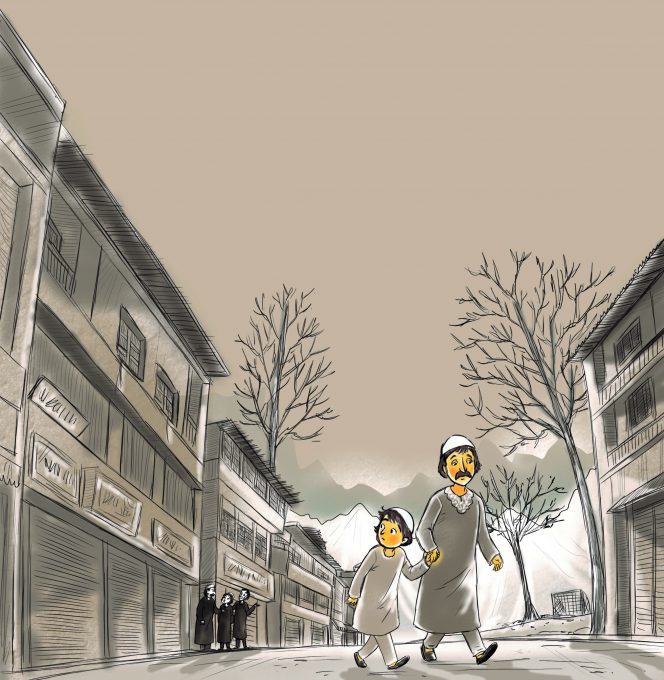 Hassan nods mindlessly and doesn't notice Abba's bleak eyes. All he could think of was telling Ammi to make those murukkus again, as soon as she got home.