More from Champak
Moti was looking for a place to sleep. Read more to know what followed when he slept inside a drum.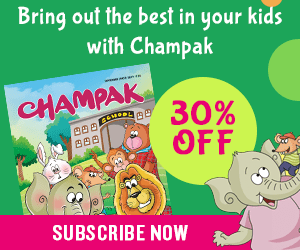 Deepti was very sad. She had lost Mittu, her pet dog. The previous evening, she had gone for her piano classes. She had taken Mittu with her. Mittu was playing in the garden of the piano teacher's house. When the class was over, Deepti went to the garden to fetch Mittu. However, Mittu was nowhere to be found. She had yelled, cried and shouted out Mittu's name at least a thousand times. Mittu never replied. She had walked home. She sadly told her Mom that Mittu was missing.
Mom reassured Deepti, "Don't worry my dear, Mittu is very clever. He will soon come home. Now, eat your snacks and start on your homework."
Deepti concentrated on her studies. After having dinner, she went to sleep.
A week passed. There was no sign of Mittu. Deepti's Dad said, "We will soon buy a new puppy. You can play with him."
Deepti missed playing with her dog. Every day, Mittu used to accompany Deepti up to the school bus. Her friends always played with Mittu. Whenever Deepti's friends did not come to play with them, Mittu used to play hide and seek with Deepti. It was fun playing with Mittu. Mittu used to sleep under Deepti's bed. Deepti felt that she could not love any other dog. She only wanted Mittu. Day by day, she became quieter and sadder.
One day, Deepti's dad took her to an exhibition. He wanted her to enjoy herself. The exhibition was very big and had lots of games. Deepti's dad got her a new teddy bear.
He said, "Deepti, now you can play with this teddy whenever you feel bored."
Deepti said, "Thank you, daddy. This is only a toy. My Mittu was real."
A little later, there was an announcement
"Welcome to the grand exhibition. Here comes our next item, "The Dog Show.' See cute dogs perform different tricks, stunts and dances".
Deepti told her Dad and Mom, "Please come with me. I want to see the dog show."
They went to the centre of the exhibition ground. They took their seats and watched the show. Many dog owners proudly brought their dogs to the stage and ordered them to sit, jump and dance. The dogs obeyed their masters. As the shows went on, Deepti watched with great enthusiasm. Suddenly, she got up from her chair and jumped up and down.
She cried loudly, "Mittu, this is my Mittu."
Hearing her cry, a cute dog jumped from the stage and started running towards her. It was her Mittu! Deepti was so happy that she cried and hugged Mittu. Mittu also licked Deepti. He showed his affection by barking happily. Deepti's dad and mom were so relieved. Finally, they could see that their daughter was happy.
Meanwhile, someone from the stage came down and said, "Do you know Tommy? One day I saw him running in the middle of the road. There was a lot of traffic. I thought that this dog would get hurt. So, I took it with me."
Deepti said, "Yes, it is my pet dog, Mittu. I lost him. Thank you for saving my dog's life and taking care of him."
The gentleman said, "Oh, it is my pleasure. Mittu is very cute and smart. I had real fun with him. Anyway, since it is yours, you can now take him."
Mittu barked loudly. He was also saying thank you to the gentleman. Deepti and Mittu happily walked away.