More from Champak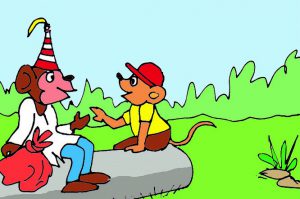 Is Jumpy monkey really a magician? Find out with Cheeku and Meeku!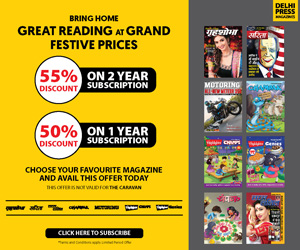 Minku, the mouse was always cheerful and loved to have fun. He had left a good impression on all the animals in the jungle.
Nandu, the elephant on the other hand was jealous that the animals loved Minku more and didn't love him as much. Out of jealousy, he would not only trouble Minku but all his other friends too. Pandu, the bear, Rana, the monkey, Kanu, the deer and Gillo, the squirrel would face his wrath as well. While Minku and the others tried being friends with Nandu, he never accepted their friendship and would always trouble them.
Minku and the others decided to play an April Fool's prank on Nandu. According to the plan Rana was supposed to befriend Nandu by the first of April and he had succeeded.
On April 1, Rana was riding on Nandu's back. Rana came close to Nandu's ears and said, "Hey Nandu, lets go down to the river bank. I heard the banana trees have borne ripe bananas."
"Ripe bananas? I love ripe bananas. Let's go!" said Nandu
When they reached the banana trees full of ripe bananas, they found a basket full of the yummy fruits.
"Look over there, Nandu," said Rana. "It's a basket full of bananas. I wonder who they belong to?"
"Why don't we ask?" suggested Nandu.
Rana called out loud, "Hey! Is there anybody here? Is this your basketful of bananas?" Rana called out loud a few more times but he got no answer. There was nobody nearby.
Nobody except for Minku and the rest of the gang who were hiding close by, ready for phase two of the plan to begin.
Nandu was finding it hard to control himself. The smell of the bananas was driving him crazy and if he could, he would eat all the bananas in one go. "I don't think anybody is coming to claim these bananas Rana. Let's just eat them," he said.
He gave Rana a few bananas and quickly began peeling the rest. "Such fresh bananas!" he exclaimed before putting them in his mouth."
Behind them, Minku and the others were trying hard not to laugh. Nandu popped banana after banana into his mouth.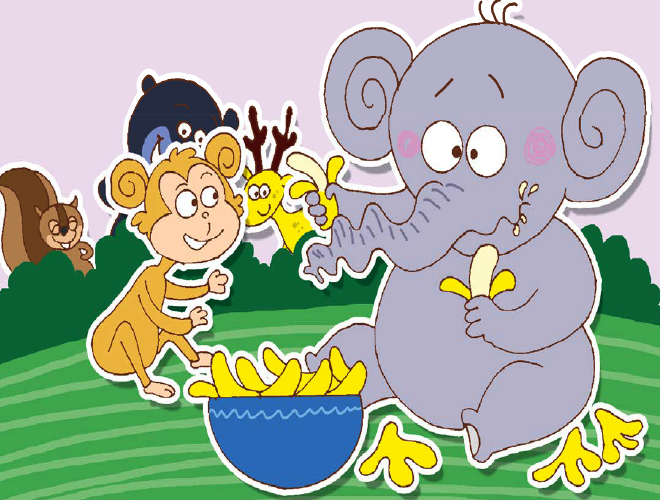 Suddenly Nandu stopped. There was a foul, bitter taste in his mouth.
"What's the matter, Nandu?" asked Rana.
Nandu immediately began spitting the bananas out of his mouth. When he noticed that the bananas were stained bright red, his heart skipped a beat.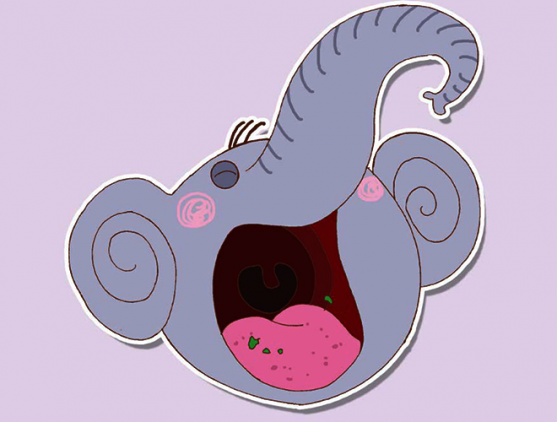 "What is that Nandu?" asked Rana looking frightened.
Nandu took off in the direction of Dr. Max, the dog's clinic paying no attention to Rana's cries asking him to stop.
Minku, Rana and the rest of their gang ran behind Nandu to witness what was going to happen at Dr. Max's clinic.
When Nandu reached Dr. Max's clinic, he was out of breath. With difficulty, he managed to say "Doctor… my mouth."
Dr. Max was taken aback by Nandu's state. "How did you hurt your mouth Nandu?" asked Dr. Max. "Do you still feel any pain?"
"No doctor, I didn't hurt myself," said Nandu.
Dr. Max took a closer look inside Nandu's mouth with a torch. He found no injuries there. But when he noticed the little pieces of betel leaves in his mouth, he laughed.
"What is it doctor?" asked Nandu. "Will I be ok?"
"You are going to be fine Nandu," said the doctor. "It seems like somebody has played an April fool's day prank on you. It seems you have eaten a whole bunch of betel leaves along with the bananas. That is why your mouth is red."
"It was a prank?" asked Nandu looking confused. "But who would want to play a prank on me?"
Nandu heard Minku, Rana and all the other animals burst in to laughter behind him. It didn't take Nandu long to figure out who was behind the prank now. He realized that if he got upset, the others would make even more fun of him. So instead, he began to laugh too.
Danny, the donkey brought out a huge bouquet with a card that read "Happy April fooľs Day!" Nandu graciously accepted it.
"Tell me, how did you guys pull off the prank?" he asked.
"It took a little effort, but it was worth it." said Minku. "We picked the best bananas and soaked them in neem leaf and bitter gourd juice. We filled another set with betel leaves and the third set we left as it was."
"We placed the ones with the neem leaves at the bottom," Rana added, "the ones with the betel leaves in the middle and left the plain bananas at the top. This way you would spit the bananas out only after eating the betel leaves and Rana could eat a few without any trouble."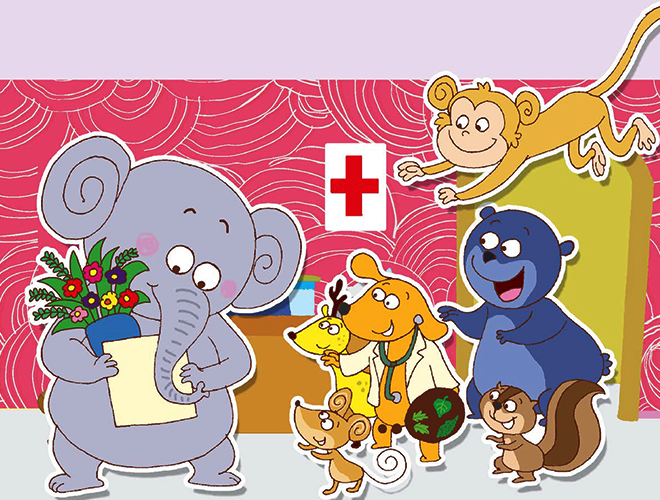 They all had another hearty laugh and took Nandu out for ice-cream to make up for the prank. Ever since that day Nandu was accepted as part of the gang