The afternoon heat in Champakvan was unbearable. Cheeku rabbit was thirsty. He went to the nearby pond to drink water. No one was sitting by the pond except him.
"I will quickly drink some water and go home," he thought.
But as soon as his tongue touched the water, he heard a terrifying animal hissing. He jumped back and looked up.
He saw large bubbles coming out on the surface of the water, but he could not see anyone there. He silently kept watching the surface for some time but saw no one.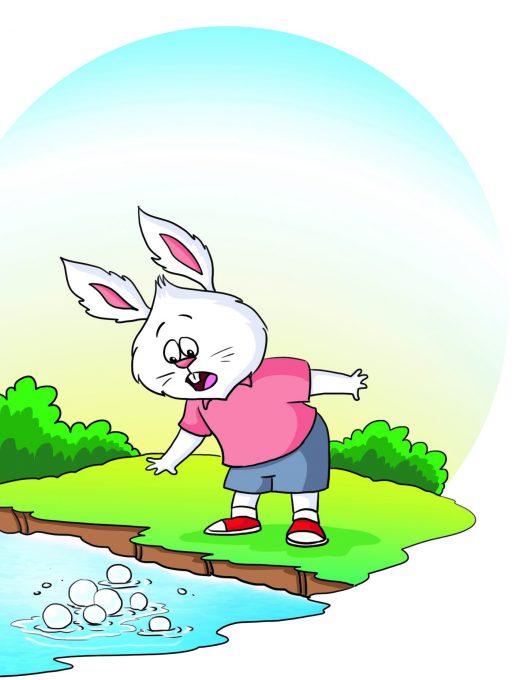 "Is it a crocodile?" he thought. But he was sure that there were no crocodiles in this part of the forest.
He was still thirsty and went closer to the pond to drink more water. Again, he heard the hissing sound. He swiftly raised his head and saw bubbles.
A head popped out of the water.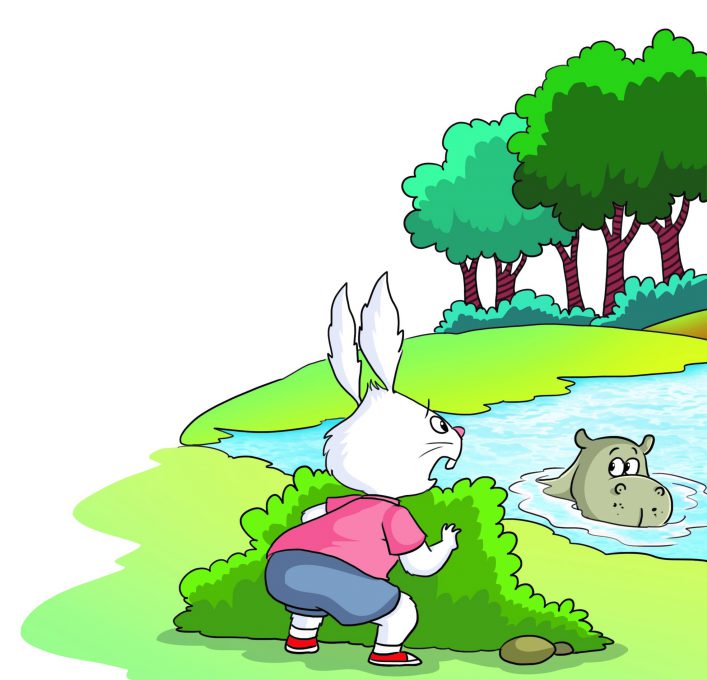 "Oh no!" frightened, he ran away and hid behind the bushes. It was a strange creature. Cheeku observed it dancing in the water as its head would come out at a corner of the pond and then dive in. Then, its head would come out at another corner. This went on for a while. All of a sudden, it came out of the pond completely.
Cheeku was terrified. It was of the size of an elephant with a stout body, but small legs. The creature started grazing. Cheeku was greatly relieved as it meant the creature was a herbivore, an animal who eats plants. The creature was slow in movement too.
After observing it for a while, Cheeku thought that he need not be frightened
of it.
But he was scared to approach the new creature. He tried to go close to it, but
it started hissing again and stared back at Cheeku.
"Go away! Get away from me! Who are you? I am angry with you. Go away!" the creature said.
Cheeku ran as fast as he could and hid behind a tree. But he was curious to know what this creature was doing in Champakvan. He gathered courage and went back to the pond.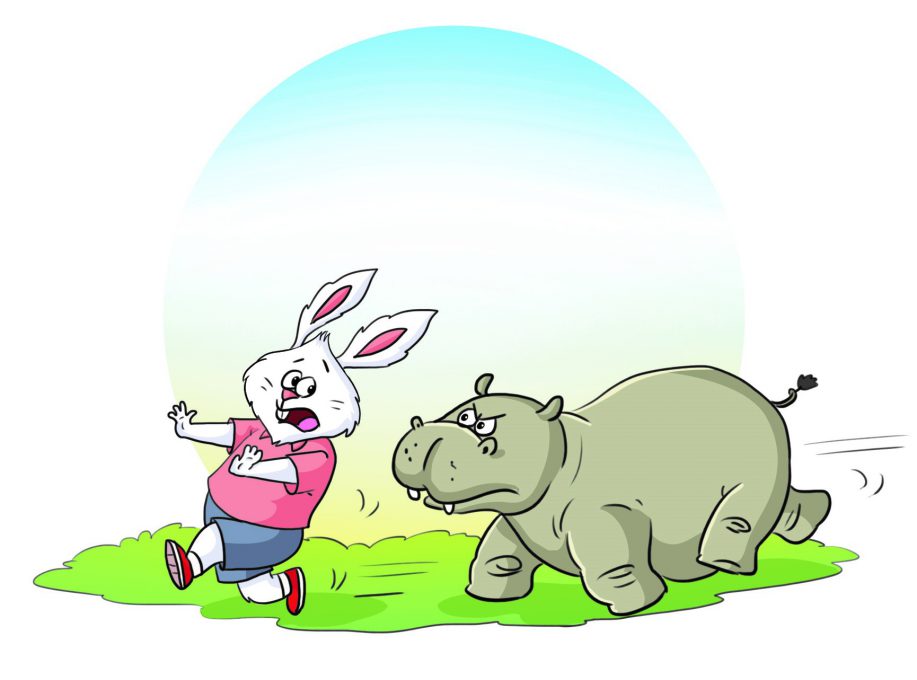 "This is our forest. Who are you? And what are you doing here?" Cheeku asked, his voice stuttering.
The creature stared at Cheeku for some time, it then slowly went back into the water.
Cheeku was certain that this animal would not be able to harm him as he could run fast.
"You did not tell me who you are. You are not an elephant, are you?" Cheeku asked again.
"I told you to get away from here. Or I will run and catch you," the creature threatened.
Cheeku started laughing. "Foolish fellow! You cannot beat me in a race. I am a rabbit, the one who flies in the air. And look at you…," he only managed to say this much before the creature came out running fast towards him.
Cheeku ran away as he was scared the creature would crush him.
After chasing Cheeku for some time, the creature went back in the water. Cheeku was trembling with fear. He went and hid in the bushes.
The creature could sense Cheeku's fear. "I am sorry but I am very sad, therefore, I am angry," the creature shouted back from the water.
Cheeku came out of the bush. Seeing his sad face he felt pity for the creature.
"Why are you sad? If you want, you can share your problem with me. Maybe I can help you," he offered.
The creature softened and said, "I am a Hippopotamus. My name is Harry."
"A Hippopotamus!" Cheeku was surprised. "Oh! I know about you. You are the third-largest land animal after the elephant and rhinoceros. Also, Hippopotamuses are generally 12 feet long and 5 feet wide, and are heavy.
Am I right?"
Harry nodded his head.
"I know that you are very heavy, but I am unaware of the numbers," Cheeku said eagerly. "Please tell me something about yourself. There are no hippos in our forest. So we do not have much knowledge about you."
Harry swam closer to Cheeku then said, "3,500 kgs! But don't judge us by our weight. Many hippos are about 4,000 kgs but can run at a great speed. We eat around 40 kgs of grass every day and we roam at night in search of our food."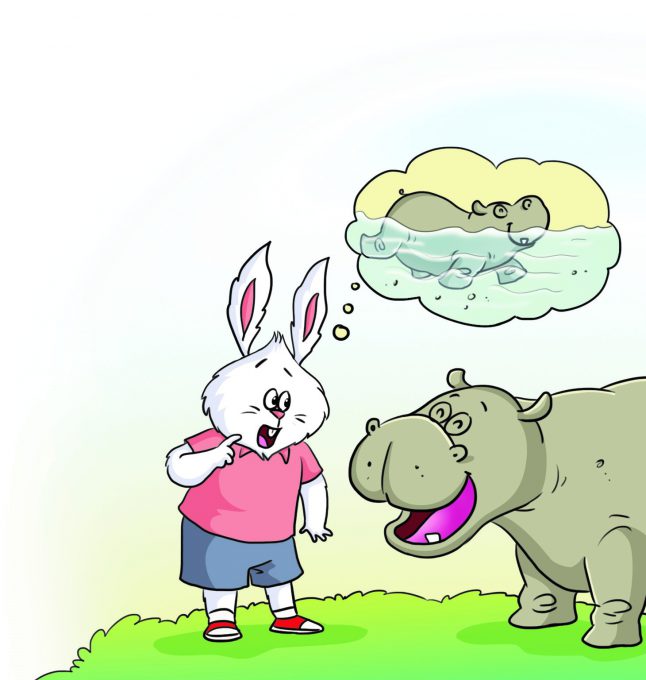 Cheeku stared at him in surprise and said, "Despite being so heavy, how do you manage to swim in the water?"
Harry burst out laughing, "I cannot swim, but I am so heavy that I reach the bottom straight away. I manage to walk or run and cover a good distance in no time. Many other animals call me a sea horse."
"I thought you swim like a fish but you are more like a sea horse. Then why don't you stay on land? It will be more fun."
Harry smiled at Cheeku's invitation and said, "No, no! Hippos are the closest living relatives to whales and so we prefer spending more time in the water, soaking in it. We come on land only at night in search of food. We don't like roaming around in the sun as the sunlight really troubles us and our skin is sensitive."
"Your skin is sensitive? But I have heard that your skin is so thick that even spears cannot penetrate it," laughed Cheeku.
"That is correct. Our skin may be hard but it is very sensitive to the rays of the sun. Therefore, we stay in water for more than 16 hours a day. We can stay alive in water without breathing for more than 5 minutes. But when we're on land, we cannot survive for long. We cannot live without water," said Harry.
"Don't you worry, my friend! You can live here peacefully. All the animals of this forest will be happy to have you here," Cheeku said.
Harry said sadly, "I am not unhappy because I am new here, but because I am separated from my group. I miss them. We are social animals and we live in groups. I cannot live without them."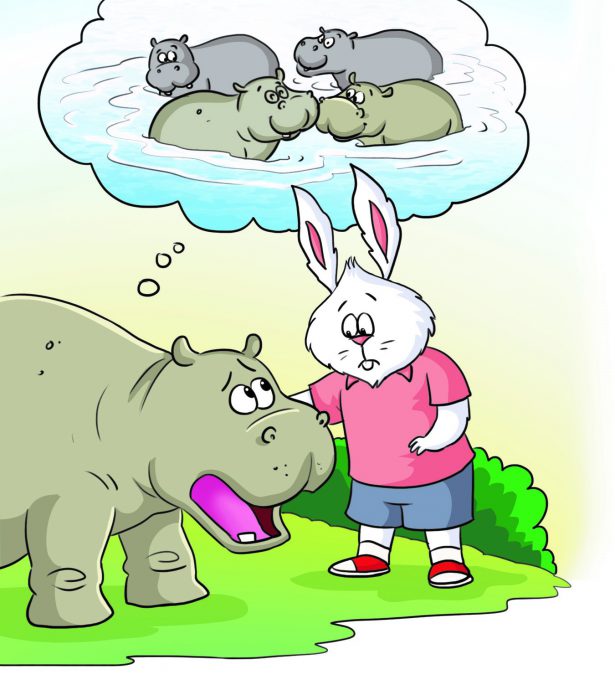 Harry told him that hippopotamuses live happily in a group of 40 to 45 as they easily get angry when alone.
Cheeku felt bad for Harry and started wondering how he would be able to find his family.
After thinking for some time, he got an idea and his face brightened up. He said, "Don't worry. My friend, Molly eagle will fly around and find your family.
She can go to all water bodies and look for them. Once she finds them, you
will be with them soon. Molly will lead the way."
Hearing this, Harry's face bloomed like a flower, "Thank you! You have solved my problem. If not today, then certainly tomorrow I will be able to unite with my family." He was so happy and started dancing and splashing water.
Cheeku enjoyed the cool splashes in the afternoon heat. He had met a hippo for the first time in his life and was very happy to have made a new friend.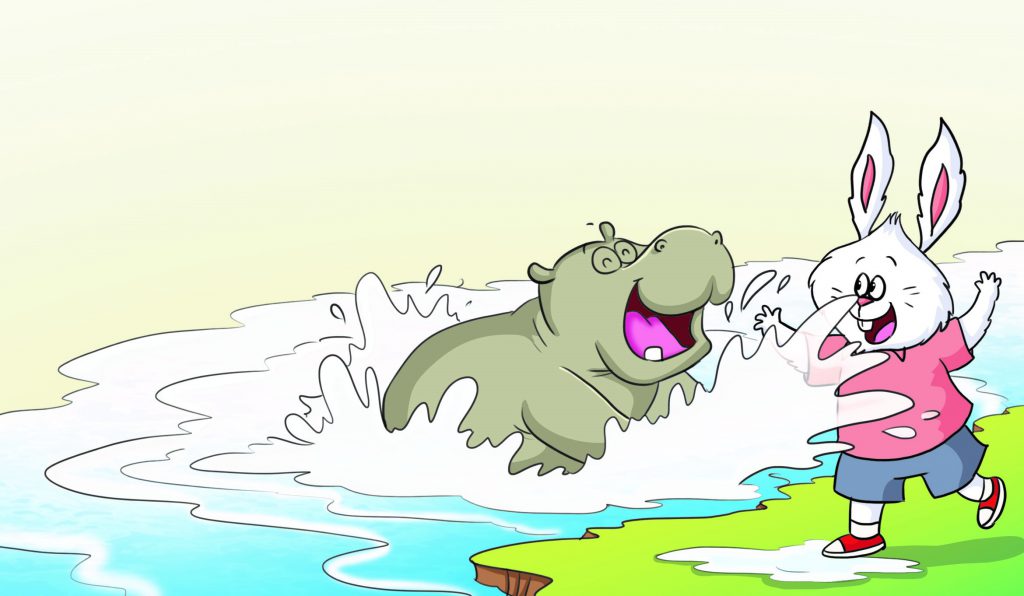 Tags:
animal stories
,
animal stories online
,
animated stories
,
bedtime stories
,
bedtime stories for kids
,
boasting
,
champak stories online
,
Champakvan
,
Champakvan story
,
children moral stories
,
children online stories
,
children short stories
,
children stories
,
children's short stories
,
english short stories
,
english stories for kids
,
fun stories
,
funny stories
,
kids short stories
,
online stories
,
read aloud stories
,
school stories
,
stories to read