One day in Chandanvan forest, many four-legged animals gathered together. They were unhappy. Seeing them unhappy, Mittu parrot who was sitting on the tree, asked, "What happened friends, why do all of you look so sad today?"
"Mittu, nature has been unfair to us," replied Teju horse.
"How has nature been unfair? It has given us a good life, good health and energy. What else could we want?" asked Mittu.
Before Teju could say something, Golu elephant interrupted, "Injustice has been done with us!"
"What kind of injustice?" asked Mittu.
"Nature has blessed human beings with two legs and has taught them to walk upright. They look so beautiful and stately. They can wear different kinds of clothes. But we have to walk on four legs. If we too had two legs, we could walk straight and wear fashionable clothes."
"But, in spite of having four legs, we all still look so good," Mittu tried to explain.
"You are only saying this to make us feel better. We don't look good at all, walking on four legs," said a disappointed Golu.
The animals started complaining amongst themselves. They were all looking for a solution.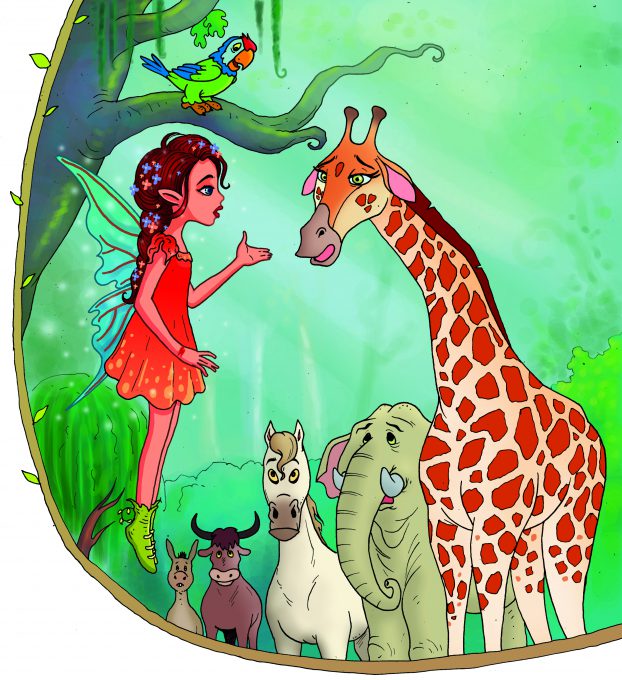 Suddenly, an angel appeared and asked them, "How can I help you all? There seems to be some problem."
Lambu giraffe asked excitedly, "Can you teach us how to walk on two legs? We want to walk on two legs."
"Of course! That's a very simple wish. I can easily make you all walk on two legs," said the angel.
Saying this, she turned her wand around and chanted something. Then, she asked all the animals to close their eyes for two minutes. After two minutes when they opened their eyes, they were excited to see that they were standing on two legs.
"Thank you, angel! Today our wish has been fulfilled. We are very happy now!" they said excitedly.
"I am leaving now. If you need anything in the future, you can call me by saying 'Hey forest angel, please come and fulfil my wish and I will appear in front of you," said the angel and she left.
Teju, Lambu, Bholu, Golu and Ballu were overjoyed, walking on two legs.
After walking for a while, Golu started panting. Mittu came to sit on his back and asked him, "Why are you panting?"
The truth was that, Golu was panting because his two legs could not bear the weight of his body. Without his other two legs, he felt heavier and could not take Mittu for a ride on his back.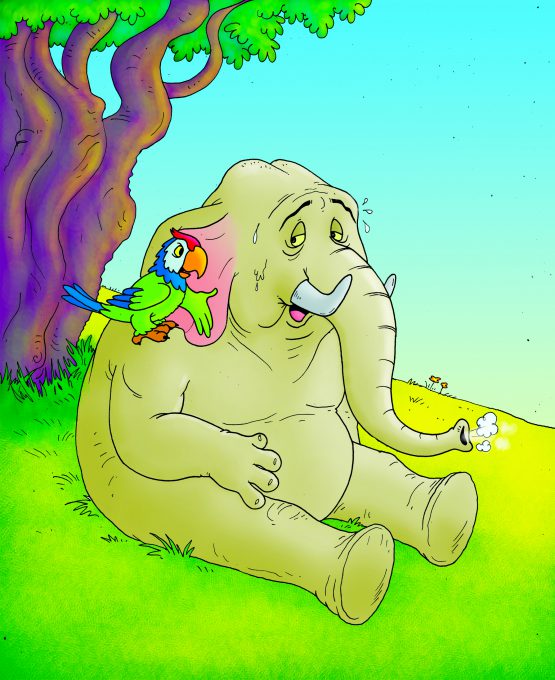 "Since morning, I've been feeling very tired because I haven't got a chance to rest. Once I lie down, I will be fine." lied Golu, as he sat on the ground panting.
Lambu was in a similar situation. As he was tall, walking on two legs increased his height, and his head kept banging against the trees. This was hurting his head. He too sat down in one place to take a rest.
Billu ox was very happy walking. However, his happiness was short-lived.
"You are good for nothing now! At least you could help the farmer earlier to plough the field. Modern machines like the tractors have taken your place," said Teetu bird, seeing Bittu walk on two legs.
Ballu donkey also started to think about what Teetu had said as he too was in a similar situation. Because he was walking on two legs, no one could use him to carry things on his back.
"If I am not of any use, then what's the point of being beautiful!" he thought to himself.
Ballu could not hold himself any longer and cried, "Hey forest angel, please come here and fulfil my wish."
As soon as he spoke, the angel appeared before him.
"What's the matter Ballu? Is there something that you want me to do?" asked the forest angel.
Ballu said, "Dear angel, please make me walk on four legs like before." Listening to him, Lambu, Golu and Teju requested for the same, "Yes, make us walk back on four legs."
The angel asked, "Why, what happened? All of you wanted to look nice. Then, why are you suddenly changing your wish?"
"We have realized that we are of no use if we walk on two legs. We don't want to live like this. We want our lives to have meaning." they cried together
The angel smiled when she heard the animals speak. She turned her wand and chanted, and asked the animals to close their eyes. When they opened their eyes, they saw that they were back to standing on four legs.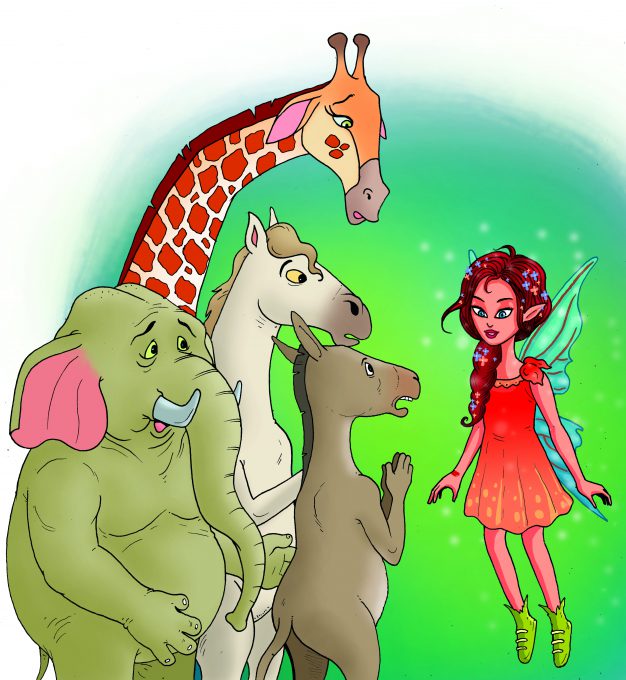 "We have become like before! Now, all of us have a purpose," said the animals cheerfully.
They understood that being useful was more important than being beautiful.
Tags:
adventure stories
,
bedtime stories
,
bedtime stories stories for children
,
Champak Stories
,
Champakvan
,
children stories
,
ecology
,
endangered animals
,
english short stories
,
environment
,
environment stories
,
kids stories
,
monsoon
,
monsoon stories
,
Protect forest
,
save the earth
,
save the environment
,
save the forest
,
save the planet
,
short moral stories
,
short stories
,
stories for children