Myra was sitting deep in thought that afternoon when her elder sister, Mandira, who was studying law came into their room. Seeing her sister sitting quietly, Mandira asked, "What's the matter, Myra? What are you thinking about?"
"In school today, we were given a topic, 'Anti-child labour Day'. We have to collect and share information about this day. We also have to paste some pictures. Didi, you are studying law. Do you know about 'Anti-child labour Day'?" asked Myra.
"Yes, sure! But let's eat our food first, and then we'll talk," replied Mandira. 
After lunch, Myra cleaned up and went with her sister to sit on the lawn in front of their house. Her sister pulled up two chairs at the table. Mandira had carried fruits and milk as an afternoon snack for them. 
"The International Labour Organization-is an international body formed to study and talk about labour. It started the 'Anti-child labour Day' in the year 2002. Many people take work from small children under 14 years. This is called 'child labour'. Children are kept as servants in homes. Some children are employed in shops, hotels and garages. Children clean and wash cars. Some children are employed in hazardous jobs like mining; though this has become much less these days. In the olden days this was more common," said Mandira.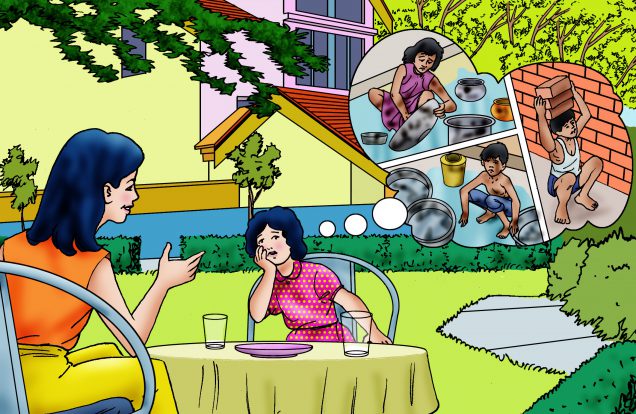 "But why do people take work from small children?" asked Myra. "There may be some compulsions for these children, like they may be poor and may require money. Also, people pay less to small children and hence, don't mind employing them," replied her sister.
"But didi, then how do these children go to school? And what about their life, like play and games. What about those activities?" asked Myra.
"This is the objective of 'Anti-Child Labour Day', so that we recognize rights of children. Every child has the right to go to school, to play and enjoy life. We cannot deny them these rights by employing them for work. Childhood has a great impact on a person's personality. The people who employ them often do not treat them well. For their small mistakes, they shout at them. Very often, they beat them. That is why Anti-child labour day is celebrated," explained Mandira.
"Didi, after hearing you, I just remembered one thing. Near our school there is a hotel. I have seen a small boy working there," remembered Myra.
"Really? Tomorrow I will come to pick you after school. Then we will go to the hotel and meet the boy. In the meantime, you can use the information I shared with you and prepare your report. I will help you download pictures from the internet or take them from magazines," said her sister.
Next afternoon after school, Mandira and Myra went to the hotel. They saw the boy cleaning tables and serving food to the customers.
Mandira asked the hotel owner, "Who is that boy?" The hotel owner replied, "He is Ram, my elder brother's son. My brother who lived in the village passed away last year. His mother also lives in the village. His education cost had increased and she was unable to meet the expenses. So I brought him here. He goes to school in the morning and helps me with my work in the afternoons. In the morning my wife stays here to help me. But she has the house to look after. So, Ram helps me take good care of the hotel."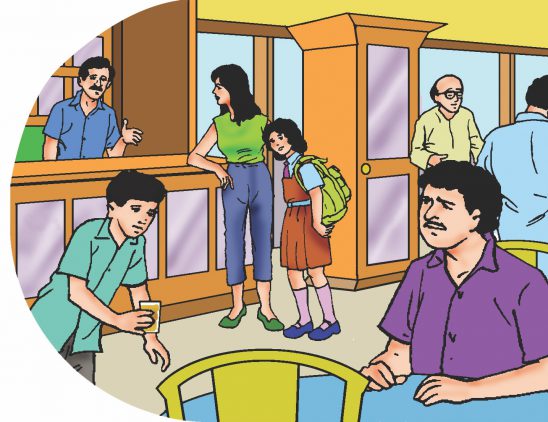 Mandira said, "You brought Ram to study here. That is very good. But along with the studies you are taking work from him and this is wrong. Do you pay him? Does his mother know all this? It is a crime to take work from him. From tomorrow you must stop asking him to work for you."
Then the hotel owner said, "How does this matter to you? He is my own nephew. His mother will not say anything."
"You are snatching his childhood from him. He needs rest after coming from school. Besides, he needs to complete his homework and studies. And for him play and games are also necessary. His childhood will not come back," insisted Mandira.
The hotel owner then said, "Alright, didi. From tomorrow I will not take work from him." They saw a smile on Ram's face.
While going away Myra told her sister, "At least, Ram benefited from my project." "Yes!" said Mandira and they returned home happily.