More from Champak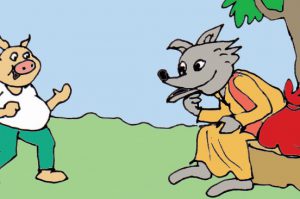 Enjoy Cheeku and Meeku's fun encounter with Foxy fox!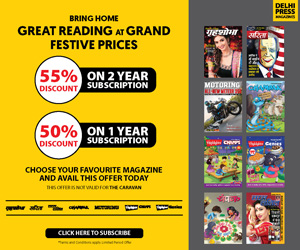 Kiki camel was fond of eating dates. They were his favourite fruit and he usually ate them without washing either his hands or the fruits.
His grandmother always told him to wash his hands before eating but Kiki never listened.
Kiki was a good student but at home, he was careless. One day, volunteers from a health institute visited the school as part of a health awareness program. The function started at 9am in the school hall. Doctor Gogo giraffe and his team were hosting the program.
Ms Cat introduced Dr Gogo and his team to the students who welcomed them with loud applause.
Dr Gogo was a regular visitor to the school and the children enjoyed his company as he gave them information through fun activities.
Dr Gogo began the program with a skit.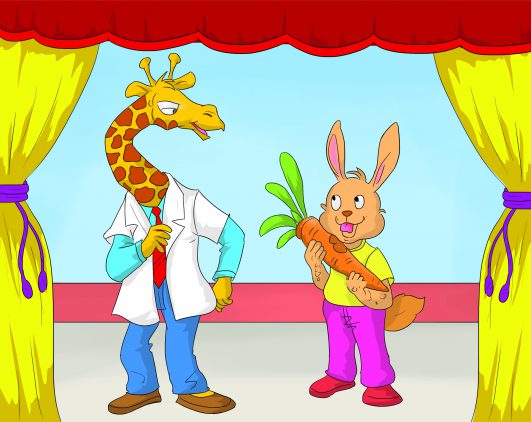 The first scene started with Roko rabbit chewing on some carrots in the field. He was eating them without washing his hands or the carrots. Later, Roko felt sick as he had an upset stomach and was vomiting continuously.
His mother took him to Dr Gogo who checked his stomach immediately.
"But I didn't eat anything from outside. I just ate some carrots, which I plucked from the field," Roko said, innocently.
"Did you wash your hands before you ate the carrots and did you wash the carrots in clean water before eating?" asked Dr Gogo.
"No, I did not. I was so excited to see the carrots, I forgot about it," replied Roko.
In the next scene, Dr Gogo explained the viruses that are found in the surroundings and how these viruses get inside our bodies and make us sick if we eat fruits and vegetables without washing them.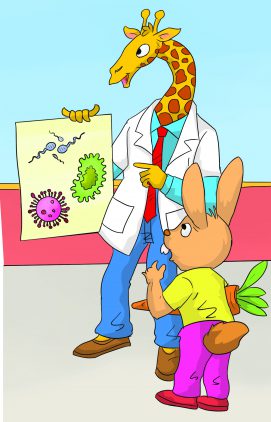 He further told Roko that the worst thing about these viruses is that once you get infected, they spread quickly and can infect his entire family and his friends too! It is contagious and it spreads from one to another.
Roko was surprised to hear what Dr Gogo said and so were all the other children.
He asked, "But how do these viruses get into our bodies?"
Dr Gogo explained, "If we do not wash our hands before eating, these viruses travel from our dirty hands into our mouths and make us sick. Therefore, it is important to wash our hands before we eat anything and to also wash the fruits and vegetables that we eat."
Roko promised that he will never be careless again and will always wash his hands before eating.
In the next scene, when Dr Gogo offered Roko some red fresh carrots, he immediately ran to wash his hands. He also washed the carrots with clean water.
The skit ended.
Dr Gogo turned towards the children and asked, "Tell me, children, what did you understand from this skit?"
"That we should always wash our hands before eating and also wash the fruits and vegetables that we eat with clean water," said Harry squirrel.
Jojo elephant asked, "Dr Gogo, can you tell us more about these viruses?"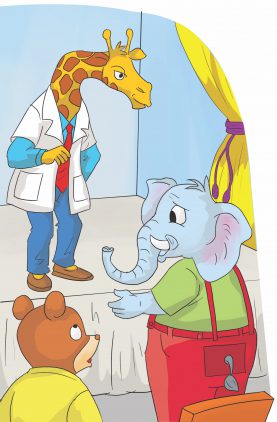 Dr Gogo replied, "Sure. I will explain it all."
The children sat silently to hear what Dr Gogo had to say.
"Children, there are various types of viruses that spread just through contact. Our hands touch different surfaces and carry the virus on them. When we sneeze or cough and cover our face with our hands, we should wash them immediately as the virus from our hands can spread to others. Right now, coronavirus is on the rise and it spreads when we don't maintain hygiene."
"Another disease called swine flu spreads from pigs to humans and is very dangerous. Pigs first get infected and when a human comes in contact with those pigs, they get infected. Humans can spread these germs when they cough or sneeze as the germs mix in the air and infect others," explained Dr Gogo.
Kiki camel heard all this and raised his hand to ask a question.
"Doctor, how will we know when we have been infected by the virus?"
Dr Gogo replied, "Each virus has different symptoms. You could get fever, cough, cold, stomach ache, diarrhoea, vomiting and feel weak. You should immediately consult a doctor."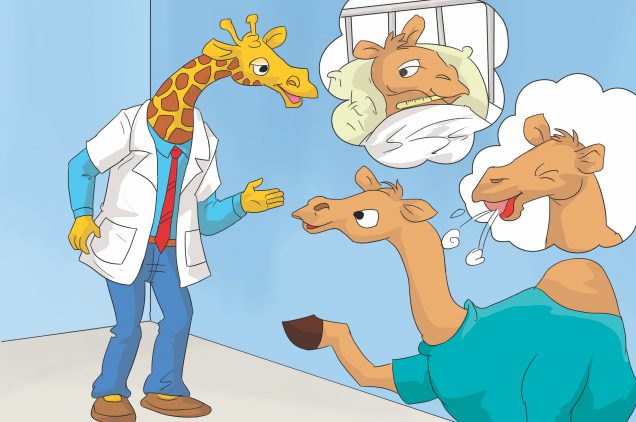 Rancho monkey asked curiously, "Doctor, how can we protect ourselves from getting infected?"
"It is important that we maintain some distance from people who have been infected. Also, you must cover your mouth whenever you cough or sneeze and wash your hands every time before eating," Dr Gogo explained.
The children had understood what they were told and they all applauded Dr Gogo and his team. They promised to follow all the rules of hygiene.
Kiki camel realised his grandmother was right and as soon as he reached home, he apologised to her.
She hugged him and forgave him. He promised her that he would listen to what she says.
Tags:
animal stories
,
animal stories for kids
,
animal stories online
,
bedtime stories for kids
,
bedtime stories stories for children
,
Champak
,
champak stories online
,
doctor
,
doctors
,
doctors' day
,
education
,
educational stories
,
kids learning
,
learning in fun
,
parents read
,
read aloud stories
,
reading
,
reading for kids
,
reading is fun
,
science knowledge
,
short stories animals
,
story
,
unwind