Shrishti and Tanmay had been wanting to go for a picnic to India Gate. But with their Dad busy, their picnic would get postponed every time. But finally they decided that the following Sunday they all would definitely go to India Gate with their parents. 
When their Dad returned home in the evening, they announced, "Dad, this Sunday we're definitely going for the picnic to India Gate."
To their surprise, Dad readily agreed.
"All right, then! Sunday it is, at the India Gate. I have asked my colleague Mr. Tiwari and his family to join us. He has two kids, Romu and Rohit and you may enjoy the picnic even more playing with them."
Khushi and Tanmay readily agreed.
Soon it was Sunday. Both the children packed football and their badminton kit in a bag and asked Mom if she could make chole and puris for lunch.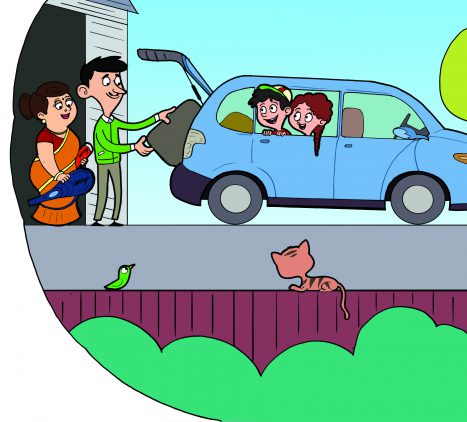 At 4 p.m, Dad drove everyone towards the Raj Path. 
"Mr. Tiwari and his family are also on their way. I just spoke to them," said Dad while driving.
"Drive faster, Dad! We want to reach there quickly!" said Tanmay and Shrishti, in excitement.
Since it was a Sunday, the gardens near India Gate were crowded. Many balloon and toy sellers were selling things on the side walk along the Raj Path. Several kids were playing football and badminton and many other picnic goers were sitting on a blanket and enjoying themselves.
Mr. Tiwari had already found a spot and was waiting for them. Shrishti's Dad coordinated with him and together both families placed their picnic baskets with food on the blankets, which they had carried from home. Shrishti and Tanmay took out the football and badminton kit and started playing with Romu and Rohit.
Rohit was just five years old. He was the youngest. The older kids were instructed to keep an eye on him, and not to let him go too far while playing. Because Rohit could not catch the ball easily, soon Tanmay, Shrishti and Romu started playing with each mostly.
A stranger was observing the children. He slowly walked towards Rohit, and asked him quietly, "Do you want to play with a balloon? I'll play with you."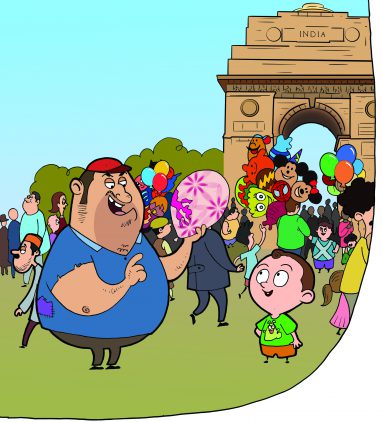 Rohit jumped in excitement and started walking with the stranger.
While Shrishti was playing, she would keep watching out for Rohit. But when she had looked in the direction where Rohit was standing, she realised that he was not there any more.
Shocked, she cried out to Tanmay and Romu, "Where's Rohit?"
Tanmay and Romu quickly scanned the ground with their eyes but could not see him.
Suddenly, Shrishti spotted Rohit walking away with a stranger and immediately called out loudly to her Mom who was sitting, "Mom! Look! Someone's taking Rohit away!"
The elders quickly ran towards the stranger. Sensing danger, the stanger left Rohit and fled the scene.
Mr. Tiwari screamed, "STOP! STOP! THIEF! Catch him! He was trying to kidnap my child!"
The crowd responded quickly and caught hold of the man before he could escape. The two families also reached the spot by then. Rohit flew into his Mom's arms.
The stranger was a baby snatcher. He would spot little kids who were not being watched and promise them balloons and toys, and then kidnap them. The crowd handed him over to the police who too had reached the spot by then.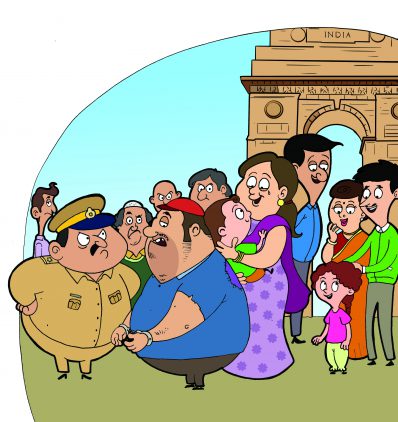 "We all need to be careful about young children," said the inspector to the
crowd.
He looked at Shrishti and said, "Shrishti, you are smart and brave, and saved Rohit. If you had not spotted them on time, we could have lost Rohit today."
Everyone praised Shrishti and Rohit gave her a big hug and a kiss.
Tags:
adventure
,
adventure stories
,
bedtime stories
,
beware
,
bravery
,
children moral stories
,
children stories with morals
,
dramatic stories
,
english short stories
,
gangsters
,
kidnap
,
kidnapping story
,
kids stories
,
learning experience
,
moral stories
,
moral stories for kids
,
read aloud stories
,
short moral stories
,
stay away from strangers
,
stories for kids
,
stories on adventure
,
stories to learn