Baddy, the fox was very naughty. He loved pulling pranks on people and would tell them things that weren't true. He was so good at telling these lies that everybody believed him.
One day, as he was coming back from the market, he saw Meeku, the mouse on his way to school. Exam results were to be announced that day and Baddy decided to have some fun.
"Meeku, I've been looking for you. I just spoke to your teacher. She said you've failed in your exams," said Baddy, the fox.
"What? Oh no! I thought I had done well this time!" said Meeku disappointedly.
"Well, I wish I could tell you more but this is all I know," said Baddy and walked on. He turned to watch Meeku run to school and laughed.
The next day, Soni, the cow was happily munching on some grass on a meadow. Baddy decided to play a prank on her and said, "Soni! There you are! I've been looking all over for you. I just heard that your house is on fire."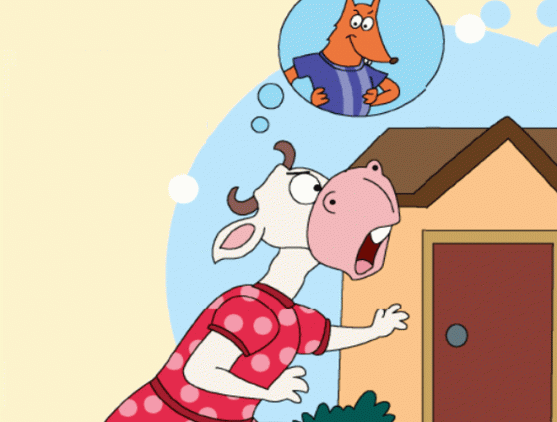 "What? Oh no! Everything I own is in that house," cried Soni and ran home.
When Soni reached her home, she was out of breath. She was relieved to see that her house was still fine, but was angry at Baddy for playing such a prank on her. She tried telling the other animals of the forest about Baddy, but nobody really felt as strongly about this matter as she did.
A few more days passed and Baddy saw Cheeku, the rabbit and Jumpy, the monkey walking down the street. He thought it did be great fun to play a trick on them. Baddy went up to Cheeku and said, "'Cheeku, Cheeku. Quickly, you have to go home. I just saw a few masked thieves enter your house!"
Shocked, Cheeku and Jumpy ran to Cheeku's home. When they got there, they saw that everything was intact and there were no thieves as such. They understood that Baddy had just played a prank on them. Cheeku was determined to teach Baddy a lesson.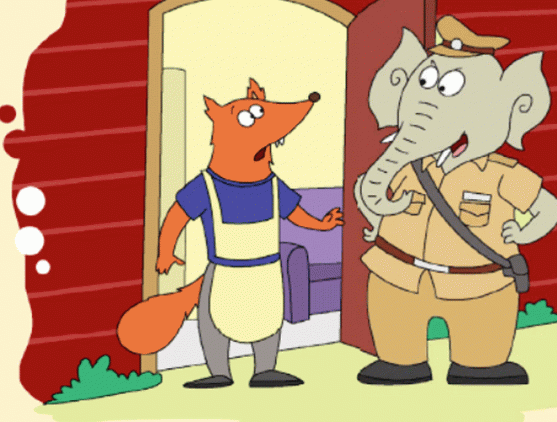 Baddy was making lunch when his doorbell rang. When he opened the door, it was Inspector Jumbo, the elephant. Seeing him, Baddy became a little nervous and somehow managed to ask him what the matter was.
"Cheeku, the rabbit has accused you of robbing his home. You are under arrest." said Jumbo "Inspector, I don't know what you're talking about. I didn't rob anyone. I'm innocent," said Baddy.
Jumbo asked, "Did you or did you not tell Cheeku that there were masked men entering his house?"
Baddy replied, " Yes, but I didn't mean to."
Before Baddy could finish, Jumbo put the handcuffs on his wrists and said, "That's all I need to hear. Come with me to the station. We'll sort it all out over there."
More from Champak: Naughty Baddy Gets Caught
When Baddy was lead into the police station with handcuffs on his wrists, Cheeku exclaimed, "There he is! He's the robber!"
Baddy had never been more scared in his life. He was made to sit in the interrogation room and was questioned.
"Baddy, unless you want to be put behind bars, confess and return everything you stole from Cheeku's house," said Jumbo.
"Inspector, I didn't steal anything," said Baddy.
"Did you not tell Cheeku that a couple of masked robbers were at his home?" asked Jumbo.
"Yes, but I was just kidding," said Baddy.
"I don't care whether you were kidding or not. You were the one who told me that my home was being robbed. So you must know who they were or have a hand in the robbery. You are the one who has to take the responsibility," said Cheeku.
"Are you saying your house was really robbed?" asked Baddy. He was shaking uncontrollably with fear. "Sir, I really don't know what's going on. Please let me go. I didn't steal anything from Cheeku's home."
Baddy began to cry and Inspector Jumbo, the elephant turned to Cheeku.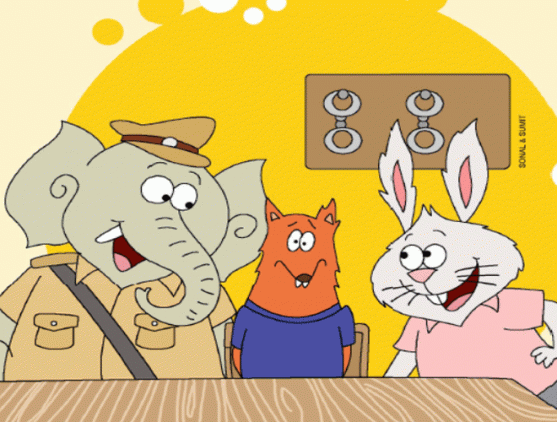 Cheeku was trying hard not to laugh. Seeing him, Inspector Jumbo began laughing too. Baddy was confused.
"It seems like you've understood the consequences of lying," said Jumbo.
"Yes Sir, I have. I promise never to lie again. I promise never to play pranks on anyone," said Baddy.
They let him go and Baddy never lied again.
Tags:
adventure stories
,
books for kids
,
cheeku and meeku
,
cheeku comics
,
children's books online
,
children's short stories
,
discovery stories
,
English storybooks
,
friends
,
fun with cheeku
,
heeku for the rescue
,
kids books
,
kids books online
,
meeku comic
,
moral stories
,
online stories
,
quick mouse
,
short moral stories
,
smart rabbit
,
stories online
,
storybook