Jaggu wolf, Tima jackal and Pengu rhinoceros were skilled thieves.
One day, they were walking down a narrow bylane when they noticed a board hung outside an office that said, 'Employment for Thieves – Contact this office.'
"Look! Look! This board says, 'Employment for Thieves'," Pengu pointed at the board, excitedly.
Jaggu and Tima stared at the board with their eyes wide open. They could not believe it.
"Come, let's go inside," said Tima, and all three of them went in.
Montu rabbit was sitting in the office. On the table lay sample applications and stacks of old and new files.
Jaggu, Tima and Pengu did not recognise Montu. Though he belonged to Shantivan, he had spent his childhood in the city.
"Are you looking for employment?" Montu asked when he saw them inside his office.
"Yes. But is the board true?" Jaggu asked him doubtfully.
"Yes, it is true. We provide employment for thieves. If all of you are thieves and have adequate experience in theft, pickpocketing and loot, then you can apply here for work," replied Montu.
Jaggu, Tima and Pengu felt hopeful of getting a job here.
"What work will we have to do?" asked Pengu.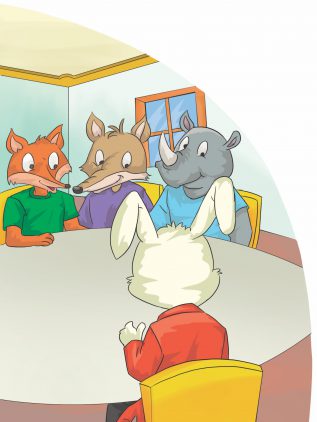 "Work of theft and loot. A company in a foreign country provides employment to thieves, gangsters, dacoits, pickpockets and robbers. I represent that company," said Montu.
"Three of us are skilled thieves. It is difficult now to live on small thefts and pickpocketing. Hence, we would like to take up employment. What do we have to do for it?" asked Jaggu.
"Once you fill this application form, you have to appear for a written test and an interview. If you are successful, then I will send you to the foreign country on an airplane. You will be paid a salary and will be given all the comforts in this company."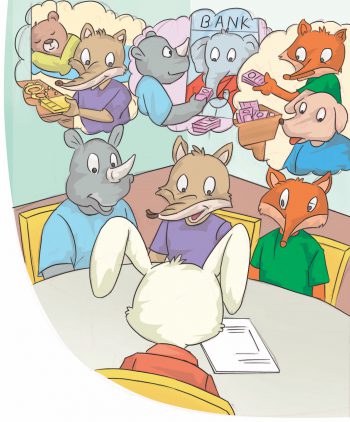 Listening to Montu, their eyes brightened with hope and joy. 
"But how do we give you proof of our theft, loot and pickpocketing? We have no proof of our work," asked Jaggu.
"Don't worry about that. On this form, write the number of thefts, who did you loot and whose houses you broke into. Mention all this in the interview too. That's all!" said Montu.
The conditions for employment seemed easy. So, all of them submitted their applications and went home. 
After a week, all of them came back to Montu's office for the test and interview. In the test, they wrote about the details of theft, pickpocketing, and loot. 
In the interview, Montu asked Pengu, "Tell me the names of the people who were your victims."
"Tengu tortoise, the teacher, was buying vegetables in the market. I stole his
wallet that had his full month's salary," said Pengu.
Then Montu turned to Tima, "And what have you done?"
Tima replied, "It was Diwali night. Kalu bear had gone to the hills to celebrate with his family. I made a tunnel into his house and crawled out with his jewellery, mobile and 20,000."
Then Montu looked at Jaggu who said, "Actually, all the incidents of theft, loot, dacoity and pickpocketing in Shantivan have been our doings. We have stolen 10,000 from Dodo dog's shop. 
When contractor Ganju elephant was coming out of the bank after withdrawing 10 lakh, we looted him and ran off with the cash. We had worn masks, so no one recognised us."
"Very well, this is enough proof! All of you have passed the test and have got
the jobs. You all are truly skilled thieves! Next Monday, come with your luggage here. First, we will go to Delhi and then get on a flight. Congratulations!" said Montu.
Next Monday, Jaggu, Tima and Pengu arrived at Montu's office with their luggage.
Just then a closed van stopped in front of the office too. "Go and sit in the van with your luggage," said Montu.
All three of them got in the van.
About half an hour later, the van stopped at the main police station.
Jaggu, Tima and Pengu peeped through the window.
"Is this Delhi or a police station?" asked the three of them.
"We are caught in a snare!" Jaggu stammered.
The door of the van opened. "Get down," ordered Inspector Jagdal elephant. Seven constables were standing around the van with their rifles.
"Why, what have we done?" Tima asked the inspector in a trembling voice as he got down.
"You have committed criminal acts of stealing and pickpocketing. You picked the pocket of Tingu teacher, stole Kalu's jewellery and mobile and looted Ganju contractor. You yourselves have admitted to these thefts in writing. Therefore, you are arrested," said Inspector Jagdal and put them behind bars.
Montu was happy with his achievement. He had recently moved to Shantivan and after completing his training as a detective, this was his first successful assignment.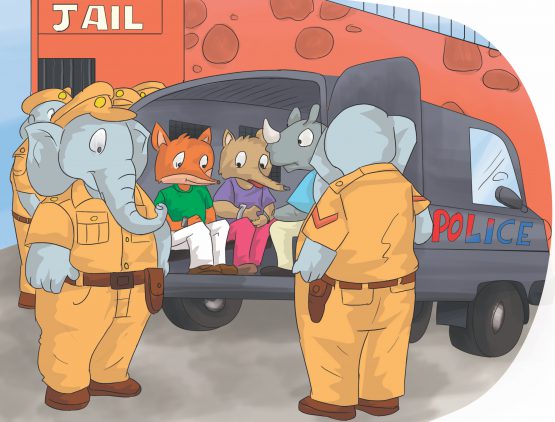 Tags:
adventure
,
adventure stories
,
bedtime stories
,
beware
,
bravery
,
children moral stories
,
children stories with morals
,
dramatic stories
,
english short stories
,
gangsters
,
kids stories
,
learning experience
,
moral stories
,
moral stories for kids
,
mystery
,
mystery stories
,
read aloud stories
,
robbery
,
short moral stories
,
stay away from strangers
,
stories for kids
,
stories on adventure
,
stories to learn
,
theft
,
theft story
,
thieves