More from Champak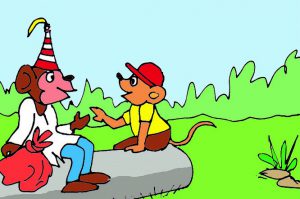 Is Jumpy monkey really a magician? Find out with Cheeku and Meeku!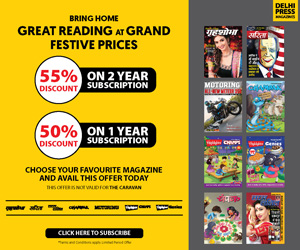 In Nilgiri forest all the animals lived together. All the kids of the jungle went to the forest school to study. Jumbo elephant was the teacher and the students enjoyed learning from him.
But Cheeku rabbit was very lazy. Neither did he like to study, nor did he like to go to school. He only wanted to roam around and to eat carrots the entire day. He would postpone doing both his homework as well as housewash.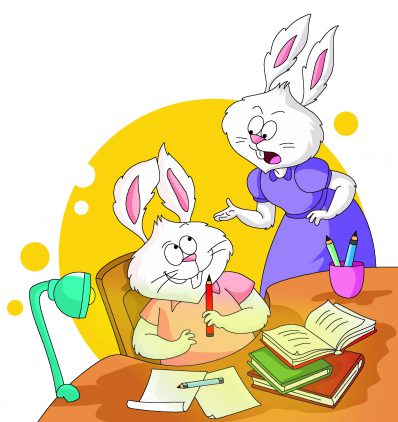 The thought of sitting to study made him giddy and whenever his mother would ask him to study, he would make some excuse and get away from there.
His parents were very worried about Cheeku's dislike for studying. Although Cheeku had reached Class VII, he could not read or write well. He managed to scrape through the exams by copying or looking into his classmates' notebooks.
His classmates made fun of him. But it did not bother Cheeku.
After his final exams, Cheeku decided to visit his maternal uncle for the holidays. He urged his parents that no matter what happens he would go to uncle's house this year.
Festival season was fast approaching and Cheeku's father had a lot of work at office, so he could not go to drop Cheeku. His mother also could not accompany him as his grandmother was unwell.
Cheeku decided to go alone and asked his parents for permission.
His parents allowed him to go alone and Cheeku's mom accompanied him to the bus-stand. On reaching the bus-stand, Cheeku noticed that there were many buses stationed. His uncle lived in Kajrivan. Since he could not read well he had to ask the people standing there which bus went to Kajrivan for the journey.
Everyone was busy and could not believe that Cheeku could not read. He was ashamed. "You are quite a grown-up boy and yet you can't even read what is written on the bus? Hasn't your school taught you anything?", mouthed Baddy Fox.
Meeku mouse who was at the bus-stand to see off a relative, felt sorry for Cheeku and said, "There, that bus is going to Kajrivan."
Cheeku thanked Meeku and quickly got on the bus.
As soon as the bus started and was on the road, Blacky bear, the ticket conductor, came to Cheeku and asked him kindly, "Yes son, where do you want to go?"
Cheeku replied, "Please may I get a ticket for Kajrivan." He handed Blacky his purse and said, "Please take the money for the ticket from here and give me back the rest."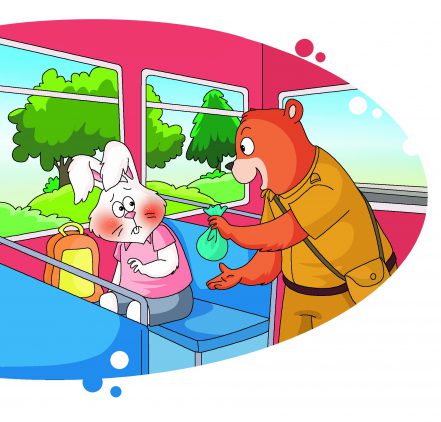 Blacky stared at Cheeku and said politely, "Son, this bus is not going to Kajrivan; it is coming from Kajrivan and is going to Haritvan via Champakvan. You have boarded the wrong bus." Then he added, "Also, you should not hand over all your money to anyone. A thief or a cheat would take it and run away. Don't you know how to read and to count?"
Cheeku became red with shame. He felt bad that he had not paid attention at school and could not read and write. Had he learnt reading, writing and counting, he would not have to face the situation he was in today. No one would have laughed at him.
He felt like crying. Also he was worried because he had boarded the wrong bus and feared that the conductor would be rude to him.
He told Blacky bear that it was true he did not know how to read and write well. He promised that he will do so now.
Blacky felt sorry for Cheeku and asked the driver to stop the bus. Then he stopped the bus that was going to Kajrivan and asked Cheeku to board it.
Cheeku thanked him and when he reached his uncle's house he told his uncle about what had happened.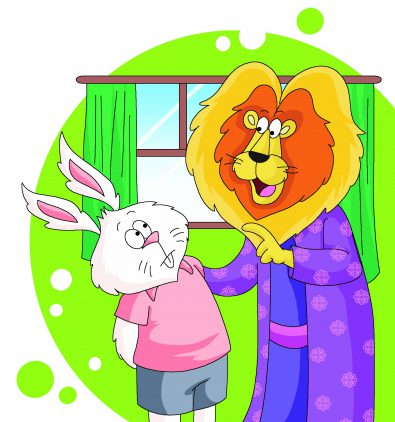 Cheeku's uncle, Shersingh was a teacher. He explained to Cheeku, "Son, to be able to progress in life, studies is necessary. It makes us independent. In current times, one has to be not just literate but also educated. So work hard and study well.
At the start of the new session, Cheeku started working hard in school. He was no longer lazy. Soon he not only surprised his parents but also his teacher and his classmates with his performance in school. He started scoring well in all his tests and no one teased him anymore by calling him lazy or illiterate.
Tags:
animal stories
,
animal stories online
,
animated stories
,
bedtime stories
,
bedtime stories for kids
,
boasting
,
champak stories online
,
Champakvan
,
Champakvan story
,
children moral stories
,
children online stories
,
children short stories
,
children stories
,
children's short stories
,
english short stories
,
english stories for kids
,
fun stories
,
funny stories
,
kids short stories
,
online stories
,
read aloud stories
,
school stories
,
stories to read