I need to speak to the King right away! I must meet him now," said Cheeku rabbit to the King's guards.
King Shersingh heard and called him in. "Cheeku, what's the matter?" he asked.
"A cyclonic storm is gaining speed and will soon reach Champakvan. We should take precautions or we'll end up in big trouble. Many homes will be destroyed," said Cheeku in a hurry.
King Shersingh was worried. This was the first time a storm was approaching Champakvan forest.
"What will happen when this storm hits Champakvan?" asked King Shersingh as he wanted to know what they should be prepared for.
"The cyclonic storms are moving towards us and will hit Champakvan in 2 days. It will bring heavy rain and strong winds that will destroy trees, homes and may cause floods," informed Cheeku.
"That'd be terrible! We should alert all the animals right away and build a shelter for them to stay till the storm calms down," said King Shersingh.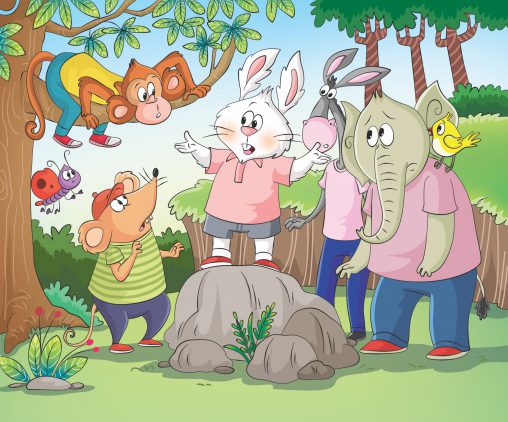 And soon, the news about the approaching cyclonic storm spread through Champakvan. All the animals stocked up on food in their homes.
"What can we do, Cheeku?" asked Blacky bear.
"We have to stay alert. It'll start raining before the storm arrives. There'll be strong winds. We have to ensure all the animals have moved to the safe shelter before that. We must keep our mobiles fully charged. We have to move the animals who live in weak houses."
"Why so, Cheeku?" asked Meeku mouse.
"Because weak houses might break due to strong winds. Not just that, electric poles can also fall during thunderstorms and cause more damage so the electricity supply to the entire forest will be cut until the storm passes. There may be floods, so we have to stay on higher grounds," explained Cheeku.
"My house is in a bad shape," said Jumbo elephant. "Where can I stay when it rains?"
"We have built shelters for the animals on the hill. Food has also been arranged. There's enough space for everyone to move there," said Cheeku.
"My house is on the mango tree. And the mango tree is very strong. Be it cyclone or thunderstorm, I'll stay right there!" said Jumpy monkey with a grin.
"Jumpy, your house is closer to the sea. It's important to keep ourselves safe. Come to the shelter with us," said Cheeku.
But Jumpy did not listen.
Two days later, all the animals took shelter on the hill except Jumpy.
Soon, strong winds began to blow and it rained heavily. The animals were happy that they were safe. At the end of the day, the winds grew stronger and stronger.
Meanwhile, Jumpy was still in his house. When the storm hit the mango tree, he began shaking terribly.
"Oh, dear!" Jumpy trembled in fear.
He regretted his decision. He, too, should have gone to the shelter along with the other animals.
The strong winds uprooted the mango tree. Jumpy's house collapsed. He managed to escape but there was a flood.
He took shelter on a strong tree as he was injured and couldn't travel too far.
After some time, the storm was calm.
"Looks like the storm has passed. We can go back now. But we need to be careful. A lot of trees may have fallen on the way," said Cheeku to all the animals.
"Be careful!" said King Shersingh. "If anyone needs help, my guards are around to help you."
The animals returned home.
"Who knows what condition Jumpy is in?" said Cheeku. He was worried about him and set out in search of him.
"Cheeku, look! The mango tree has fallen down! The storm must have uprooted it," said Roma sparrow.
"Jumpy's house was on this tree! I hope he's fine," said Cheeku, anxiously.
All the animals started looking for him. Jumpy was lying on the branch of another tree. His head was bleeding. They rushed him to the hospital.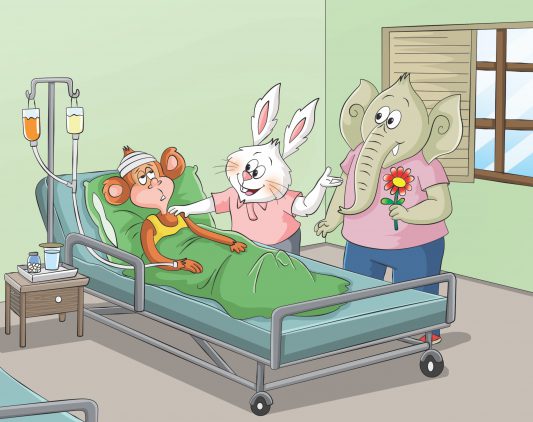 He was weak as he had not eaten anything the entire day and had hurt his head. The doctors gave him medicines and saved him.
"I'm sorry, Cheeku," Jumpy apologised as soon as he woke up. "If I had listened to you, I wouldn't have had to suffer like this."
"Come on! You are fine now!" said Cheeku, patting his head.
Jumpy smiled and hugged him.
Tags:
animal stories
,
animal stories for kids
,
animal stories online
,
bedtime stories for kids
,
bedtime stories stories for children
,
Champak
,
champak stories online
,
Champakvan
,
Champakvan story
,
cyclones
,
forest stories
,
natural disasters
,
nature
,
parents read
,
read aloud stories
,
reading
,
reading for kids
,
reading is fun
,
save forests
,
short stories animals
,
unwind