Dhruv's Grandpa was a retired army officer and a patriot. He always told Dhruv stories of bravery of the Indian Army and of India's freedom fighters. Mahatma Gandhi was Grandpa's favourite and he would narrate stories on Gandhi's life and work to Dhruv.
This year, on October 2, which is Gandhi Jayanti, or Mahatma's birthday, Grandpa, Grandma, and Dhruv decided to visit Sabarmati Ashram in Ahmedabad.
Grandpa and Grandma had visited the ashram many times before, but this was Dhruv's first time.
"Please tell me about this ashram, Grandpa," said Dhruv.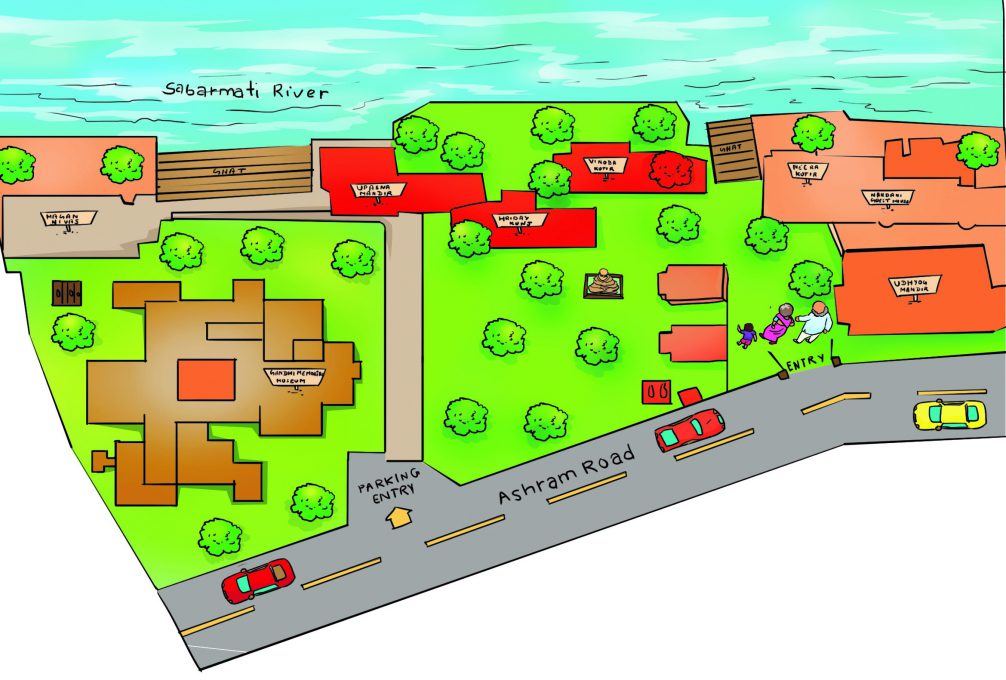 "Sabarmati Ashram was initially known as Satyagraha Ashram. Mahatma Gandhi established it in 1915 at Kochrab, Ahmedabad. In 1917, it was shifted to the banks of Sabarmati River and since then, it is known as Sabarmati Ashram."
"It's so quiet and peaceful here. There are so many trees around," said Dhruv.
"Let me tell you about the history of Sabarmati Ashram," offered Grandma.
"Yes, nani, please do tell me."
"When it was founded, Sabarmati Ashram had living rooms made of canvas and the kitchen made of tin sheets. By the end of 1917, there were 40 residents living here.
Life at the ashram was based on Gandhiji's principles of truth, non-violence, self-control, justice, and equality.
Spinning khadi and other village activities were encouraged to improve their economic status. Parts of Gandhiji's spinning wheel were also built here.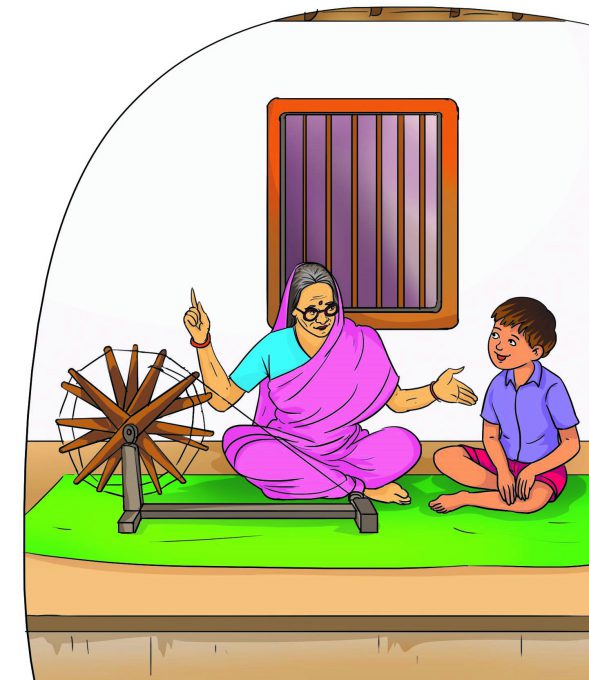 Sabarmati Ashram was an inspiration for the Indian public and leaders. Many movements relating to India's independence started here at the ashram.
It is from here, that he wrote a letter to the Viceroy of India on March 2, 1930, informing him about the start of the Civil Disobedience Movement.
On March 12, 1930, Mahatma Gandhi set out for the historical Dandi March with 80 others to protest against the tax imposed on salt. He did not return here until India was independent."
"Yes, I did read about the Dandi March in school. But I did not know so much about the history of Sabarmati Ashram. Thank you, nani!" said Dhruv.
They walked ahead a little, and Grandpa said, "We will now see some important spots. I'll tell you all about them."
"Great, Grandpa!"
"That's the National Memorial. It was established after the death of Gandhiji to preserve his memory."
Grandma pointed to the left and said, "And that's Hriday Kunj. It's a small house located in the centre of the ashram. Kakasaheb Kalekar, an activist, social reformer and follower of the philosophy and methods of Mahatma Gandhi had named it.
Gandhiji and his wife, Kasturba lived in Hriday Kunj for about 12 years. It still has Gandhiji's desk, his khadi kurta, and his letters.
Another attraction of the ashram is Kasturba's kitchen. The stoves, utensils, and cabinets used in Kasturba's kitchen are still kept there."
"Oh, I see!" said Dhruv.
They walked a little ahead and Grandpa pointed out, "And that's the Vinoba-Meera Kutir. This is the place where Acharya Vinoba Bhave spent some months of his life from 1918 to 1921. Also, Madeleine Slade, a British woman who was influenced by Gandhiji's ideals and his beloved disciple, lived here from 1925 to 1933. Gandhiji named her Mirabehn. The cottage was named after these two personalities."
"That's interesting!" said Dhruv and they walked towards the prayer ground.
Grandma said, "All members of the ashram assemble at this prayer ground every morning and evening to pray. This prayer ground has witnessed many crucial decisions made by the Mahatma."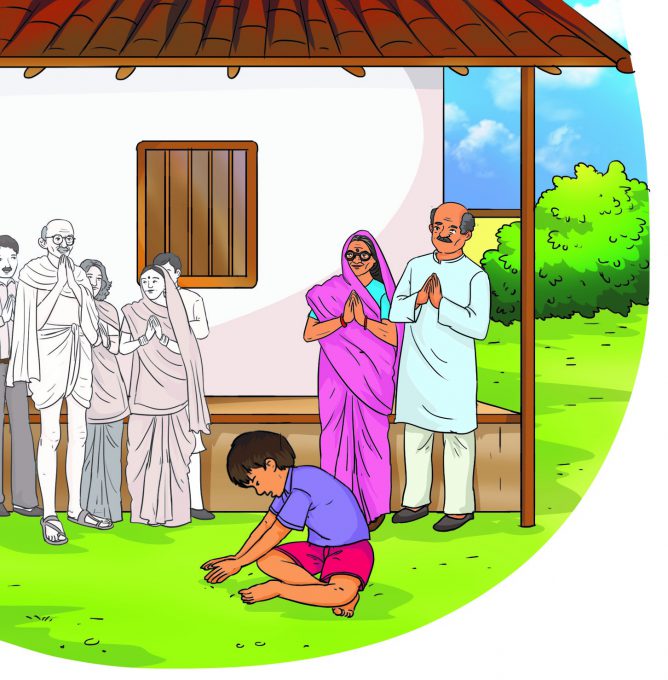 Dhruv stood silently on the prayer ground.
Walking ahead, Grandpa pointed at a hut and said, "That's the Nandini guesthouse. It's located a short distance away from the main gate of the ashram. Many well-known freedom fighters of the country lived here when they came to meet Gandhiji. They include Jawaharlal Nehru, the first Prime Minister of India, Dr Rajendra Prasad, a lawyer and comrade of Gandhi's, who also became the first President of our country, C Rajagopalachari, an independent activist, lawyer, writer and historian, Charles Freer Andrews, Mahatma's friend, educator and social reformer, and Bengali poet and writer Rabindranath Tagore, who was also Gandhi's close friend."
"Whoa! So many great people have lived here," said Dhruv.
"Grandma! What's that?" asked Dhruv.
"That's Udyog Mandir! Gandhiji had pledged to make India independent by being self-reliant through the khadi industry. He worked using his hands as symbols of self-reliance and self-respect.
At the Udyog Mandir, he started spinning the charkha to make strings for khadi clothes. Gandhiji's followers from all over the country would come here and stay at the ashram and get trained in using the charkha and in making khadi clothes.
The Udyog Mandir was established in 1918, during the strike by the employees of the textile mill in Ahmedabad."
"So Gandhiji taught the swadeshi principle by making khadi?" asked Dhruv.
"That's right!" said Grandpa.
"There's a Gandhi Memorial Museum here. On May 10, 1963, Jawaharlal Nehru inaugurated the museum near Hriday Kunj. Gandhiji's letters, photographs, and other documents are kept there.
The collection includes 400 articles written by Gandhiji in magazines like Young India, Navjeevan, and Harijan. Also, there are photographs covering Gandhiji's life from birth until his death, copies of Gandhiji's speeches during his travels in India and abroad.
This museum also houses a library that contains 4,000 books of Sabarmati Ashram and a collection of 3,000 books by Mahadev Desai. There is an index of 30,000 letters written by Mahatma Gandhi. The original copies of some of these letters are preserved while the others are preserved in microfilms. Let's go visit the museum."
Dhruv really enjoyed the museum.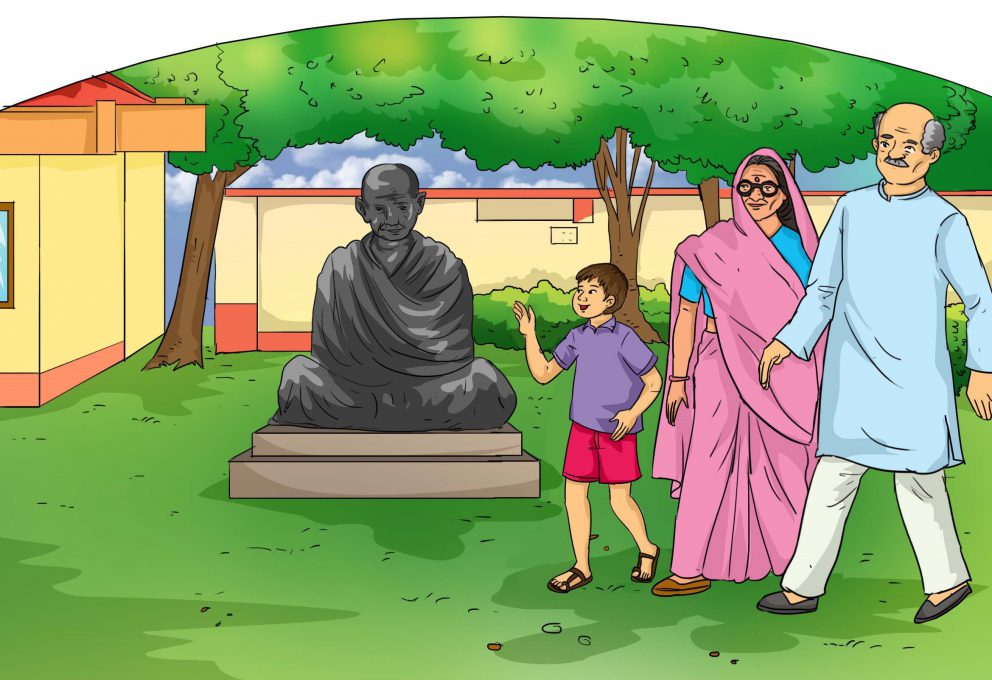 After completing the tour of all the important places around Sabarmati Ashram, Dhruv said, "I will remember Sabarmati Ashram more than the other places we have been to. I have learned so much today! Can we please visit such places in the future?"
"Of course," smiled his grandparents.
Tags:
adventure stories
,
bedtime stories
,
bedtime stories stories for children
,
Champak Stories
,
Champakvan
,
children moral stories
,
children stories
,
children stories with morals
,
ecology
,
endangered animals
,
english short stories
,
Gandhi Jayanti
,
Gandhiji
,
kids stories
,
Protect forest
,
short moral stories
,
short stories
,
stories for children