"How hot it is! When will it rain, mom?" asked Bolt, Misha cheetah's cub.
Anandvan forest had no rains. Animals did not have enough food. The forest had always been short of water and now, whatever little water was there, quickly dried up under the hot sun.
The days were hot and dry, and the nights were eerily uncomfortable. Birds and animals with fur like bears were suffering the most.
Misha lived in the forest with her cubs.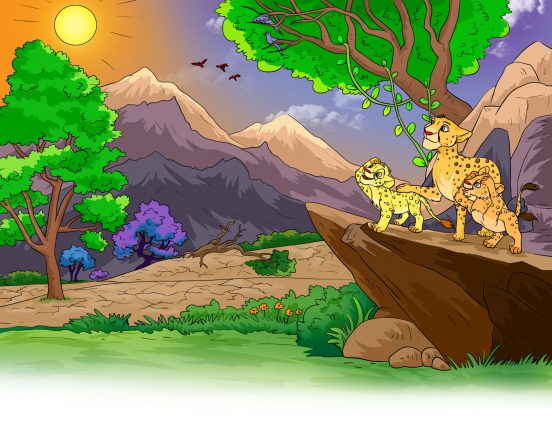 Clouds would form in the sky every day but would break without rain. The months of monsoon passed, but not a drop of rain fell from the sky.
Drought was declared in the forest. The Forest Administration advised all animals to move to other forests.
When the animals started migrating with their kids, the hawks arrived from other forests and said that animals from other forests were moving towards their forest. There was a drought everywhere and no one knew where to go.
The animals called for a meeting. It was decided that no animal would eat another during the meeting.
Deer, squirrels, buffaloes, zebras, cheetahs, tigers, bears, foxes, and rabbits—all came together.
King Sheru said, "Friends, we are facing drought because of the human race.
Because they believe they are superior, they have cut down trees and destroyed forests, constructed dams over rivers, drying them, and leading the planet towards destruction. The weather has altered. It doesn't rain during monsoons, it isn't cold during winters, and summers are increasingly hot. Our food chain is being destroyed because of no food and bad water."
"So we too must destroy the humans.
Down with humans!" shouted Foxy fox.
The others repeated after him, "Down with humans! Down with humans!"
The whole forest started chanting in hatred of humans.
"Quiet!" said King Sheru in his firm voice and everyone fell silent. "Tonight, we shall attack the human city closest to the forest and take their food and water. They too should know what it feels like when they starve."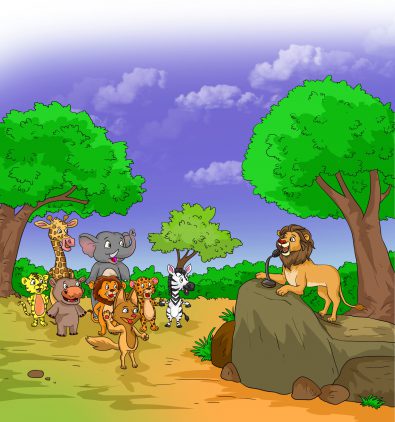 The animals clapped at their king's decision and waited for nightfall. As soon as the sunset, tigers, bears, jackals, and cheetahs crossed the forest borders to hunt the human territory.
But the humans had good security systems in place, so the animals could not do much and just about escaped the traps set for themselves and returned.
The news about their failure spread through the forest.
King Sheru called for another meeting.
Some hyena who had been beaten up by the humans were standing in one corner and shivering with fear.
"Residents of the forest! We can't live in fear! We must keep fighting! In this struggle for survival, we must…"
But before King Sheru could finish, Misha interrupted him and said, "Your majesty, with your permission, may I say something?"
Misha was loved and respected by everyone because she was a wise animal who found solutions without blaming or fighting.
The king nodded, and Misha said, "Friends! Our fight is not with humans but with what they have done. They have misused their knowledge and have caused destruction to nature. The earth is heating up. The glaciers are melting but not just us, the humans too are suffering because of it. In some years, they too will face scarcity of food and water."
Everyone listened to her attentively.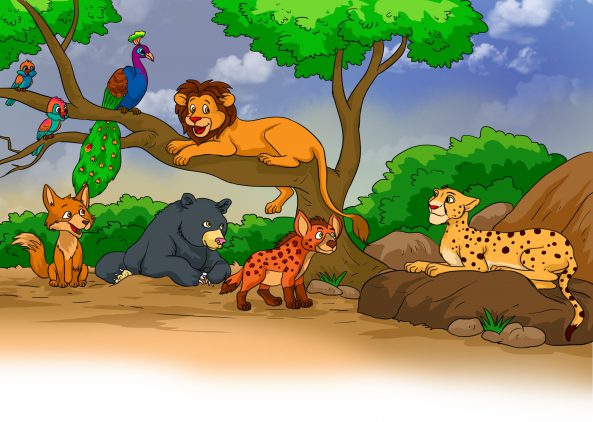 "If we attack humans," continued Misha, "we will not survive. They are stronger than us."
Some animals, like the hyenas, who had been beaten agreed with her, but the others still wanted revenge.
"Do you have a solution to the problem, Misha?" asked the king.
"I do, your highness, but it's going to be time-consuming and slow," said Misha.
"Do tell us!" said the animals.
"We should try and grow our own food instead of stealing food and water from humans. Everyone will have to work hard and have the patience to see the results.
If it does not work, we will try another way," she said and explained what had to be done.
Next morning, the work started. Barren lands were dug by oxen and birds got the seeds sown. Elephants and bears got water from far away lakes that still had water.
All the animals and birds contributed to the cause based on their skills and all helped each other.
Working hard, they believed Misha's plan would bear fruits. They knew about farming as they had seen humans do it.
Days passed into weeks. But neither did the weather improve, nor was there any sign of food.
All their hard work seemed to have failed.
They started thinking they would rather have stolen food. They decided to go and attack humans and called for a meeting with their king.
They had only just reached his cave when lightning struck. The entire forest lit up in a flash and it started raining. Where seeds were sown, saplings appeared and the lakes started filling up.
With the crops growing, food problems also slowly began going away. Since the herbivores could now eat, the carnivores were hopeful about having food too.
Misha's plan had worked, though it took time.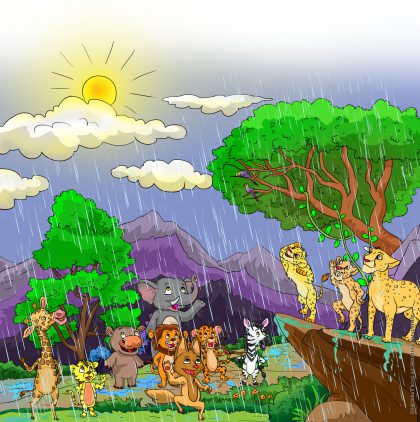 If they had attacked humans, there was no guarantee of a continuous supply of food and water.
They had learnt that if you wish to do something, the best way was to "do it yourself."