Leo lion did not want to become the king of the forest because he was very timid.
"Please dad, I don't want to become the king," he often told his father.
"But son, it is we, the lions, who have to become the kings. Now I have become old. You must slowly start taking up the responsibilities of this forest," Papa Sheru explained to him with love.
Leo however was so timid, that he was not ready to become the king at all. "I
am tired of listening to my father,"
he thought. 
One day he told himself, "It is better that I go away from this place and hide somewhere. Then I wouldn't face any trouble."
As he said so, he hid behind the bushes. There was a mango tree near the bushes which had some monkeys sitting on them. They saw Leo hiding there.
"Look, our future king is hiding here." A tall monkey pointed
to friends.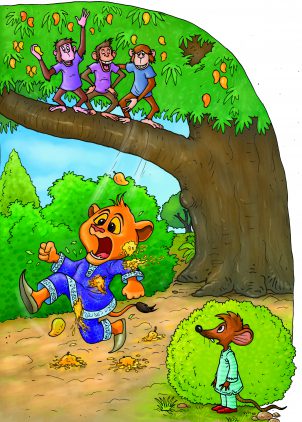 "Good. Let's make fun of this timid creature," said a monkey. 
He immediately plucked several mangoes and distributed among his friends.
"Let's get started." Saying so, he threw one mango towards Leo. On seeing this, all the others too started throwing mangoes on Leo.
"Oh dear." Being upset with this sudden attack, Leo ran away from there.
"Timid… Timid…" shouted the monkeys as they clapped.
"How wild are the animals in this forest," Leo thought to himself and felt sad. But he did not get angry. He feared that the herd of monkeys may attack him. So, he ran away quickly and came to the forest's pond.
"Hey look, our future king is hiding here!" exclaimed the children of two elephants who were drinking water from the pond.
"If he is so timid, then who will save us from our enemies?" They started talking to each other.
"You are right. What is the difference whether he is here or not?" said the second elephant.
The young elephants made fun of him. They filled water in their trunks and splashed it on Leo who was still hiding.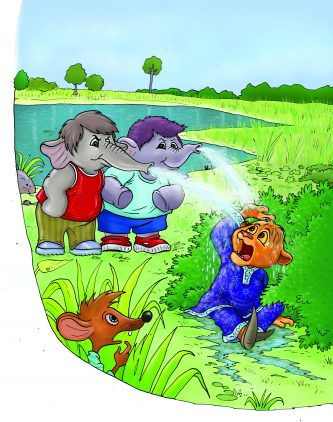 "If you continue to hide, then we will give you a bath and also arrange meals for you," Both of them laughed and said.
Leo got very angry when suddenly they showered water on him. However, he was afraid that if he expressed his anger, then the elephant would not spare him.
"Oops! I need to escape from here as well." Leo immediately ran towards the mountain.
"Timid… timid…" The elephants teased him on as he ran.
Once at the mountains, Leo was at considerable peace. He laid under the dense cover of a tree.
"It's fine here. No one will disturb me," he thought. 
A few crows were sitting on the tree.
"Hey look, our future king is hiding here," one crow said looking at Leo.
"Let's teach a lesson to this coward," said another crow, as he reached out for him.
Now the mischievous crows began to bother him. Some started crying near his ear while some others started poking him with their beaks.
"What's the problem?" Leo got upset again. He was very angry with the crows for teasing him. When his patience broke, he roared aloud.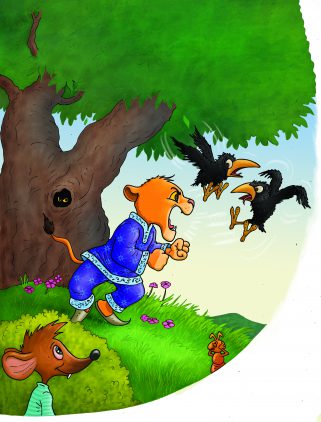 Hearing him roar, the crows flew away in fear.
Leo told himself, "I am a lion and I have to show courage like a lion. I can't live in fear. I am ready to become the king of this forest." He roared again and returned home. 
"Dad, I am ready to become the king." When Sheru heard this, he embraced his son with pride.