All the animals were busy preparing for the Diwali celebration.
They were all allotted a different task to oversee. Chinku bear was given the task of collecting glowworms to light up the forest. He had collected many and was lovingly taking care of them.
On the night of Diwali, he had to place them on the trees, which would then be illuminated, appearing as if a thousand lamps were flickering around.
Mintu monkey had to arrange for firecrackers. He had already bought different kinds of crackers from the market and had safely stored them.
Gittu elephant had to collect decoration items and he too had completed his task.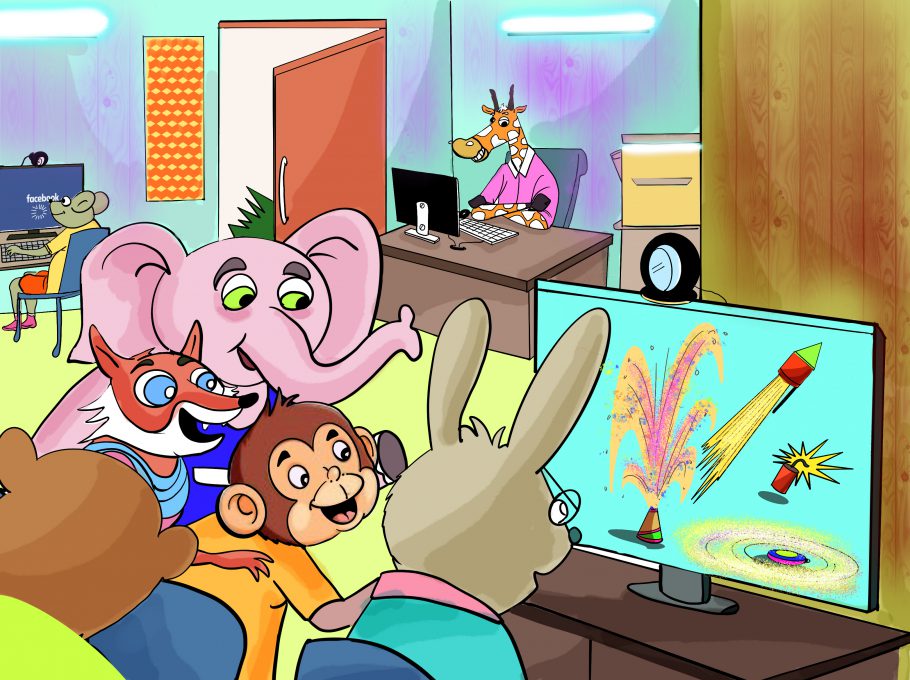 Rangoli fox had to make the rangoli, just like her name.
Two days before Diwali, everyone gathered at the venue along with the things they were responsible for.
Rory rabbit sat in the centre and inspected the materials. He praised everyone for their work. When Mintu took out the firecrackers, Rory frowned and said, "I do not like these things at all."
Mintu was annoyed and said to him, "Rory, if you do not like these crackers, then you can go to the city and buy those of your choice."
Gittu said, "Relax, Mintu!"
"No, I want to know what is wrong with the crackers I have brought," said Mintu.
He was upset that the crackers he had bought so thoughtfully, had been rejected by Rory.
"Mintu, you completely misunderstood me. There is nothing wrong with these crackers or you. The problem lies with the harm the crackers do to us. I had expected that you would bring crackers that would cause less noise and air pollution. If we burst the ones you bought, the pollution levels will increase as much as in the cities. And we know that pollution is harmful to us," explained Rory.
"How does that happen when we burst these crackers?" asked Mintu.
"The smoke that comes out when we burn them, pollutes the air. This in turn causes harm to our nose, ears, throat, eyes and skin. And the loud sound it creates, damages our ears and brain," said Rory.
"But how can we celebrate Diwali without crackers? Our Diwali will be joyless and pointless."
"I have a good suggestion. Let's all go to the nearby cybercafé," said Rangoli.
"Why?" asked Chinku.
"She is planning on showing us pictures of firecrackers. Hahaha…" said Mintu jokingly.
"No! I will show you all the beauty of firecrackers, which you will enjoy, without the pollution," said Rangoli.
"How?" asked Gittu.
"By celebrating e-Diwali."
"What is e-Diwali?" asked Rory.
"Let's go to Genny giraffe's cybercafé. We will be able to see and enjoy the bursting of crackers and a lot more. We can see it as many times as we want and control the volume too," suggested Rangoli.
"That is a great idea. Let's go now," said Chinku, excitedly.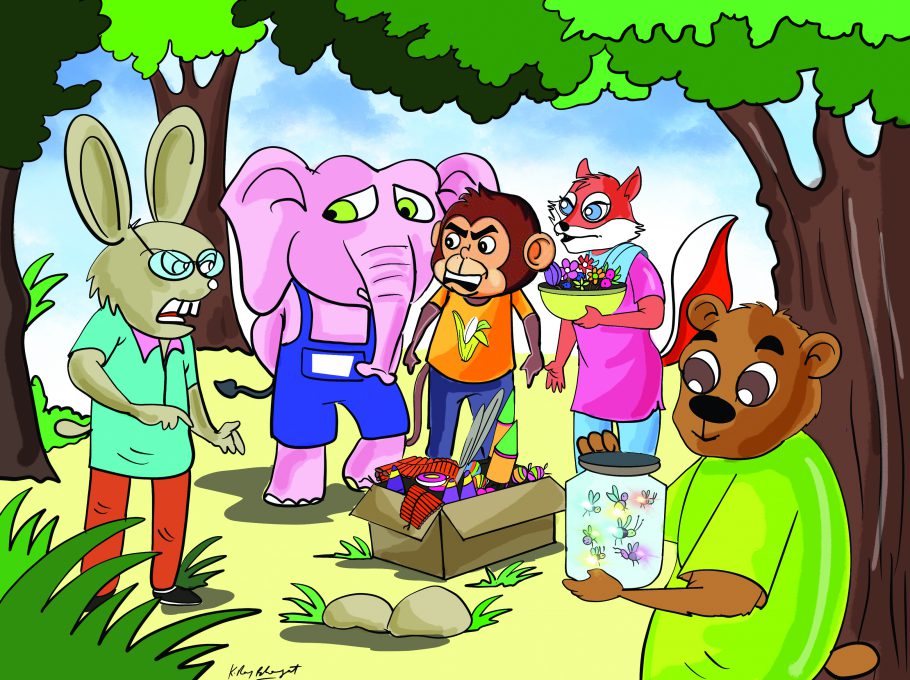 And they all joyfully went to Genny's cybercafé to celebrate a pollution-free Diwali.