Baddy fox wanted to cut the trees of Champakvan. He did not know why, but he disliked the animals of Champakvan and was always thinking of new ways to harm them.
"If there are no trees, then the forest will be destroyed by itself. The animals will suffer from hunger, heat and shelter. And that's what I want," Baddy told this to the woodcutter with a cunning smile.
"Yes, and I will get to sell the tree in the city for a profit," said the woodcutter picking up his axe.
"We must work cleverly and no one should know our plan," said Baddy.
"No one will know. Otherwise, it will be tough to cut the trees," the woodcutter agreed.
"Tomorrow, I shall go to Champakvan and figure out which day you can begin cutting the trees," said Baddy.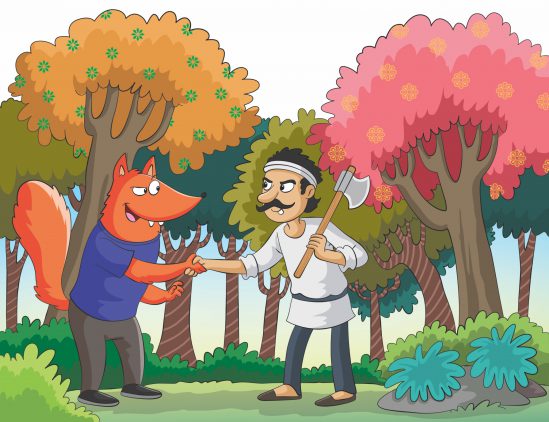 "Let me know when you think the time's right and I will come with my companions and axes and saws," replied the woodcutter and bid goodbye to Baddy.
Next day, Baddy went to Champakvan. The forest was beautifully decorated. Colourful ribbons were tied to the trees. Fairly lights hung from every branch. The animals had decorated their homes. Baddy was curious and wanted to know why the forest had been decorated.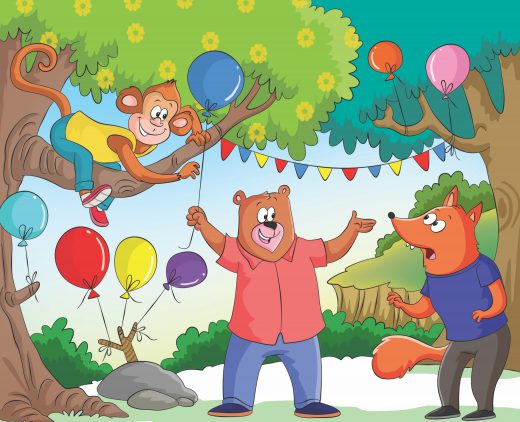 Just then he saw Blacky bear handing balloons to Jumpy monkey on the tree.
"Blacky, what is happening in the forest? Why is it decorated so beautifully? Is there a wedding happening?"
"Don't you know?" asked Blacky looking at Baddy in surprise.
"No. That is why I am asking you," said Baddy, rolling his eyes.
"June 5 is Environment Day. We are making these preparations to celebrate that great festival in Champakvan," replied Blacky.
"Oh! So these decorations are for Environment Day," whispered Baddy to himself.
"Did you say something?" asked Blacky.
"No, no! I didn't," muttered Baddy and walked away.
At the Brave Hardy Crossing, the main crossing of Champakvan, named after one of its scientists, many animals had gathered. They were discussing something important amongst themselves. Baddy wanted to know what they were talking about, so he sat down quietly at one side to listen to them.
"We should ask King Shersingh to be our chief guest," said Dola deer.
"But he is from our forest. How can someone from our forest be the chief guest? We should look for someone else," said Cheeku rabbit.
"You are right, Cheeku. If we get someone from Sundarvan, it will be better. When they see the environment celebrations, they will go back and praise our forest in their forest," said Greta giraffe.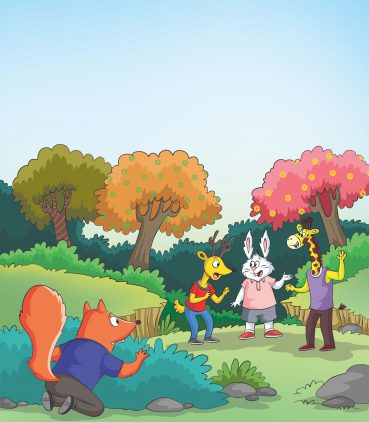 "Whom can we invite?" asked Cheeku and scratched his head.
"How about Baddy fox?" suggested Dola.
"No! No! Baddy always wants to harm Champakvan. How can we make him our chief guest?" Cheeku objected.
"Maybe Dola is right. Baddy may be planning against Champakvan, but we never think of harming him. Perhaps, when he is invited as our chief guest, he may improve and become a good person," said Greta.
All agreed with Greta's suggestion. Suddenly, Cheeku caught sight of Baddy, sitting behind a bush, quietly.
"Look! Baddy is here. Let us go and invite him for the function," he said excitedly.
All animals went to Baddy and invited him to be their chief guest.
Baddy had been feeling uneasy listening to the conversation, and now he was more troubled. He could not even think how of a fitting reply.
"I…I…," he stammered and then said, ''I will surely come."
On his way back, Baddy started wondering about what had happened. "Here, I was thinking of harming Champakvan and these animals are inviting me to be their chief guest."
On the day of the function, Baddy came to Champakvan forest. He was given a very warm welcome and presented a garland of fresh flowers and made to sit on the sofa comfortably.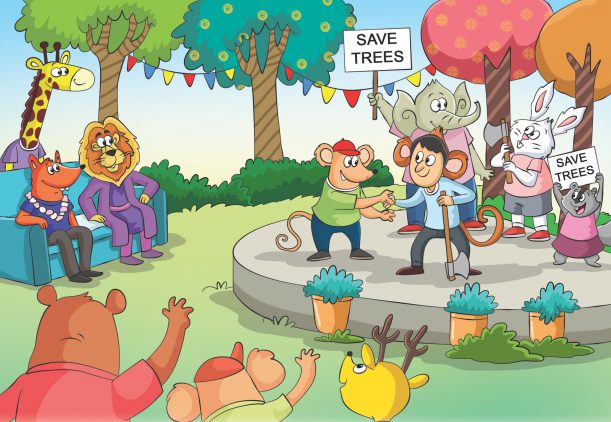 The animals of the forest put up skits telling everyone the importance of trees and why more trees should be planted. They said in chorus, "Fewer trees means heating of the atmosphere, less rain and homes will disappear."
Baddy became thoughtful and realised he would have done something horrible if he had cut the trees. He decided that he would never again harm the trees of any forest.
He would also stop the woodcutters from cutting trees.
The function came to an end and the animals requested Chief Guest Baddy to address the gathering with a few words.
"I am very happy to be here and I promise that from today, I will not harm the trees in any way. I promise to plant 100 trees in Champakvan and look after them."
Hearing him, all the animals were very happy. Baddy had truly been transformed.