More from Champak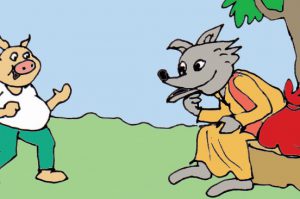 Enjoy Cheeku and Meeku's fun encounter with Foxy fox!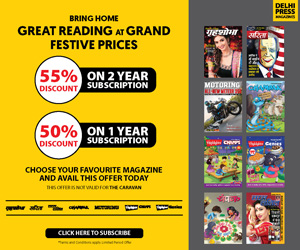 The sweltering heat had reached its peak and all the animals of Sonavan were going through a hard time. This year too, there was a shortage of water in the jungle. Ponds and lakes were drying up. Sona Lake was the only water body in the jungle that still had some water.
Sitting under the shade of a tree and wiping away his sweat, Bebu, the monkey said, "As if the heat wasn't enough, now there is water shortage as well. I hope it starts raining soon!"
Pinto, the dog said, "I haven't taken a shower in a week. It's all because of this heat."
"I can understand. There is hardly any water to drink and bathing seems like a faraway dream," Golu, the elephant said.
The King of Sonavan, Yuv, the lion was worried about the situation as he was receiving complaints with each passing day.
A meeting was organised to resolve the entire situation. Yuv urged everyone, "There is a scarcity of water in the jungle. We are trying hard to get rid of this problem. If any of you have a solution, please let us know."
Ronu, the rabbit said, "We're responsible for this problem."
"How?" Yuv asked.
"We have sacrificed nature for our own comfort and now we will have to pay the price. Most trees have been razed down for new buildings. The ones that are left should be conserved. As they have been cut down recklessly, there are no rains anymore," Ronu said.
"Ronu is absolutely right. Also, a few years ago, there were many lakes and ponds in the forest and now there are none;' Golu said.
"It's true, Ronu. But is there a solution to this grave issue?" Yuv asked.
"We will have to understand the value of water. Maybe if we conserve rainwater, we will be able to solve our problem," Ronu said.
"You're right!" Yuv said.
"The monsoons will start soon. We will have to place tanks on the terraces of all houses to store rainwater. Later, we can boil the water and use it regularly. The water bodies that have dried up to be filled with water," Ronu said.
"Your solution is brilliant. We never thought of storing rainwater," Golu smilingly said.
Next day onwards, everyone got together to work towards saving water. Due to everyone's effort, within days there were new water bodies and tanks available in the forest. Now, everyone was waiting for the rains to arrive.
After a few days, the sky was filled with dark clouds and it started to rain. The water bodies were filled with water again and the tanks were full of water.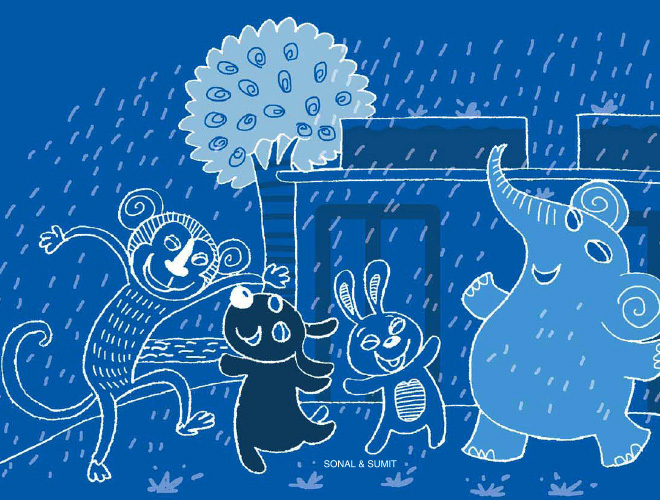 The animals of Sonavan understood the importance of saving water and pledged to be more careful about it. They all danced happily in the rain.
Tags:
adventure stories
,
books for kids
,
children short stories
,
children's books online
,
conserve resources
,
discovery stories
,
English story books
,
kids books
,
kids books online
,
moral stories
,
online stories
,
save trees
,
save water
,
save water bodies
,
saving environment
,
saving rainwater
,
short moral stories
,
stories online
,
storybook
,
water is life