More from Champak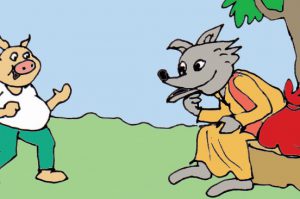 Enjoy Cheeku and Meeku's fun encounter with Foxy fox!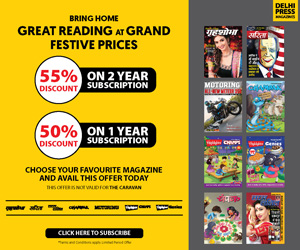 The monsoon rains had made many puddles of water on the street. 
Mosquitoes bred in these puddles and came out of their hiding places in search of food in the evening.  
But one day, a fogging vehicle roamed these streets and let out smoke to get rid of mosquitoes. Many of them suffocated and fell on the ground while many hurriedly left the human public places and flew towards the forest to save their lives. 
The mosquitoes sat in their groups. The Anopheles group leader, Molly female mosquito, was relieved that many of them survived. The Aedes group leader, Pushpy female mosquito was happy looking at her swarm of mosquitoes. Mosquitoes belonging to the Aedes group transmit various diseases to humans like dengue and yellow fever. Anopheles is a group of mosquitoes that are commonly known as malaria mosquitoes. 
After coming a long way, they were feeling hungry. But there was no food for them.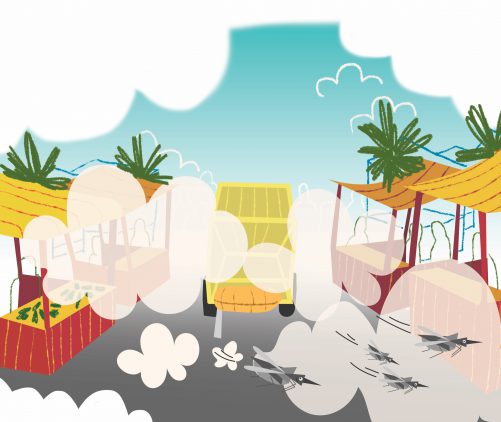 Molly saw all the mosquitoes hungry and said, "It is just a matter of time before we are wiped out. Today, we were forced to flee human settlements and hide before some of us could fill our stomachs."
"But why did we have to leave in such a hurry?" asked Coco mosquito from her group.
"Did you not see that every morning and evening, the fogging vehicles spray smoke to kill us? A large number of us breathe the smoke and die! We had to run away from it!" said Molly.
"What will happen to our eggs, which we left behind in the gutter?" asked Sally mosquito with tears in her eyes.
"If we survive, we can ensure our group grows bigger. I have heard that humans are suffering from dengue fever spread by mosquitoes," said Coco.
"What is dengue?" asked Sally.
"Humans get a headache, fever and red patches develop on their bodies. They also get very weak. Some of them die due to dengue while some survive," informed Molly. 
"But our group spreads malaria. So, who is responsible for dengue?" asked Sally.
"Dengue could be spread by the Aedes group. If they are causing so much harm, why are we forced to flee from human settlements?" asked Coco.
Aedes mosquitoes, resting nearby, heard this. Their leader, Pushpy said, "What are you talking about us?"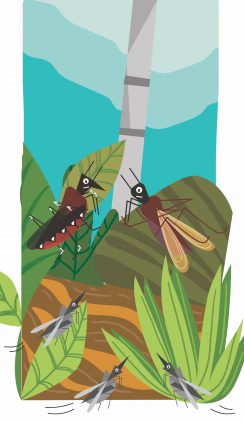 "We said nothing wrong. You must have heard the announcements on the roads that your group of mosquitoes are spreading dengue in human settlements," said Molly.
"This is not true. We don't spread dengue or anything. We just suck a little blood from human bodies when we are hungry," said Pushpy.
"This is exactly what bothers humans. When you suck their blood, your saliva enters their bodies. This saliva contains a virus that causes dengue. The virus gets into their blood and starts growing fast. They fall sick and have to be rushed to a hospital," informed Molly. 
"Then must we stop sucking human blood and stay hungry?" asked Pushpy.
"As long as your saliva contains this virus, you will have to," said Sally. 
"But we can't do this," Pushpy said.
"If you can't do it, then be prepared to bear the consequences. Humans will continue to kill mosquitoes and one day, we won't exist," replied Sally, sobbing.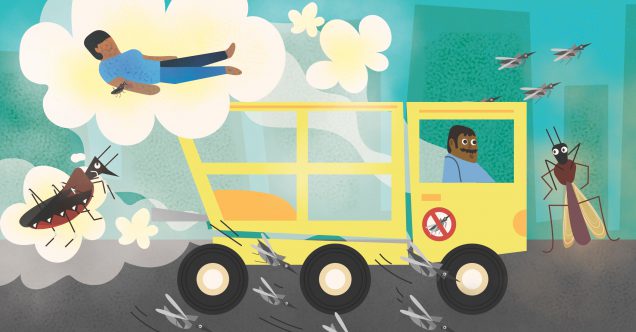 "You are right. But what will happen to us? We'll stay hungry!" said Pushpy, worried.
"We will have to think of a solution where we don't bother humans so they don't bother us," suggested Molly. 
Pushpy agreed. But before she could leave, she asked, "Do you know why this dangerous virus doesn't harm us?"
"The virus uses you as a medium to travel from one place to another. You help it to get into human bodies. That's why it doesn't harm you," said Molly.
"Okay. But when humans held you responsible for spreading malaria, they did everything they could to destroy your homes. They used mosquito nets, smoke and devices at every home. How did you all survive that? Can you help us with any solution?" Pushpy asked." 
"Just leave human settlements and arrange for your food elsewhere. Humans, too, need to survive and they will keep finding new ways to destroy us," said Coco.
Pushpy nodded and left to discuss with her group. She was afraid the spread of dengue was worse than malaria. 
She gathered all the mosquitoes from her group and said, "In the human settlements, a disease called dengue is spreading because of us. You must have heard the announcements on the loudspeakers that water should not be allowed to collect near houses. They are destroying our puddles so that this disease doesn't spread. We have to think of a way to survive this. All suggestions are welcome." 
"If we don't bite humans, we'll go hungry!" sobbed Minti, the youngest mosquito. 
"But it's natural for us to suck human blood. We don't have any other option, do we?" asked Koko. 
"I, too, can't think of a good plan," said Pushpy, losing all hope.
"Wait a minute! We need sugar and blood to survive. But sugar is what we need the most. I'd say, we all only feed on sugar and not humans. This way, we will help humans control the spread of dengue and live in peace. Once humans recover from dengue and stop cleaning the puddles, we'll go back and settle there," said Natty, the smartest female mosquito. 
"But where will we get sugar from?" asked Minti, wiping away her tears.
"Oh, Minti. You have only known human blood but for us to survive we need sugar. We get it from flowers and plants in this forest," said Pushpy. 
"Then, we won't go hungry?" asked Minti.
"We will have to be strict and stay away from human settlements at least for some time. Whenever we get a chance we will surely go to that side," said Pushpy.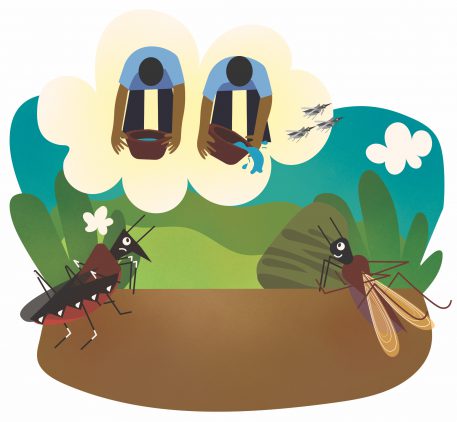 The other group members were happy with Natty's idea and flew looking for flowers so that they could fill their stomachs. 
"In future, when humans can fight dengue just like they fight common fever, we'll be able to go back without any fear," said Natty, giving hope to the full group.
Tags:
animal stories
,
animal stories for kids
,
animal stories online
,
bedtime stories for kids
,
bedtime stories stories for children
,
Champak
,
champak stories online
,
dengue
,
education
,
educational stories
,
forest stories
,
knowledge stories
,
mosquitoes
,
natural disasters
,
nature
,
parents read
,
read aloud stories
,
reading
,
reading for kids
,
reading is fun
,
science knowledge
,
short stories animals
,
story
,
unwind