More from Champak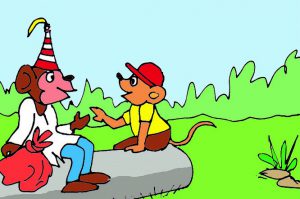 Is Jumpy monkey really a magician? Find out with Cheeku and Meeku!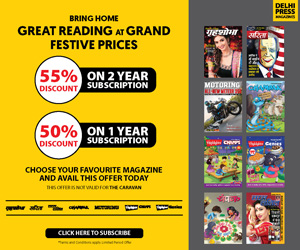 This summer had been very hot in Champakvan. All wells and ponds had dried up. 
Due to water scarcity, King Shersingh announced, "All citizens of our forest are requested not to waste water. Until the rains start, water will be supplied just for one hour in the morning and evening everyday. Everyone will have to manage with it."
All the animals of Champakvan realised that the water problem was serious and started using water sparingly. 
But Titu butterfly did not care, and would wash the leaves of her plants and sprinkle the ground with water daily. She loved playing with water.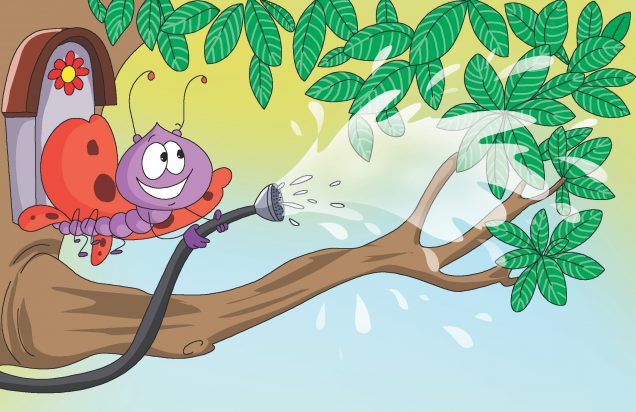 All tried to persuade Titu not to waste water but she continued to use water carelessly. 
All the animals complained to King Shersingh who called her.
He said, "Titu, you are so small. You need just a little water for drinking and bathing. Then why do you use so much water? Though you are using the water given to you, when you use it for this purpose, it makes all the others angry in the jungle. 
Titu said, "I suffer from dust allergy. When dust is around, I get sick and start sneezing and am unable to breathe well. I cannot sleep. That is why I have to sprinkle water around my house."
"Even then Titu, try to save water as much as possible. If you can, instead of washing the leaves, wipe them with water. 
In front of the king, Titu agreed but when she went home, she kept using water as per her wish. 
All the animals wanted to go to King Shersingh to complain against her. 
Cheeku rabbit lived near Titu's house. 
He said, "It is not wise to trouble the King for every small thing. I have thought of a plan so that Titu can continue playing with water and yet it will not be wasted."
"How is that possible? asked Meeku mouse.
"Let's see. I will not talk about it!" said Cheeku.
Next day, the animals saw that Cheeku was burrowing beds under Titu's tree. After two days, he planted vegetable seeds in the beds.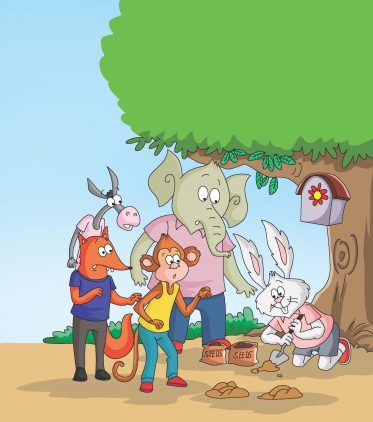 Titu did not realise that she was watering vegetable plants because she was busy watering her leaves and home. 
In a few days, small shoots appeared from the beds. The vegetable garden grew under Titu's home. 
When Shersingh learnt about it, he too was happy. 
At that moment, he received an invitation from Dara rhinoceros, the Minister of their neighbouring forest, Kanchanvan.
The invite said, "Like every year, this year too, we are organising water sports in our big pond. We request you to be Chief Guest at this year's water sports." 
Shersingh was bewildered. He asked the messenger, Nitu porcupine, "In our forest, with great difficulty, we are able to provide water. Our wells and ponds are dry and you are having water sports. How have you kept your ponds full of water?"
"If you too celebrate the Forest Festival like us, then there will be no scarcity of water in Champakvan," said Nitu.
"Forest Festival? What is that?" asked Shersingh.
"We plant plenty of trees in our forest. And we take care of our existing plants and trees, make the best possible use of objects made from wood. Pencils and paper that are made by cutting trees, are not wasted, so as to avoid cutting trees. Because of this, our forest is quite cool and we don't need to run air conditions and coolers. That way, we have water and electricity. Most importantly, we collect and store rain water by water-harvesting. We use the stored water for all our needs, and the wells and ponds in our forest never dry up. All these help us in organising water games even in summer."
"Now I understand. We too will plant trees in abundance in our forest and will collect rain water by water harvesting. We too will celebrate Forest Festival. Please tell Dara that I will surely come and enjoy the water sports. I thank him for the invitation."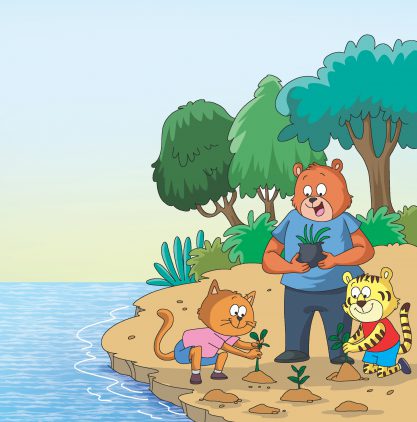 Tags:
animal stories online
,
animated stories
,
bedtime stories
,
bedtime stories for kids
,
champak stories online
,
children moral stories
,
children online stories
,
children short stories
,
children stories
,
children stories with morals
,
children's short stories
,
dishonesty stories
,
english short stories
,
english stories for kids
,
fun stories
,
funny stories
,
kids short stories
,
lesson learnt
,
moral stories
,
online stories for kids
,
read aloud stories
,
stories to read