One day, Baddy, the fox was walking down the forest trail, lost in thought.
"Where are you off to so early in the morning, Baddy?" asked Cheeku, the rabbit who was on his morning walk.
"I'm glad I ran into you, Cheeku," said Baddy.
"Why? Were you looking for me?" asked Cheeku.
"I wasn't exactly looking for you, Cheeku. I'm actually looking for a well," said Baddy.
"You're looking for a well? Why? Are you thirsty?" asked Cheeku.
"No, no, let me explain," said Baddy. "I had a dream last night that there's a well somewhere in the forest and it's all dried up. I'm looking for that well."
Cheeku gave Baddy a confused look. Baddy further explained, "In my dream, the dried-up well is filled with treasures. I need to find that well and dig out all the treasure. With it, I'll become the richest animal in the forest."
Things made sense to Cheeku now and he said, "Baddy, I hate to break it to you, but I don't think there's any treasure or even a dried-up well in Champakvan. It was just a dream. So instead of running around the forest looking for some treasure, why don't you join me? We'll run together. It'll be good for your health."
Baddy said he'd rather continue his search for the well and walked away, and Cheeku went back to his morning walk.
Baddy spent some time wandering around Champakvan, until he saw a well. Baddy ran to the well and peered inside. It seemed to be dry.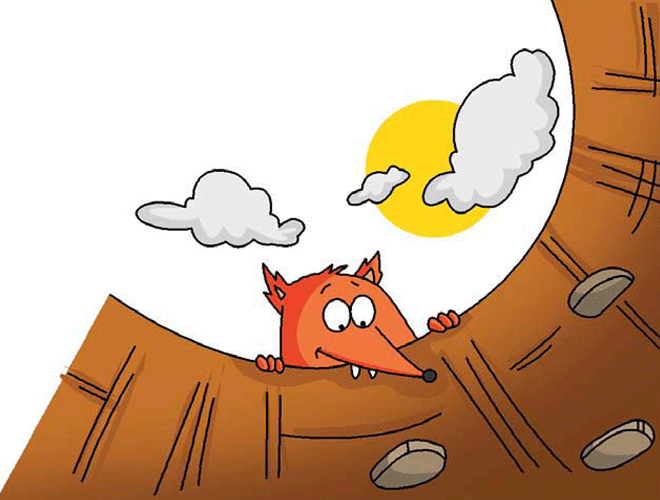 "I've found it! I'm rich! I'm rich!" he shouted and danced. "Now I'll climb into the well and search for that treasure!" he said and peered inside once again.
The well was deep, but its walls had rocks jutting out in different places. "I can use these rocks as footholds and climb down," Baddy said to himself and began to climb down.
The well was deeper than he thought and it became dark very fast. Baddy almost made out of the well but one of the steps gave away and he fell into the well.
At the bottom, there were rocks and stones and Baddy was badly bruised. But he was so keen on finding the treasure that he paid no attention to his injuries and began digging the ground. All he found were stones and rocks.
Baddy looked at the walls of the well, and just then he saw a big black snake come out of one of the holes in the wall.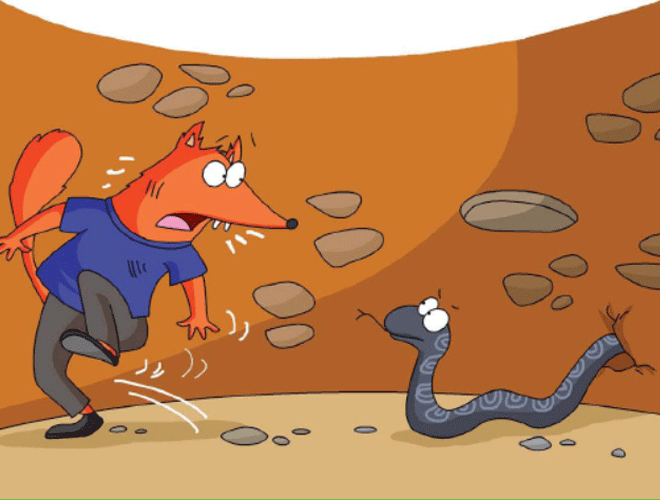 "Oh no! A snake!" he shouted and began to tremble with fear.
Fortunately for him, the snake was good-natured and meant no harm to him.
"Don't worry, I won't hurt you," said the snake reassuringly. "What are you doing here in this well?"
Baddy told the snake about his dream and that he was looking for the buried treasure.
"Hmm…you seem to believe in superstitions," said the snake.
"You're so keen on finding the treasure that you're not bothered by how difficult or dangerous the situation might be. Well, let me spare you the effort of digging and tell you that there is no buried treasure here."
Baddy felt dejected. He decided to head back out of the well, but he realised that he didn't know how he was going to do that.
Baddy scratched his head, looking for a solution. Even after thinking for several minutes, Baddy had no idea of how to get out of the well. He sat down and started to cry.
The snake said, "Why don't you shout for help. Maybe someone will hear you and help you out."
When Baddy called for help, Meeku who was passing by heard his cries. He put his hand out and asked Baddy to grab on.
"Give me your hand and I'll pull you out!" Meeku said.
But Baddy refused to put his hand out. Meeku didn't know what to do. He called Jumbo.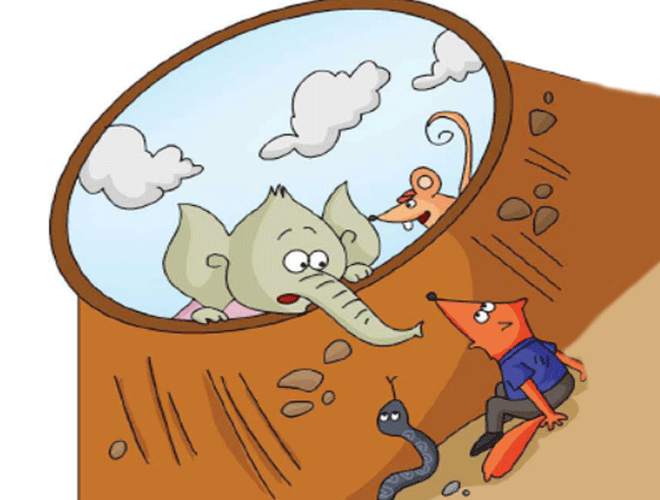 Jumbo offered to help and said Baddy, "Here! Give me your hand and I'll pull you out with my trunk." But Baddy refused again.
"I think he's gone crazy," Meeku whispered to Jumbo. "He called for help, and when we offer it, he refuses!"
Meeku saw Cheeku going home and he called out to him. He told Cheeku everything.
Cheeku realised what was happening and told the others what to do.
Cheeku said, "Baddy has always taken. He doesn't know how to give. Ask him to take your trunk, Jumbo and you'll be able to pull him out easily."
Jumbo told him, "Here you go, Baddy! Take my trunk. I'll pull you out."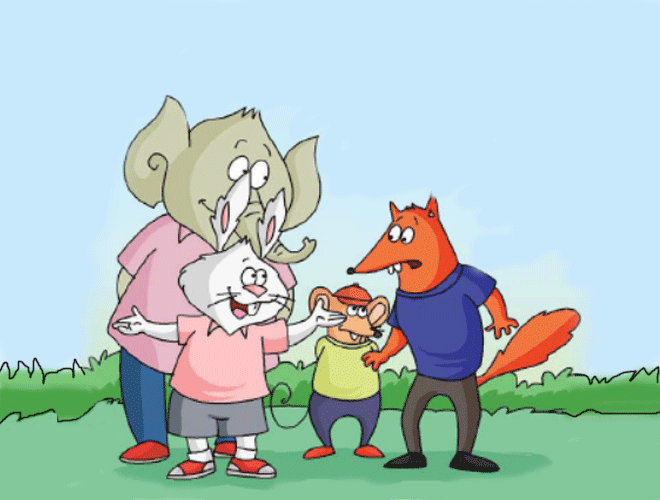 Baddy didn't refuse this time. After Baddy was rescued, Cheeku told him, "Baddy, Do you know what the biggest treasure is? It is friendship. We'll always help you out, Baddy, and we know no treasure can replace our friendship."
Baddy realised his mistake and apologised to others. He realised there is no bigger wealth than friendship. He was changed and began to help others and was not greedy anymore.