Gitti squirrel was annoyed with her friend Pinky pigeon because Pinky had been so busy. She hadn't met Gitti. Gitti had begun eating and playing on her own. But sometimes she would get bored and lonely and run around every corner of the house looking for Pinky. Not finding her, she would get back to being on her own again.
Pinky and Gitti lived in a large house in the city. Rohit was the owner of the house who lived alone. He would get ready early, eat his meal and leave for work.
He really loved his little friends, Pinky and Gitti, who ran around the house all day, so no matter how late he would be, he would always put out plenty of food for them on the roof. Pinky, Gitti and their friends lived their days in happiness.
When Gitti had newly arrived at the house to live in, she and Pinky had chanced upon a piece of bread at the same time, but Gitti reached it before Pinky. But Gitti did not touch the bread and instead she stepped back and said, "Pinky, take this one. I'll look for another one."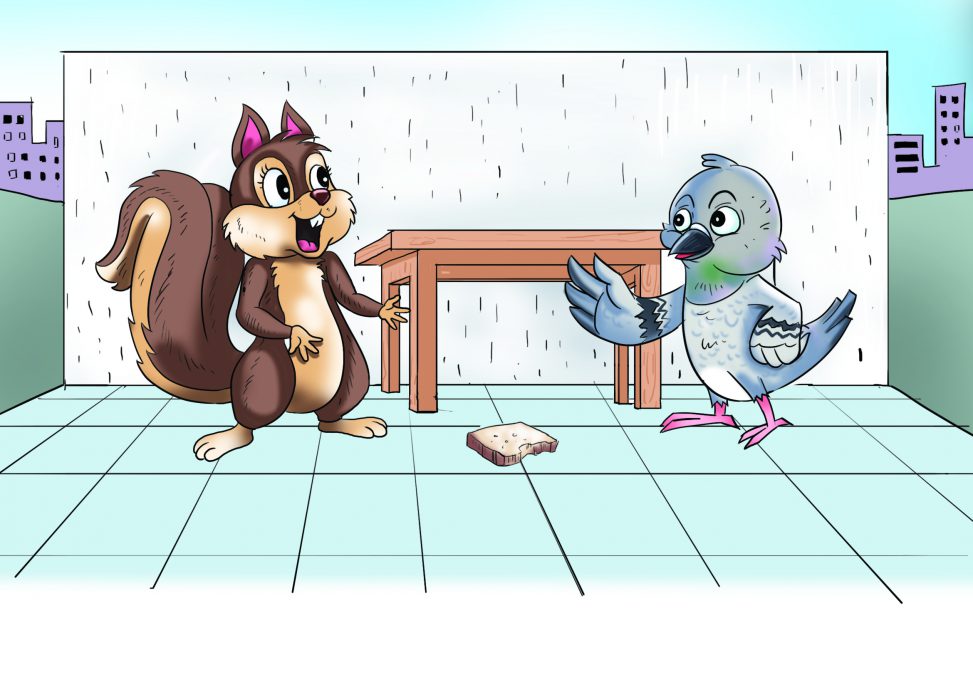 "All right, I'll take it. But not the whole piece. Let's share it." replied Pinky.
Thus the two of them became friends. And they started playing, eating and running around the house together. Pinky would sometimes fly away and cry out to Gitti asking her to catch her. Gitti would again run and catch her, but Pinky would fly away again.
When it was Gitti's turn to trouble Pinky, she would hide in a narrow space and Pinky would say, "Come out, Gitti! You know I can't get in there!"
But one day suddenly, Pinky started being aloof. Gitti could not understand what had made Pinky to withdraw. She looked for Pinky all around the house.
When she reached the roof, she saw that on the garret beside the stairs, in a nest made of pieces of paper. Pinky was quietly sitting with her eggs. She called out to her, but when Pinky did not respond, she had her meal alone and went to sleep.
A few days later, Pinky came and took Gitti to her nest. Gitti was surprised to see two little pigeons inside it, who became excited hearing Pinky's voice.
Gitti was amused, and she said, "Oh, so they are the ones who kept you busy! I'm so happy for you. Can we take them to the roof?"
"Not now, Gitti! They're too weak and tiny. They can't even fly. So we must wait some time more to be able to play with them. When they learn to fly, they can come with us to the roof." explained Pinky.
Pinky brought food grains to feed the babies. Gitti too took some grains and approached the babies, but they stopped crying and stepped back.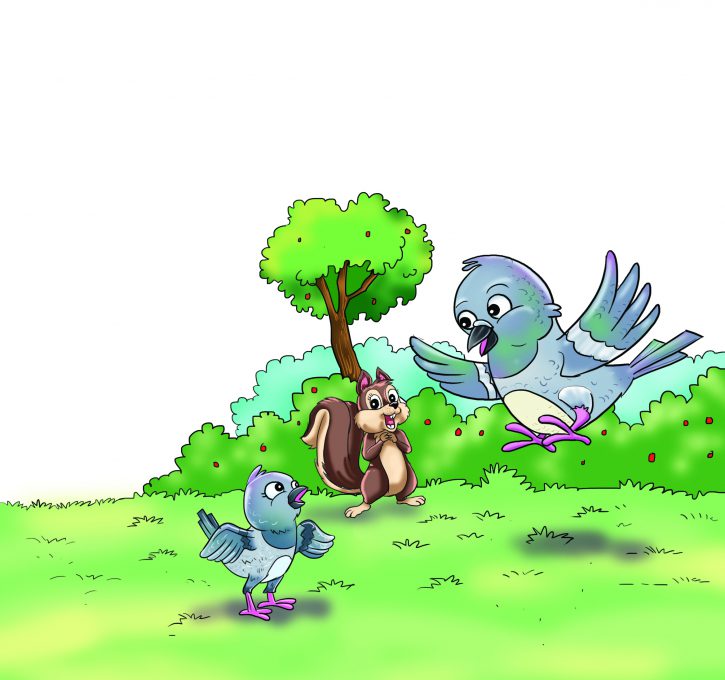 "People think babies are clueless and naive. But they're very smart. See how they stepped back—they know who their mother is and will only take food from her." said Pinky.
"That's really smart! Why don't you feed them? I'll just watch from a distance."
Pinky took care of her kids and Gitti watched them grow up.
When the babies grew wings, Pinky took them out and started teaching them how to fly. Gitti, too, came along. Slowly the kids started knowing Gitti.
Rohit, the owner of the house, gave them food and came and sat on the roof with his tea. He would enjoy watching all the pigeons and squirrels eating and playing together. Seeing the baby pigeons, Rohit too decided that he should now get married and get settled.
One day, Gitti told Pinky, "Pinky, I really love your two kids. It's so much fun playing and spending time with them."
"Gitti, you mustn't be under the impression that the kids will always be there to play with you. As soon as they grow up to be adults, they will leave us and go on their own path looking for friends. And then just you and I will be left to play together."
"But that's so sad, Pinky. The same kids whom you took so much care of as they grew up, would leave you alone when they become independent," said Gitti, sadly.
Pinky explained: "That's the law of nature, Gitti. Along with the kids, the parents also grow up to be healthier, more independent and confident. They too lead their individual lives happily and meet each other whenever they want. We don't to become a burden for each other."
"That's wonderful, Pinky. Those kids are such lovely gifts. As long as they are with us, we'll enjoy their company. When they fly away, we'll be there for each other to play with." said Gitty.
The days passed. The pigeon's kids grew up and flew away. Now there was only Pinky and Gitti in the house to play and run around. They remembered their earlier days. Kullu too joined in with them and the fun multiplied.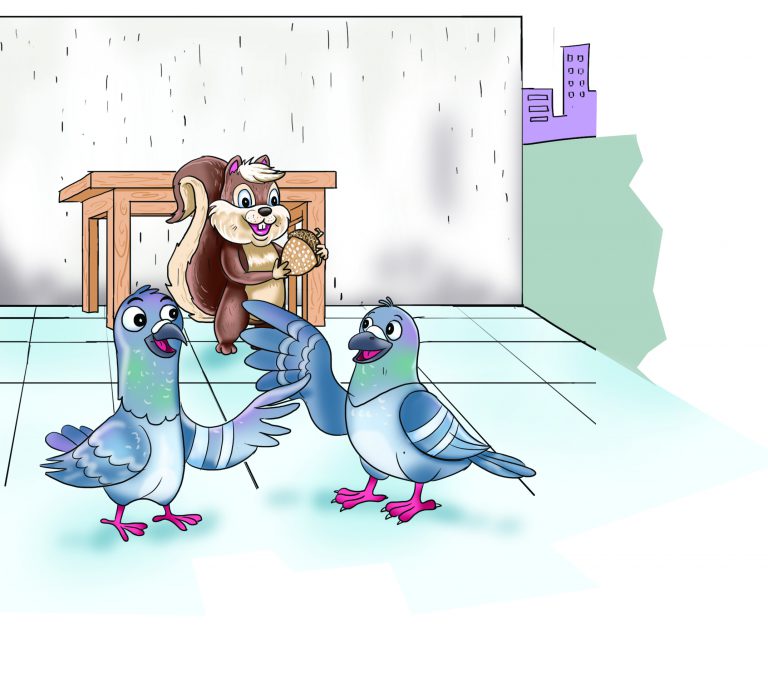 Tags:
adventure stories
,
best friends forever
,
books for kids
,
children's books online
,
children's short stories
,
discovery stories
,
English storybooks
,
friendship
,
friendship stories
,
friendships day
,
kids books
,
kids books online
,
moral stories
,
online stories
,
short moral stories
,
stories online
,
storybook