Champakvan had an orphanage devoted to the care of orphans. It was home to a lot of children. The boarding, lodging and studies of these children was completely undertaken by King Shersingh.
Shanno cat was employed as the caretaker of the orphanage.
King Shersingh visited the orphanage once a month.
One Sunday, when Shersingh reached the orphanage, Shanno was waiting for him at the gates to welcome him.
"Shanno, I hope the kids are well taken care of?" asked Shersingh.
"Yes, my King! I take care of them like my own kids. I am at their service throughout the day. I am always concerned about them," replied Shanno.
"My King, I request you to come and see for yourself how well these kids are taken care of," she continued taking Shersingh to the kitchen.
Lunch was being prepared in the kitchen. There was chapati, rice, dal, vegetables and rice pudding on the menu.
"This food smells good here!' said Shersingh, taking in the aromas of the food.
"Yes, my king! We serve tasty and nutritious food to the kids every day. They are also served milk, nuts and fruits in the morning," Shanno added.
"That is excellent! I wish that these kids never face any inconvenience while they are here. Let me know if you need any help," offered Shersingh.
Then, Shersingh visited the kids in their rooms. Cheeku rabbit, Meeku mouse, Jumpy monkey and the other kids greeted the King.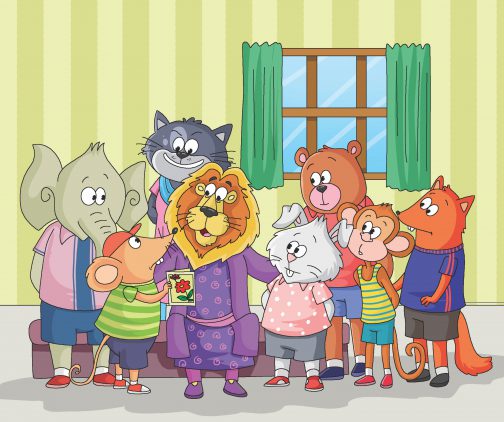 "Children, are you all comfortable here?" asked Shersingh.
"Yes!" said the kids and nodded.
"My King, like I said, the kids here do not have any problems. We care for them like our own kids. Each and every need of theirs is taken care of," Shanno added quickly.
As soon as Shersingh got up to leave, Cheeku interrupted and said, "My king, we have made a greeting card for you and we would like to present it to you."
Shersingh happily accepted their request and said, "Yes, of course! Bring it quickly. I want to see what my lovely children have made for me."
Meeku brought the card and presented it to Shersingh.
Shersingh opened the greeting card and smiled and said, "It is a very beautiful card. I have never been presented with anything like this before. I will always treasure it."
"Shanno, you are working really hard to help these kids. You deserve a reward for your efforts. I will return soon," said Shersingh as he left.
That night Shersingh visited the orphanage with Inspector Tommy Dog and his team.
Shanno was surprised to see Shersingh with the police. She came out quickly and asked, "What is it Inspector? Is there a thief here?" 
"Yes, we are here to catch a criminal. A crime has been happening for many days and now we have the proof for it," said Inspector Tommy and hand-cuffed Shanno.
"Why are you taking me in, Inspector? What crime have I committed? I look after the kids in the orphanage. I am not a thief," cried Shanno.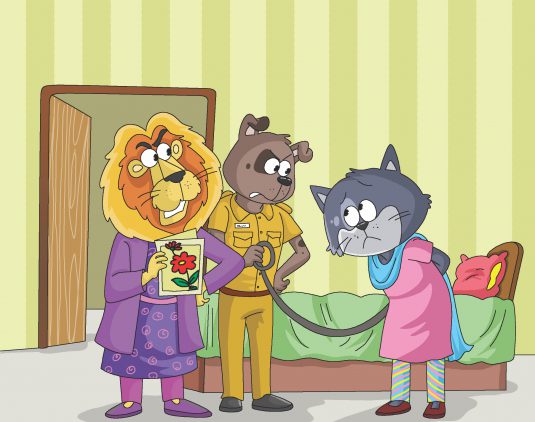 "You should be ashamed of yourself! I trusted you and you took advantage of my trust. Now you will spend the rest of your life in prison," roared Shersingh, his eyes red with anger.
"My King, there is some misunderstanding. I have not done anything. Please leave me!" pleaded Shanno.
"There is no misunderstanding. The children of the orphanage gifted me the card and it mentioned all the details of your wrong doings. You have been torturing these little children by hitting them and threatening them. How you fed them stale food that too, just once a day. 
All the food that was being prepared was just to fool me. You have been keeping all the money that was sent for the welfare of the kids, for yourself. Your misdeeds have finally come to light now," Shersingh growled.
Seeing his rage, Shanno admitted to her crimes. Shersingh demanded a tough punishment for Shanno.
Then Shersingh praised Cheeku, Meeku and Jumpy for their presence of mind and said, "We were able to uncover Shanno's wrongdoings due to your intelligent thinking. I assure you, that you will never face such a problem again. You will all be looked after well!"
Shanno was sent to prison and the children lived happily with another caretaker.
Tags:
Champak
,
champak online
,
Champakvan
,
Champakvan story
,
cheeku
,
children short stories
,
children stories with morals
,
children's short stories
,
english short stories
,
english stories for kids
,
Meeku
,
moral stories for kids
,
online stories for kids
,
sher singh
,
stories for kids
,
stories for kids online