Hey buddy, Roli squirrel, the teacher is too strict. She scolds us all the time," said Piyu, the tortoise.
Denko, the donkey added, "She lectures all the time."
Tom, the dog could not stay from saying, "There are so many teachers in school. But, Roli keeps such a stern eye on us as though we are culprits."
Piyu said, "On Sunday, I met her in the market. She asked me why I was roaming around in the bazaar. She also asked whether I had informed my parents before setting out. She wanted to know about my friends; who they were and where were they studying? I was tired of answering so many questions."
Denko said, "We can do what we want when we are not in school. Why should that bother our teachers?"
Suddenly, Roli appeared in front of them. On seeing her, Kapil, the mole stammered and said, "Good Morning Madam. I didn't say anything. I…I…I was just listening to them."
Hiding her laughter Roli replied, "Classes were dismissed quite a while ago. You should've gone to your homes by now."
Denko, Piyu and Tom quickly scampered away.
Roli said, "Kapil, you are good in studies. Denko, Piyu and Tom have more interest in mischief rather than studies. They don't concentrate on their school work. You are their friend. While talking with them, advise them to take interest in studies as well. Alright?" Kapil nodded his head in agreement.
The half-yearly exams were over. The results were declared. Kapil's results were satisfactory; whereas Piyu, Denko and Tom's results were disappointing.
Soon, it was Teachers' Day. The parents of all the students had been called to meet the teachers. This was the first time that the parents were meeting the teachers. Denko, Piyu and Tom were sitting together in the hall.
Grinding his teeth Tom said, "Where is Roli? I hope she doesn't lecture to our parents as well. My father doesn't like listening the lectures."
Denko laughed and said, "My father gets angry easily. I hope he doesn't get into an argument with Roli. Look, she has gone to sit on the stage."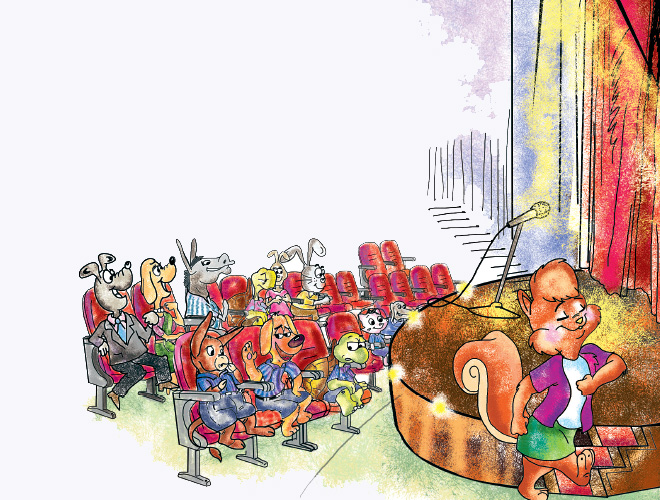 Piyu whispered, "My father doesn't like people who talk a lot. He wasn't even ready to come to school. I had to persuade him to come."
That's when Denko exclaimed, "Goodness! What's happening? Look Piyu, your father is touching her feet!"
More From Champak: Dadaji And Teachers' Day
All of them were surprised. Not just their parents, but also many other parents were touching Roli's feet as a sign of respect.
Roli looked at Kapil and indicated that he should come towards the stage. Kapil ran towards the stage. She said something to him and Kapil immediately ran back to where his friends were standing.
He said, "Ma'am is calling the three of you on stage."
Piyu said "What's going to happen now? We have no idea what Roli must have told our parents about us."
Denko said, "Come on, let's go. Can't you see? Our parents are also looking in our direction. Things may not go well for me."
Tom said, "I am scared. Both of you walk ahead. I will follow you."
Piyu, Denko and Tom reached the stage. Roli was surrounded by parents.
Seeing Piyu, Denko and Tom on the stage Roli said, "These three students are the pride of our school. They have done well in extracurricular activities. I am confident that they will perform very well in the annual examinations. They will score higher than all the other students."
Piyu's mother said to Roli, "You taught Piyu's father too. He was just telling Tom's father that whatever he has achieved so far, has been due to your efforts in teaching him."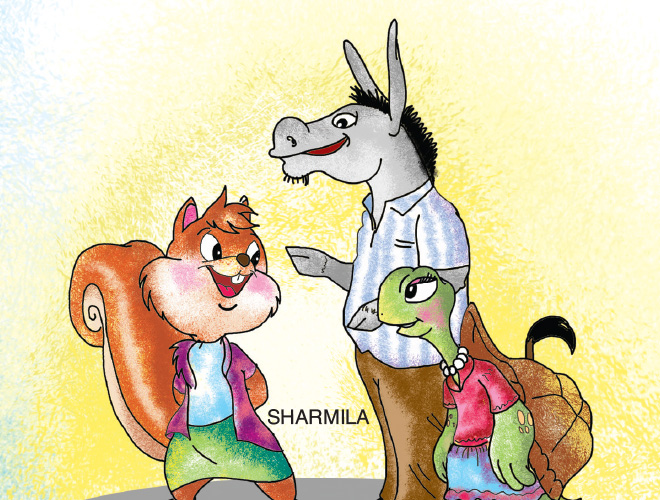 Denko's father said, "Like me, there were several backbenchers, who were motivated by teacher Roli. She gave us advice, as well as a direction to our lives. We are confident that our children will make this school proud of them."
Piyu, Denko and Tom listened silently. They thought to themselves, "Roli is the Best Teacher."
Tags:
adventure stories
,
best teacher
,
books for kids
,
children's books online
,
children's short stories
,
discovery stories
,
English storybooks
,
happy teachers' day
,
kids books
,
kids books online
,
learn from your teachers
,
moral stories
,
online stories
,
short moral stories
,
stories online
,
storybook
,
teachers' day