More from Champak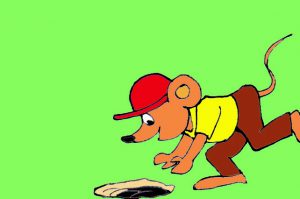 Find out how Cheeku and Meeku escaped from the hungry Jackal!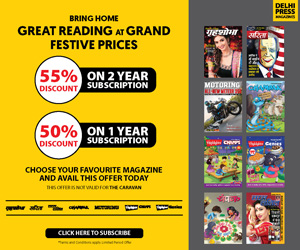 It was a Saturday. Usually, Aman would be out playing with his best friend, Rohit. But today, he was busy in the kitchen. Since his mother was unwell, Aman had taken her place, preparing simple meals for his family. His little sister, Neelam, was the happiest.
"Aman, the aloo parathas you had packed for lunch yesterday was so yummy that all my friends gobbled it up within minutes. I had to make do with eating their lunches," said Neelam.
"Ha ha! Next time, remind me to pack some extra for your friends as well," said Aman. "I am happy that you have taken over the kitchen duties now. Imagine having to eat Dad's boring bread and jam for a whole week like he made us eat last year when Mom had gone out of town!" said Neelam.
Dad, who had just walked into the kitchen, overheard Neelam's comment and asked in mock anger, "Who is complaining about my cooking skills?"
"Not complaining, Dad, but just sighing in relief," said Neelam cheekily.
The three laughed. Aman then prepared tea for his parents and served it to them.
"Thank you, Aman, for helping Dad with the housework while I have been unwell," said Mom. "I hope it has not been too much trouble for you. Hope you are not missing out on your schoolwork because of this."
"Don't worry, Mom. You just relax. I have more than enough time to study in the evenings," said Aman.
That evening, Rohit dropped by to invite Aman over to play.
"I can't come out now to play, Rohit. I am quite busy," said Aman.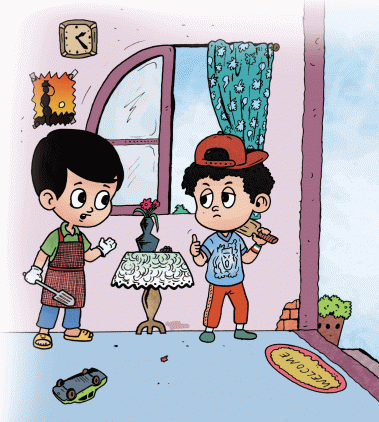 "You didn't come out to play in the morning as well! Why are you wasting your time in the kitchen doing girlie things?" asked Rohit, making a face.
"It's not a girlie thing to be in the kitchen, especially if you are pitching in with the housework when your mom is sick. Our moms do all the house chores for us without complaining. So, when they are unwell, it is our turn to help them without complaining," said Aman.
Rohit gave it a thought and then said, "I guess you are right. I won't trouble you anymore."
In a couple of days, Aman's mother recovered and took over the kitchen duties.
Aman continued to help around the kitchen by chopping the vegetables and kneading the dough. Mom taught him a few new recipes. Even Neelam helped with whatever little she could like washing the vegetables and peeling the skin of garlic pods and potatoes.
"Aman, now that I am well, you should start focusing on your studies again," said Mom.
"I love cooking, Mom. It is fun and also helps me relax before I sit down to study, replied Aman.
A couple of months later, Aman, Neelam and their school friends were on their way to a day-long picnic organised by their school. The picnic spot was a few kilometres away from the city. Once they reached the picnic spot, the kids divided themselves into groups and began playing.
More from Champak: Unique Picnic
Close to lunchtime, the teachers looked visibly worried. The cooks who were supposed to prepare the lunch had not reached as yet. The van they were travelling in had broken down. By the time they reach, it would be way past lunchtime, and the three teachers weren't skilled at cooking for a large number of people.
While the teachers debated the options, Aman stepped forward and said, "If you do not mind, I can help you."
"How? Do you know how to cook?" asked one of the teachers surprised.
"Yes! He cooked for us for a whole week when our mother was unwell," said Neelam.
"And we will help in whatever way we can," volunteered a few of Aman's friends, including Rohit.
"Okay. There's no harm in giving it a try," said another teacher.
Aman divided his friends into groups and put each group in charge of a task—the first group washed and peeled the vegetables, the second group chopped them, and the third group helped grind spices and stir the pots in turns—all under the supervision of their teachers who handled the major portion of the cooking. To make it more fun, Aman and his friends sang songs and played word games as they cooked.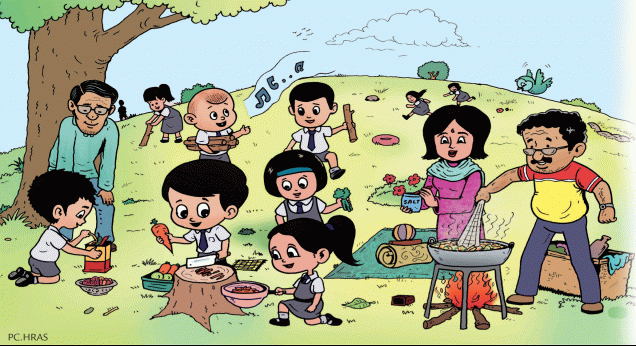 Within no time, lunch was ready! Even though it was simpler than the one planned for the picnic, everyone ate it with relish.
The next day, during assembly, the school principal appreciated the students for helping with the picnic lunch. He made a special mention of Aman for coming up with the idea and mobilising his friends.
The principal said, "Times have changed. Cooking is not a woman's job anymore. Today, it is a basic skill that everyone needs to learn to be able to survive on their own. To encourage all the students to learn cooking, I plan to organise an annual cooking competition starting this year. Let's schedule it for next month."
Everyone cheered at the announcement. Neelam beamed at her brother with pride.