Keggy kangaroo ran a grocery store in Champakvan. He was a greedy and shrewd shopkeeper.
He would cheat his customers by charging higher prices for everyday items and would also weigh them incorrectly.
Since there was no other grocery store in the forest, everyone was forced to buy their supplies from Keggy's store.
One day, Meeku mouse came to the store to buy some rice.
"Two kilos of rice, please."
When Keggy started weighing the rice, Meeku said, "Keggy, please weigh it properly. Something is wrong with your scales as last time you gave me less quantity of rice."
Keggy was furious. "Meeku, the scales are just fine! If you don't trust me, go buy rice from another store," he yelled.
Meeku quietly took the rice and left as he did not have any other option.
Next day, Blacky bear went to Keggy's store with his children. It was his son's birthday. He gave a list of items to Keggy and said, "Please give me these, quickly!"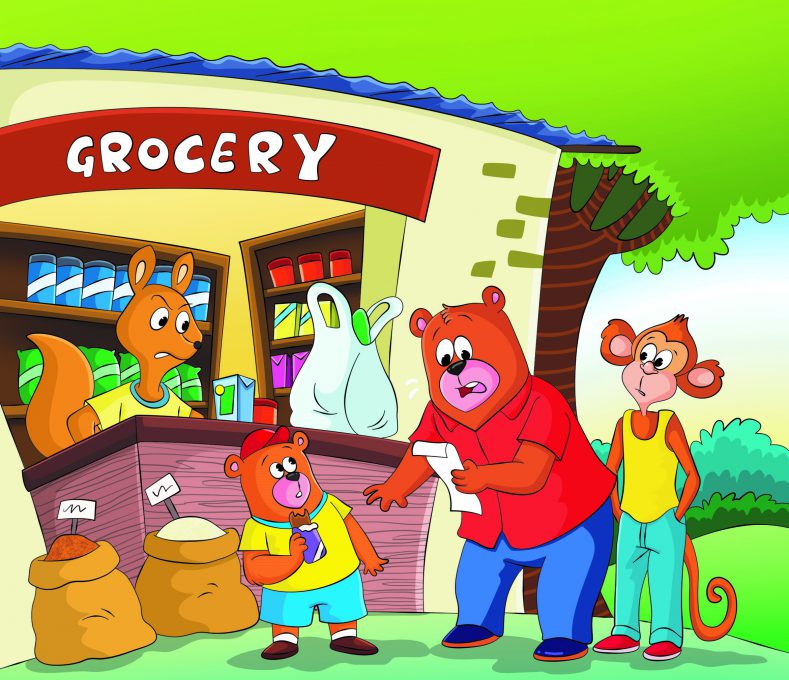 Keggy put everything in a bag and said, "Blacky, your total bill is `1000."
"One thousand? But I had calculated the bill to be `800," Blacky replied.
"The prices of some of the items have gone up. So, it's `1000 now," said Keggy.
"How is that possible? The prices were less until yesterday. How can they suddenly increase today?" asked Blacky.
"I don't know all that. If you want to buy from here, then do so, otherwise, go elsewhere," said Keggy, arrogantly.
Jumpy monkey was also present at the store. "Keggy, how can the prices go up in one day?" he asked.
Keggy glared at Jumpy and said, "I don't need to explain anything to anyone. Buy your stuff and leave."
Finally, Blacky had no option, but to pay `1000.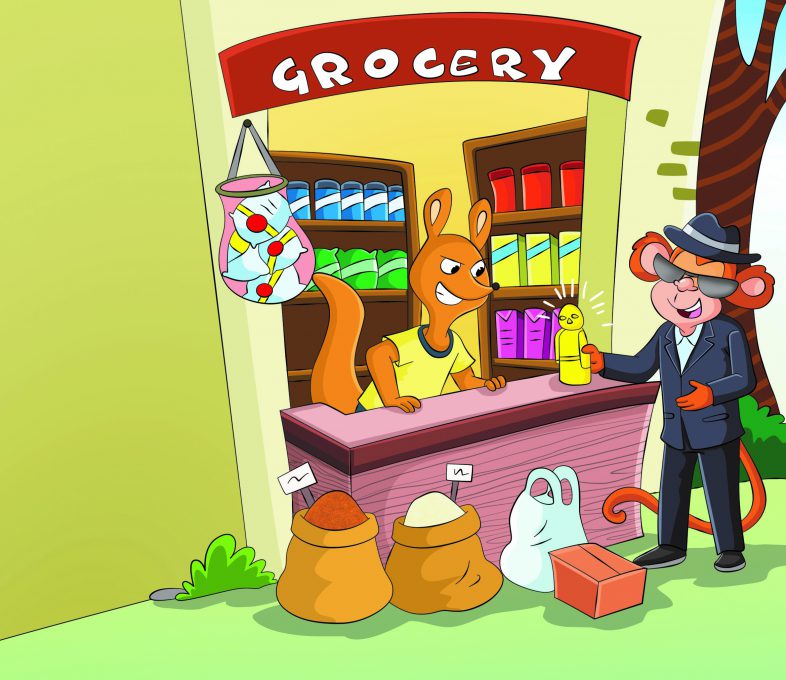 Two days later, a monkey came to Keggy's shop. He looked like an outsider with his sunglasses, hat, suit, and boots. A backpack hung from his shoulder.
"Yes? What do you want?" asked Keggy.
"My name's Peter. I've come from abroad. I'll be staying in this forest for a month. So I need a month's worth of groceries," said the monkey, handing over a list to him.
Keggy packed everything and said, "Your bill is `5000."
Peter took the packets and said, "I've spent all my money to come here from abroad and I have no money to spare. But I do have a statue, which I can offer you in exchange for the groceries."
He then took out a gleaming statue from his bag and handed it to Keggy.
Keggy's eyes widened when he realised that the statue was made of pure gold.
"This gold statue is worth lakhs! I'll take it at once!" he thought.
"It's all right if you don't have the money," said Keggy, "I'll keep this statue and you can take the groceries."
"Thanks a lot! Here, let me keep the statue safely inside this bag for you."
Peter put the statue inside the bag and gave it to Keggy. He then took the groceries and went.
Keggy was excited after receiving the statue. He decided to go to the city and sell it.
The next morning, he went straight to the goldsmith, Hatim horse's shop in the city.
"I have a gold statue worth lakhs and I want to sell it."
"Show it to me," said Hatim.
Keggy took the statue out of the bag and showed it to him.
"Keggy, this is a fake statue. It doesn't even cost `50," said Hatim, examining the statue.
The ground beneath Keggy's feet shattered. "A foreigner monkey came yesterday to my shop and bought groceries worth `5000. He didn't have money so he gave me this gold statue. But I had examined it carefully when he showed it to me—and it was pure gold!"
"These con men are very crafty. He must have shown you a real gold statue but then he must have exchanged it with a fake one, before handing it to you. You have been cheated," Hatim explained.
"I will not spare him!" said Keggy, furiously.
Keggy went to Shersingh lion, the Prime Minister of the forest. "Sir, I have been cheated by a foreigner monkey named Peter. He bought groceries worth `5000 from my store and in exchange gave me a fake gold statue."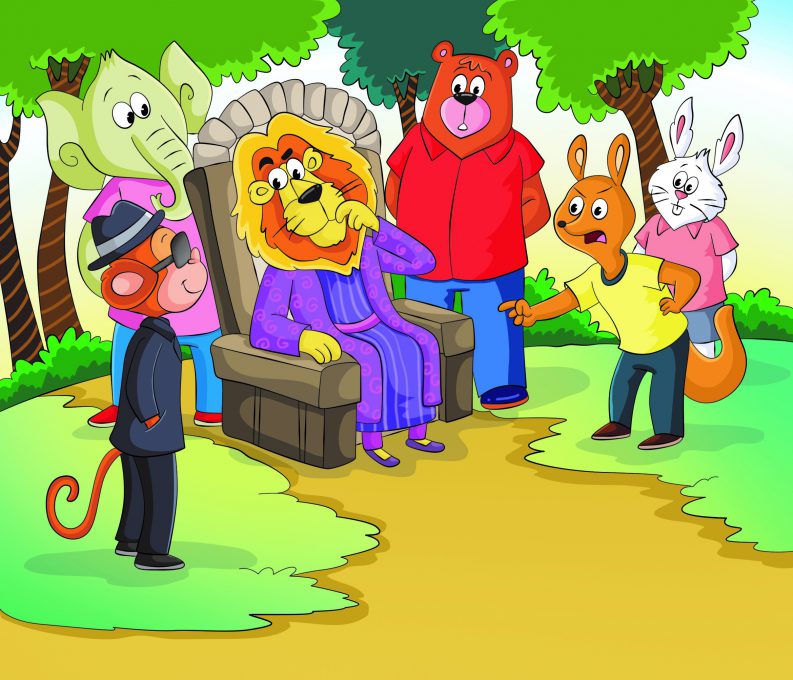 Shersingh called for Peter and the other animals of the forest.
Peter arrived soon. Seeing him, Keggy shouted, "Thief! He's the one who gave me a fake statue and cheated me!"
"Sir, I did not cheat Keggy!" said Peter defensively, "After taking the groceries, I asked him if he would accept the statue as payment. I never said that it was made of gold. Keggy agreed to take the statue on his own. I did not force him."
"Yes, but I had examined the statue and found that it was made of gold and so I agreed to accept it," Keggy argued.
After hearing both of them, Shersingh said, "It is Keggy's mistake that he accepted the statue in his greed. Peter didn't make any promise that it was a gold statue. He only showed him the statue. So, Peter is not at fault."
Keggy did not have anything to say. He sat down and started crying.
Seeing this, Peter removed his wig, sunglasses, and hat, and everyone was shocked. "Hey look! It's Jumpy!" they said.
"I disguised myself as Peter to teach Keggy a lesson. I was sure that a gold statue would make Keggy greedy. I wanted to show him that just the way he cheats his customers, it's possible for someone else to cheat him too. I showed him a real gold statue first, then later while giving it to him, I replaced it with a fake one. If Keggy promises never to cheat his customers in the future, I will give him his `5000," said Jumpy.
Keggy realised his mistake and apologised to everyone.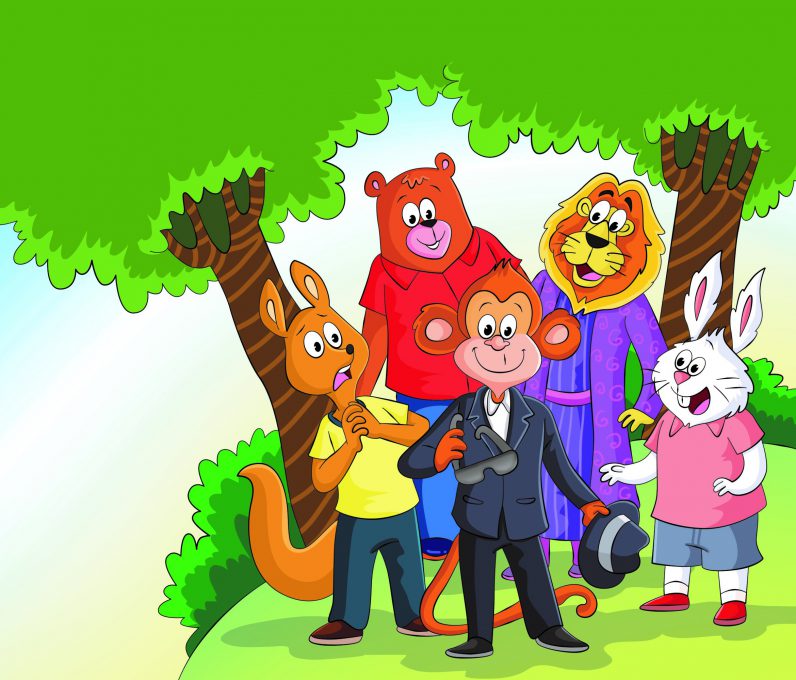 "I've realised my mistake and I promise to never cheat my customers again. I'll weigh and charge for the goods honestly," Keggy promised