Jiya liked reading story books, especially if the stories had to do with forests. But living in a big city like Hyderabad, she had never seen a forest in person. She always wondered what it would be like to live among the trees and rivers.
One of her classmates had lived in several forests, as her father was a forest officer. She had many stories about the forests, that made Jiya want to visit one all the more.
Soon, the summer vacation started.
"I want to visit a forest. Can we have a holiday in some forest? Even a picnic would do," Jiya requested her parents.
"That's a good idea. It is getting so hot and a day in the cool forest would do us some good," replied her father.
"Why don't we go to Ananthagiri hills? It is so close to Hyderabad," suggested her mother.
"Yes, we can plan a trip there. I have a friend who has visited that place. I'll find out the details," said her father and immediately began making plans.
That very weekend, Jiya and her parents were on their way to Ananthagiri hills which was just a two-hour drive from Hyderabad. As they travelled, she looked out from the window. There were so many big trees that reached up to the sky; many birds and butterflies flew past.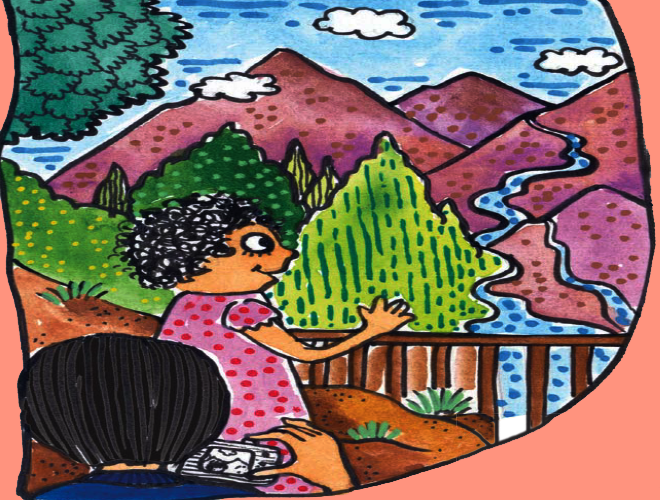 "This place is so green!" she exclaimed as they reached their destination.
Jiya's father had booked a cottage for them to stay. A caretaker came to greet them at the door. They had their breakfast and set out to explore the place.
They walked along the winding pathways that opened out amid huge trees with their roots spread out across the forest floor, dense shrubbery and even acres of coffee plantations. They saw several species of insects and birds. Jiya was most thrilled to spot a peacock!
After a long walk, they came back to their cottage hungry. While they were waiting for lunch, Jiya heard the sound of flowing water.
"There must be a stream nearby. We must take a look at it after lunch!" she told her father excitedly.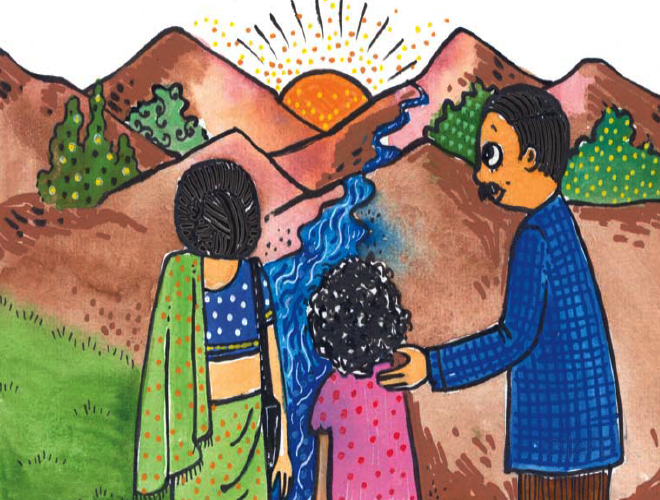 After lunch, Jiya and her parents set off to explore the woods. Soon enough, Jiya was looking at a little ribbon of water dancing down the slope of the hill. It was a beautiful sight!
"Now I know why my friend loves forests!" said Jiya.
More from Champak: Math in Nature
They then trekked up a hill and enjoyed the sunset from up there. Post dinner, thoroughly tired from the day's adventure, the three of them fell fast asleep.
The next morning, they were preparing to leave. Jiya was sad, but she thought to herself, "When I grow up, I will be a forest officer. The forest is the place to be!"