More from Champak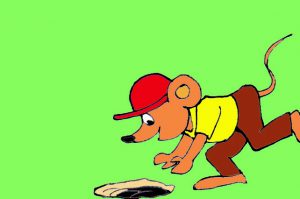 Find out how Cheeku and Meeku escaped from the hungry Jackal!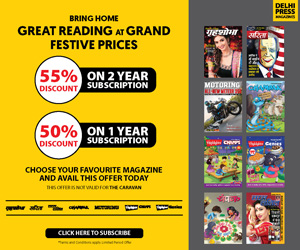 The summer holidays had just begun. Eight-year-old Harish had invited his two friends, Rahul and Advit, to play games at his house. Suddenly, the doorbell rang and Harish's neighbour Guddu walked in.
"Friends," Guddu said, cheerfully. "The holidays have just begun and here you are, all cooped up in the house! Do you know that there's a fair being held in our town?
I am going to visit it now. Are any of you interested in joining me?
"A fair?" Harish said, sounding very excited. "Where is it being held?"
"On the grounds of the Municipal Corporation," Guddu said. "My father is already there with his friends. I'm going to join him now. Why don't you come along?"
"Yes, we'll come along!" all the boys said unanimously.
They all then left for the fair.
Since, Guddu knew the way to the fairground, Harish and Rahul held his hands and walked beside him. The three of them then chatted about cricket, movies, school and other things.
Advit, on the other hand, was a few steps behind. He was walking by himself quietly.
"Oh! I am so tired," Rahul complained after they had walked for a while. "We have been walking for a long time now."
"Don't worry, Rahul," Guddu said. "The fairground is just a short distance away."
The boys then walked through a narrow lane and crossed a river. They walked a little further and finally reached the fairground. They then stopped to buy tickets from a counter and went in.
Guddu spotted his father soon after they entered the fairground. "I am going to join  my father and his friends," he said, running away. "Please manage on your own now."
Harish, Rahul and Advit walked around the fairground. They played some games and rode on a merry-go-around and a giant wheel. They also stopped to eat some snacks and buy some candy floss.
After a while, they spent all their money and decided to go home.
But the moment they left the fairground, Harish and Rahul panicked. There were two roads right outside the gate. Harish and Rahul scratched their heads and
wondered which one would lead them home.
"Shall we go back to the fair and ask Guddu which road to take?" Harish asked.
"We'll have to buy tickets again," Rahul said. "And we've finished our money."
Advit was standing behind. He was watching his friends quietly.
"What will we do now?" Harish said anxiously.
Suddenly, Advit broke into a smile.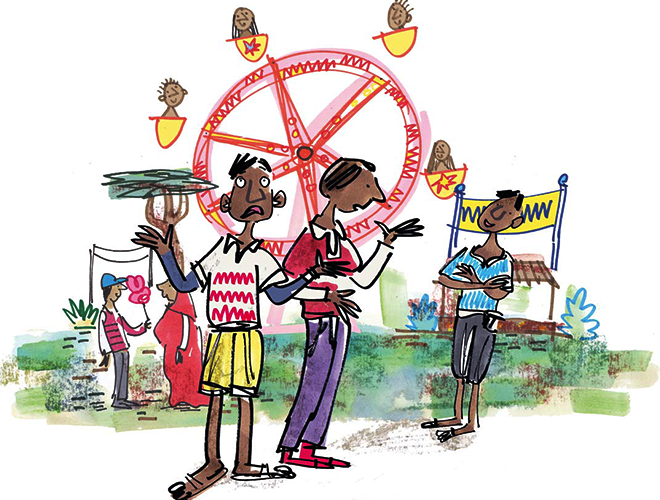 Harish and Rahul looked at him angrily. "Advit!" they said. "Why are you smiling? Is it funny that we don't know our way back?Tell us, how will we go home now?"
"Hey! Relax! Don't worry!" Advit said cheerfully. "I know the way back. Come
with me."
Harish and Rahul were surprised to hear Advit talking so confidently. They wondered if he really knew the way. But they realised they had no choice but to follow him quietly.
Advit then pulled out a diary that he had in his pocket. He opened it and looked at a page. He then went up to a rickshaw driver and asked politely, "Can you tell us how to get to Ajanta Theatre?"
"Go straight and then turn to the left," the rickshaw driver said, giving Advit the
directions.
Advit thanked the rickshaw driver and walked forward. Harish and Rahul followed him. And soon, they found that they had reached Ajanta Theatre.
"Here's Ajanta Theatre," Rahul said. "But why have you brought us here, Advit?"
Advit didn't reply. He looked at his diary again and asked a hawker where Jawahar Hospital was. Advit then followed the hawker's directions and led his friends to Jawahar Hospital. There, he asked a security guard the way to the river.
The boys then followed the security guard's directions and walked to the river.
Harish and Rahul realised that it was the same river they had crossed when they were with Guddu.
"We know the way from here!" they said happily. They then asked Advit how
he had managed to bring them back so confidently.
Advit smiled and said, "When the two of you were chatting with Guddu, I carefully observed the route we were taking. I noted down all the landmarks in  my diary."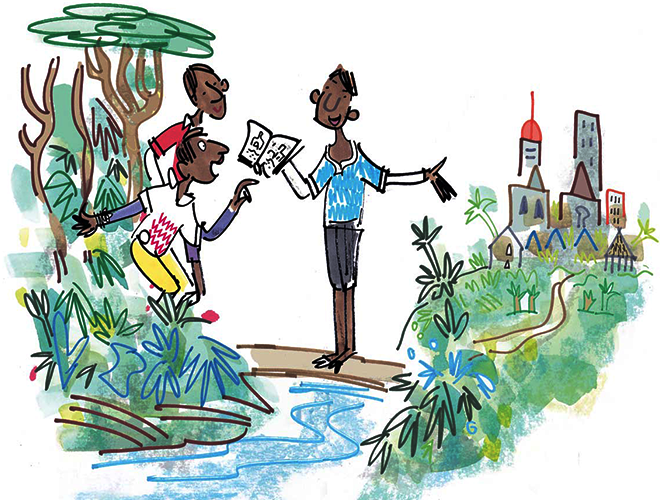 "Landmarks? What are landmarks?" Rahul asked.
"I had written down the names of the big shops, the hospital and the theatre located on this route, so that we could find our way back with their help," Advit said. "Such places are called 'landmarks'. They help you find your way about. Remember to note them down the next time you're in a place you're not familiar with. It's a useful tip for not getting lost."
Harish and Rahul were amazed to see how wise Advit was. They promised to use his tip and pay attention to such details so that they wouldn't lose their way again.