More from Champak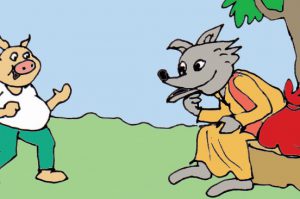 Enjoy Cheeku and Meeku's fun encounter with Foxy fox!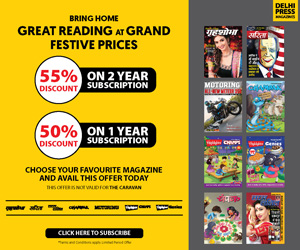 Rango, the fox had just returned to Sundarban from the city with brand new clothes and an expensive car.
Rango's friend Dummy, the donkey said, "What's the matter? Did you win any lottery?"
"I got a job in a big bank. They'll soon open a branch in Sundarban and I shall be the bank manager," Rango said.
"Oh, that's great news! A bank will do good to everyone here," Dummy said.
Within a few days, there was a bank in Sundarban. Dummy along with his friends Montu, the monkey and Ricky, the rabbit went to the new bank to get their accounts made.
"Our bank has a new scheme. If you deposit Rs. 1,000 in your account, it will get doubled in a month," said Rango.
They were shocked to hear this.
"Yes, of course. It will get doubled. Each of you will get Rs. 2,000. You can get your money after a month, Rango assured them. Dummy and Montu decided to deposit Rs. 1,000.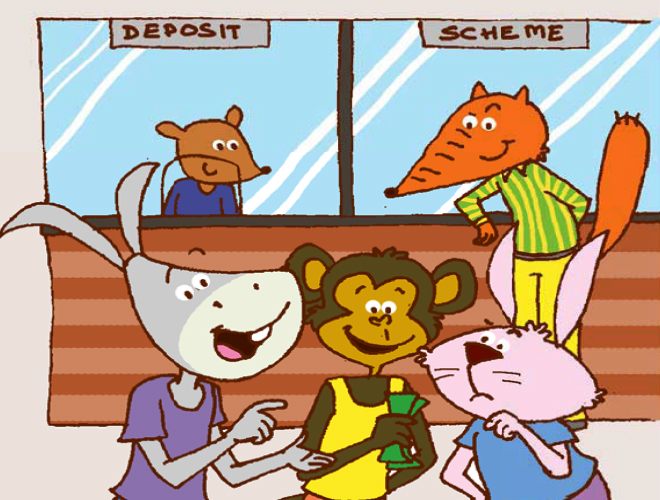 "How is it possible for money to double in a month? I have a bad feeling about this," Ricky said to Dummy and Montu.
"You're just doubtful about everything. The bank manager wouldn't lie." Dummy said.
"All right, then. Both of you go ahead and double your money, but I won't. I don't trust Rango," Ricky said.
Both Dummy and Montu deposited Rs. 1,000 each. A month later, their money got doubled. They were very happy to receive double the amount they had deposited. However, Ricky was still suspicious about the whole thing.
Slowly, the news about the money being doubled reached everyone in the forest. Rango soon became popular among everybody in the forest. Customers started queuing up at the bank in the hope of getting their money doubled. One day, he put up a board outside the bank that said "There is a new scheme. Deposit one lakh rupees within two days and get three lakhs after one month!"
On reading the notice, Dummy and Montu each decided to deposit one lakh. Dummy tried convincing Ricky but in vain.
Dummy said, "I understand you were suspicious the first time but didn't you see how we got back double the amount then?"
Ricky replied, "Yes, I did see. But this is a huge amount, Dummy. And you are thinking of depositing your entire life savings."
Dummy wasn't worried and both he and Montu deposited their savings.
After a month, they went to the bank to collect their money. But they were shocked to see a big lock on the door. Other customers who stood there looked worried.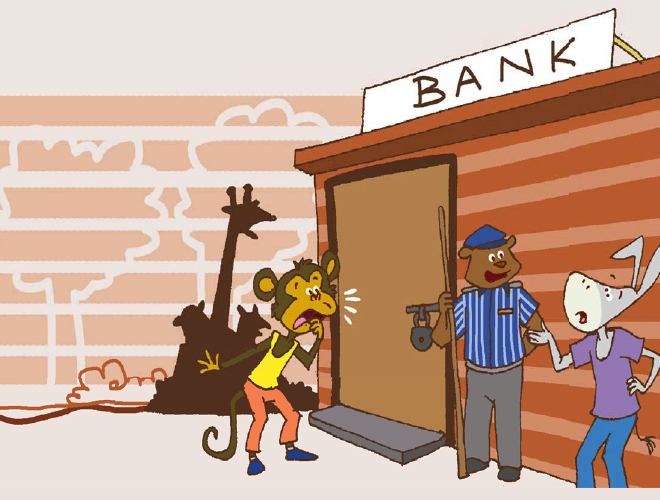 "This bank has shut down. Bank manager Rango left the forest yesterday," the security guard said.
"What do you mean? Now we'll never get our money back! Has he really run away with our money?" Montu exclaimed with fear.
"Oh no! I had put all my savings into this. What am I going to do now?" Dummy said.
Ricky said, "There's no point crying now. I tried to warn you. All this happened because of your greed."
Montu and Dummy didn't know what to do. Ricky tried to console them.
"But what do we do now? Where do we find Rango?" Dummy asked.
"I think the best thing to do now is to file a complaint against Rango at the police station," Ricky said.
All the animals went to the police station together. Upon hearing everyone's complaint, Inspector Gummy, the bear said, "It's your fault. You should have been careful with your money," Inspector Gummy said.
More From Champak: Rio's Magical T-shirt
"Inspector, we are aware of our mistake and we regret depositing all this money in that bank. But please help us," Montu said.
"All right, I will help you. But do not repeat this mistake ever again," Inspector Gummy said.
All the animals promised that they would never repeat this.
At that, Inspector Gummy smiled and said, "You'll be happy to know that Rango is behind bars now. And your money has been recovered too."
All the animals breathed a sigh of relief. Dummy asked, "How did you catch him, Inspector?"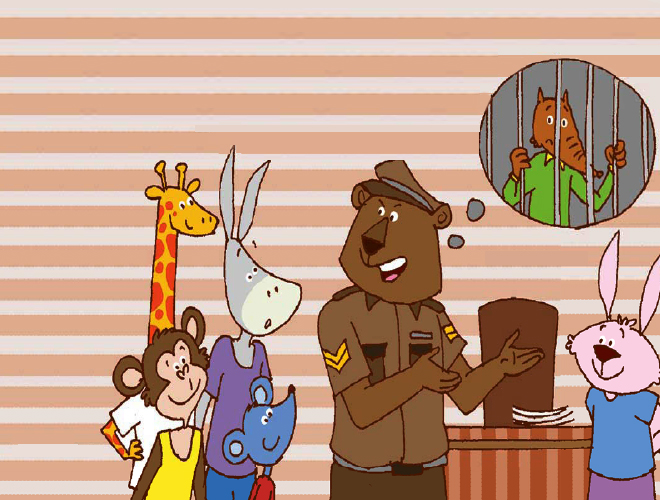 Inspector Gummy said, "Actually, it's because of Ricky. He had informed me about Rango. We had our eye on him since then. When he was trying to run away with all the money last night, we arrested him. We found all the money and documents too."
Everyone congratulated Ricky and pledged to never be greedy again. They learnt that there is no quick way of earning lots of money.