More from Champak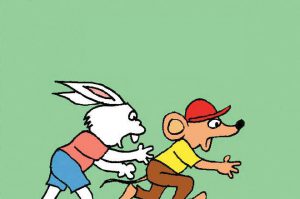 Moti was looking for a place to sleep. Read more to know what followed when he slept inside a drum.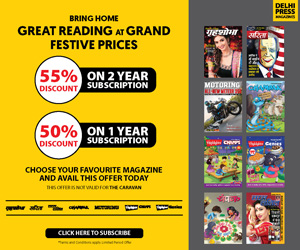 One afternoon, as Sonu and Monu were playing, their mother, Mini called out, "Sonu! Don't push your brother!"
"I am not pushing him, mom. We are just playing," said Sonu.
Sonu tickled Monu in the tummy.
"Ha! Ha! Please stop! I am tired of laughing!" said Monu.
"No way!" said Sonu and continued to tickle his brother.
Suddenly, Monu lost his balance and fell off the nest. Fortunately, he fell on a pile of dry leaves, so he was unhurt. Slowly, he got up and looked around him.
"Mom! Help me! Mom!" he cried.
Molu, the mole was woken up from his sleep by Monu's cries. He came out of his burrow to see who it was.
"You poor thing! Are you hurt? How did you fall?" asked Molu, rushing to help Monu.
"I was playing with my brother when I slipped and fell down. I am not hurt as I landed on this heap of dry leaves," mumbled Monu between sobs. "But I am scared. I want my mom!"
Mini flew down next to Monu and hugged him. "Don't be scared, Monu! I am here now," she said. "And this is Molu, our neighbour and friend."
"Mom, it's Sonu fault that I fell down," complained Monu.
"You know Sonu didn't mean any harm," said Mini consoling him.
"But now, how do we get you back to the nest?" wondered Mini.
"Why don't you hold him with your feet and fly to your nest?" suggested Molu.
"I'll try," said Mini. She held Monu with her feet and tried to fly, but she couldn't.
"I think he is too heavy for you to carry," observed Molu.
Tina, the bird was flying by and saw Mini and Molu talking. When she decided to drop by to say 'hello', Mini explained the situation to Tina.
"Why don't we try lifting him together?" suggested Tina.
Tina and Mini held Monu with one leg each and tried to fly, but their wings kept hitting each other.
"It's no use. It's not working," said Mini.
Just then Molu had an idea. He brought a wooden stick. "Both of you hold on to one end of the stick each," said Molu. ,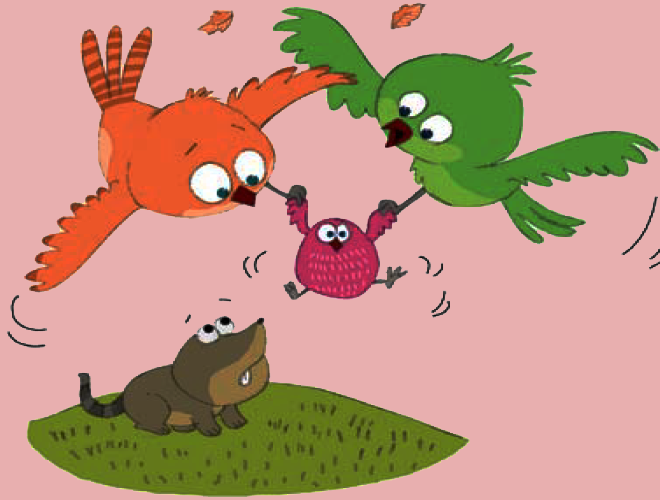 Mini and Tina did as told.
"Monu, now hold on tight to the stick with your beak," said Molu.
Once Monu grabbed the stick, Molu instructed the two birds to fly. With enough space between them, Mini and Tina could fly without their wings hitting each other and they could carry Monu along too.
Once Monu reached the nest, Sonu rushed to hug him.
"I am glad you are back unhurt," said Sonu.
"I am glad to be back too!" said Monu. "Thank you, O Mom. And thank you, Aunt Tina and Uncle Molu for helping me," he said.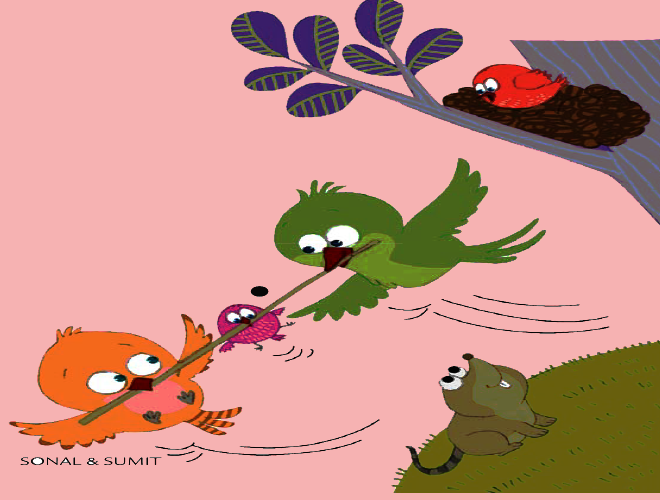 "Don't mention it," said Molu and went back to his burrow to continue to sleep.