"Who is making noises here? Let me sleep," said an irritated Owlie.
Upon hearing Owlie's voice, all the birds started looking here and there. Just then, Merlin, the mynah noticed Owlie.
"Look at this owl. He didn't even take our permission before sleeping here," said Merlin.
"We cannot let him stay here," said Gini, the sparrow.
"Let's throw him out of here," said the other birds collectively.
"No, let's not ask him to leave now. Owls can't see in the morning. We should tell him to leave in the night," Coco, the parrot explained to the other birds.
"All right then. But if he doesn't leave by night, it will not be good," all the birds said and got back to doing their daily chores.
Owlie thanked Coco and slept off. Owlie slept the whole day, but he was feeling sick. He was afraid that once all the birds come back to their nest, they would ask him to leave. So, he quietly hid behind the leaves.
Soon the birds were returned home. Nobody noticed Owlie. They thought he was gone. Everybody got inside their own nests.
It was night and all the birds were about to sleep. Just then, Gini's little baby was bitten by ants. The little sparrow was so scared that she went out of her nest. Gini got worried and started calling out for help. All the birds came to help. As it was dark, nobody could find Gini's baby.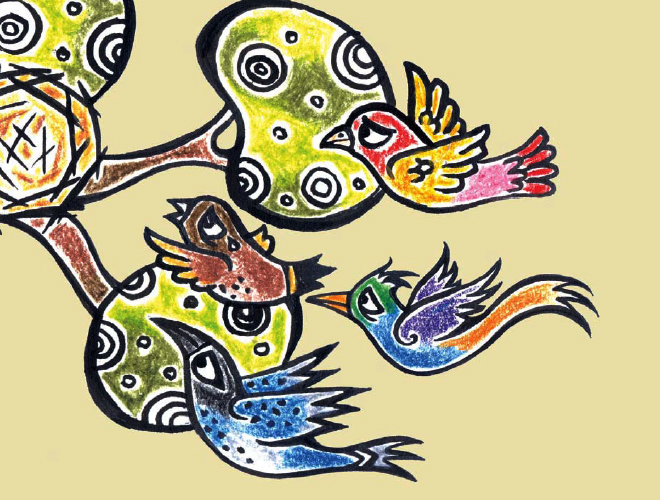 "Gini, we will not be able to do anything right now because it's dark. Let's try in the morning," the dejected group of birds said.
"But the wild animals might harm my baby in the night. I can't leave her alone," Gini said.
"You're right, Gini, but we're all helpless," Merlin said.
Upon hearing that, Gini was very disappointed. All the birds quietly went inside their nests.
More From Champak: The Mystery of the WATERMELONS
Owlie who was hiding behind the leaves, all this while, felt relieved.
Just then, he heard the leaves move. He noticed that a small sparrow was sitting on a branch and shivering in cold.
"Oh, I think, she is Gini, the sparrow's baby, who everyone was looking for," Owlie thought.
"What are you doing here? Go back to your nest?" Owlie told the little sparrow.
But she did not move and kept trembling.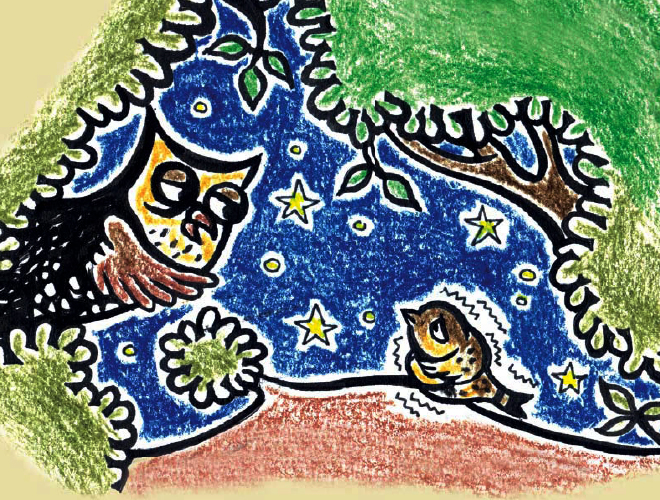 "Look, I know that you're scared of the dark. I'll help you, come with me," Owlie said. But the little sparrow refused to move and kept sitting on the branch. Owlie thought it wouldn't be safe to leave the little one alone, so he decided to stay with her. He stayed with her all night long and took care of her.
Next morning, the little sparrow got back to her nest. She narrated everything to her mother and Gini was relieved.
"Is Owlie still here? We need to talk to him," Gini said.
"You're still here? Did you think if you hide behind the leaves, we will not be able to find you?" Merlin asked Owlie.
"I am sorry! I was not well last night. I promise to leave today," a scared Owlie said.
"Where will you go from here?" Coco asked.
"Wherever I get a place to stay," Owlie said.
"But we will not let you leave this place," Coco said.
"What do you mean?" Owlie asked.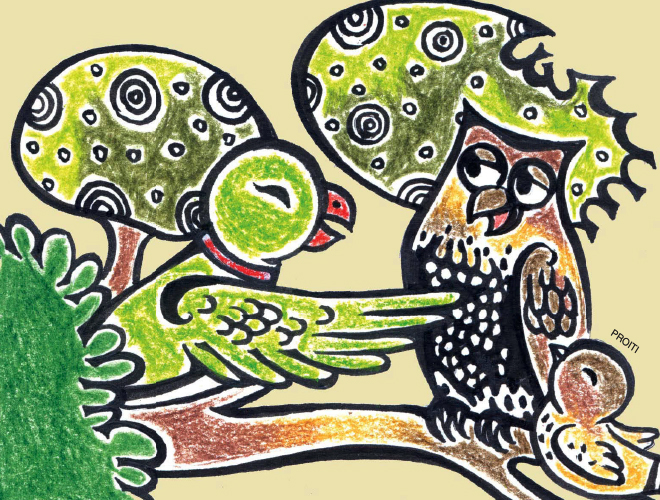 "Yes, you will stay with us from now on. We don't want to lose somebody who helped us. We all know what happened last night," Coco said.
Owlie's face lit up in happiness, and everyone was happy to have Owlie with them. They all lived on the tree happily.