Sonu was staring at the piece of cake fallen on the floor for quite some time. Two tiny mice quietly came to gobbleup the cake. Before they could do that, Sonu clapped once and scared them away. He was really amused by this and started laughing.
"What happened, brother? Why are you laughing?" asked Sonu's younger brother, Monu.
"Just before, two mice had come to eat this piece of cake that is lying on the floor. I clapped loudly and they both got petrified and thus fled," replied Sonu.
"Wow!" exclaimed Monu. "It would be so much fun to scare away the mice. Where are they?"
Sonu replied, "They are hiding somewhere. You come and sit next to me on this cot. They will come again after a while."
Sonu suddenly recalled something and said, "Wait, let me do something else, it would be more fun."
"Do what?" asked Monu.
"You just wait and watch," said Sonu. He then tied the piece of cake to a string and suspended it a few inches above the floor.
Monu asked, "Why did you do that, brother?"
"Don't ask anything now. Just wait and see what happens," said Sonu and both of them sat patiently waiting for the mice.
After a few minutes, one of the mice came, stood on its hind legs, and tried to reach the piece of cake in vain. Upon trying further, the mouse lost its balance and tumbled down.
Sonu and Monu burst out laughing and the mouse ran away from there. Sonu and Monu burst out laughing and the mouse ran away from there.
A few minutes later, another mouse came and tried to grab the cake. Some other mice too came there but none of them succeeded in reaching the piece. They tried desperately but had to return empty handed.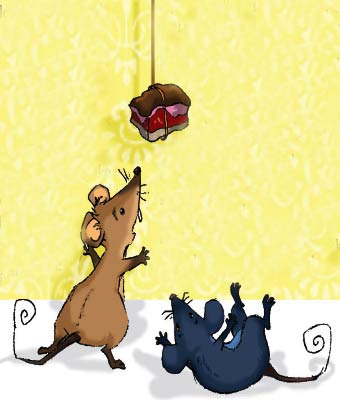 Sonu and Monu enjoyed the desperation of the mice and kept laughing at them.
Sonu yawned and said, "Monu, let us go to sleep now."
"What about the cake?" asked Monu.
Sonu grinned and said, "Let it be hung and let the mice keep trying."
"It was fun seeing the mice desperate and irritated," said Monu.
"See how I troubled the mice who generally trouble people. Am I not great and intelligent?" asked Sonu with pride.
"Yes I totally agree that you are indeed intelligent and great," replied Monu and went to sleep.
The next morning when they woke up, they were astonished to see that the piece of cake was missing from the string
"Where has the cake gone?" asked Monu.
"I have no idea," replied Sonu.
Monu said, "Mom or Dad must have thrown away the cake."
"That is not possible. Had they thrown the cake, they would have thrown away the string too. Since the string is untouched, they have not done it," said Sonu.
"Then how did the cake vanish?" asked Monu.
"I think the mice have devoured the piece of cake," replied Sonu.
Monu asked, "But they could barely reach the cake, then how can they eat it up?"
Sonu said, "If we want to find out, we will have to hang another piece of cake in a similar manner and keep a watch." Sonu got another piece and suspended it in the same manner.
Sonu and Monu quietly sat on the cot observing the mice. One of the mice came there and tried to reach the cake but failed.
"This happened yesterday too," whispered Monu.
Sonu signaled him to be quiet and watch on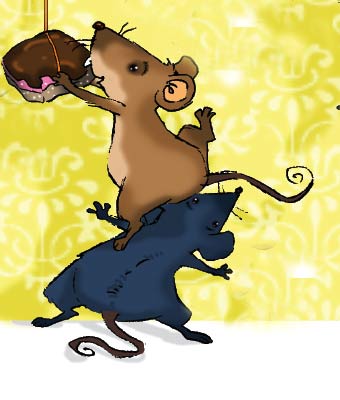 Just then, another mouse came there and stood on its hind legs. The mouse that was already present there climbed on the other mouse's back and quickly cut the string. The mice then took the piece of cake and fled.
Sonu was shocked to see this. He said, "I never thought mice could be so clever."
"That is true," said Monu, "The mice have also proven two things."
"What are they?" asked Sonu.
"They proved Unity is Strength'. If we work together, then we can even accomplish difficult tasks with ease. The second thing that they proved is that one should never underestimate anyone. Others can be more clever than you are," said Monu.
Sonu smiled and nodded his head in agreement.