More from Champak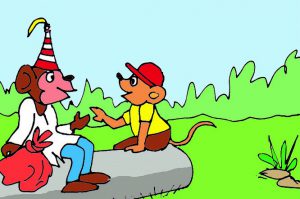 Is Jumpy monkey really a magician? Find out with Cheeku and Meeku!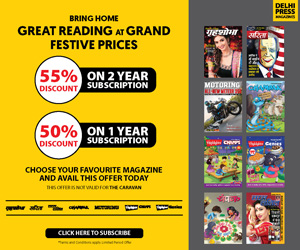 Gabu, the chimpanzee lived in Africa with his parents. He was still a baby and his family members would teach him good things so that he could grow up to be an honest chimpanzee and a valuable member of jungle society.
Chimpanzees are social animals and very intelligent too. Not only do they work together to solve problems, they've been known to make and use tools and also regularly pass on skills to other members of their group. After humans, chimpanzees are widely regarded to be the most intelligent creatures on this planet.
One day, Gabu and his group were looking for food. After travelling for some time, they found a tree with dried-up fruits on it. The chimpanzees immediately climbed up the tree and picked all the fruits and gathered them.
Stripping away the peel and dried pulp, the chimpanzees picked up stones and smashed them against the seeds.
Gabu watched this in shock and turned to his mother, "Mom, make them stop. They're hurting the seeds," he said.
Don't worry Gabu, the seeds are all dried up. Also, inside them are nuts that are meant to be eaten. They are nutritious and tasty too," said Gabu's mother, handing him a nut.
Gabu ate the nut and was very happy.
"I want to smash open a seed too," he said excitedly.
Gabu's mom gave him a few seeds. Gabu found a couple of stones and with his best friend, Sabu, looked for a nice place to try cracking open the seeds by themselves.
They found an outcrop and settled down, but every time Gabu tried smashing the seed, it would spring out from underneath as soon as it was struck.
"This isn't as easy as the adults make it! seem," said Gabu.
"You're right. How about I hold the seed in place with my hands and you smash it with the stone?" suggested Sabu.
Holding the seed between his fingers, Sabu readied it and Gabu picked up the stone. He brought it down hard on the seed and smashed it open. But, the seed wasn't the only thing he smashed.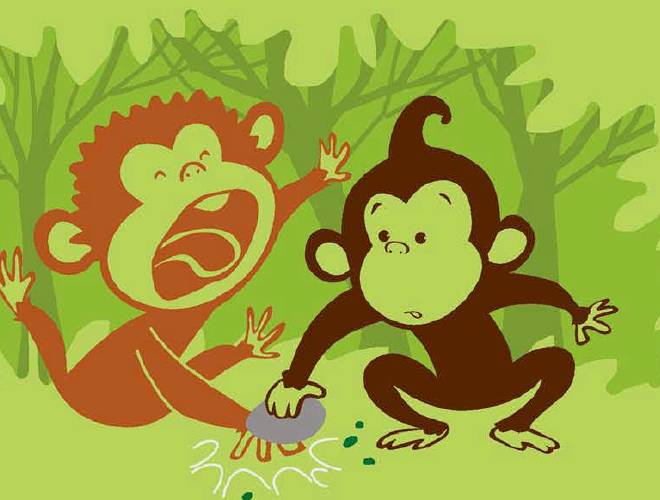 "Ow! My finger!" cried Sabu.
Being just babies, neither Sabu nor Gabu had thought about what would happen to Sabu's fingers.
"I'm so sorry. I should have been careful," said Gabu, dropping the stone.
"These seeds are dangerous. I don't want to eat them again," said Sabu. Even Gabu didn't want to eat them anymore.
Once the pain in Sabu's fingers went away, the two friends cuddled up next to their mothers and fell asleep.
Many days passed since that day and as the two chimpanzees grew bigger, their friendship grew deeper. Gradually, the time they spent with their mothers reduced and the time they spent with each other increased.
One day, their group was settling in a comfortable tree for a nap. While the rest of the chimpanzees were sleeping, Gabu and Sabu decided to stay up and chat. One thing led to another and soon, they went out for a walk. They were so engrossed in their conversation with each other that they didn't notice that they had wandered far away from their tree. Another thing they didn't notice was the danger lurking in the bushes.
Hidden from plain sight by the tall grass, a hungry hyena watched Gabu and Sabu walk towards him. "Looks like I won't have to look for dinner tonight. It seems to have come to me," he said to himself, licking his lips.
The two chimps realised that they were in danger when the hyena jumped out from behind the grass and blocked their way.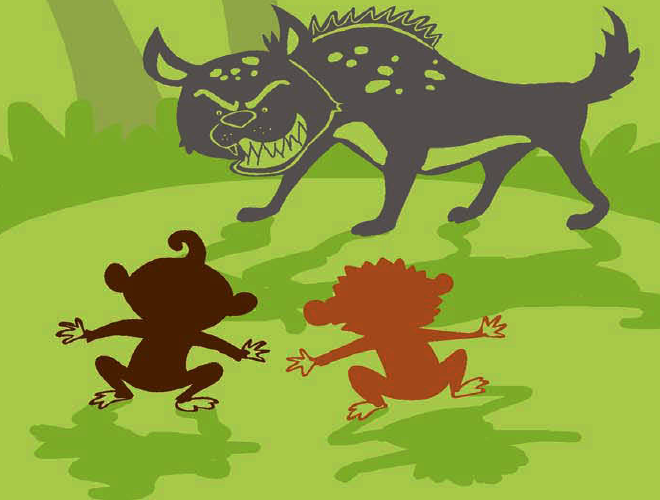 "Don't you know you're not supposed to wander off alone in this part of the grassland?" asked the hyena.
"Sir, we haven't done anything to you. Please let us go," said Sabu, his voice quivering.
"Oh no, you're not getting away that easily," said the hyena and stepped closer.
"Sabu, it looks like the only way we can get out alive is by running," said Gabu.
"Where do we run? I don't see any trees nearby and if we continued to run, he'd catch up in no time," said Sabu.
Looking around, Gabu said, "Look over there. There's a cave on the top of those rocks. It looks too small for the hyena. If we get inside, we'd be safe."
Together, Gabu and Sabu made a run for it. The hyena tore after them, but the little chimpanzees were too nimble for him. Weaving in and out of rocky outcrops, the chimpanzees successfully made it inside the cave and hid there.
The hyena reached the cave's entrance and said, "So, you're going to hide in there, are you? Well, I've got all day. Maybe, I'll just wait here. After all, you are my new neighbours."
As the hyena found a comfortable spot outside the cave, Gabu and Sabu were busy working out a plan.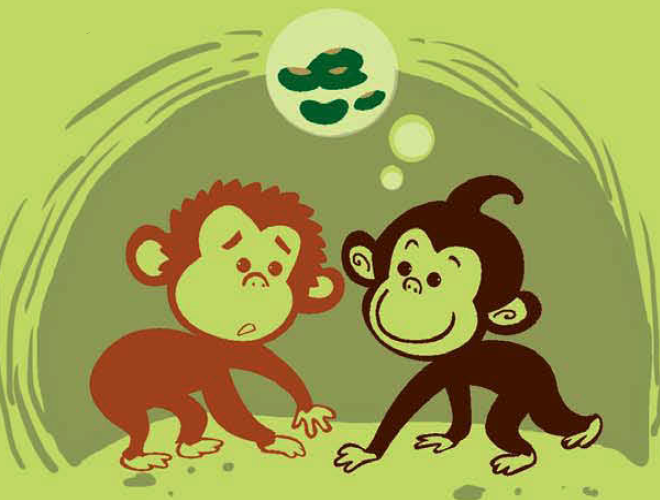 "Seems like the only way we can escape is by smashing some seeds," said Gabu.
"Where do you intend to find some seeds?" asked Sabu. "Also, don't you remember why we stopped eating nuts from those seeds? Cracking them open was painful."
"You don't have to worry about the pain or finding them. The only one who needs to worry about anything is the hyena," said Gabu, with a smile.
They whispered the plan to each other and got to work.
"I must say, you must be the worst hyena in your pack. If you go back and they found out that a couple of baby chimpanzees managed to give you the slip, you'd be the laughing stock of the jungle. If you really want to catch us, why don't you come and get us?" said Sabu.
The hyena was deeply insulted. "Wait till I get my hands on you," he grumbled and stuck his paw inside the cave. At that moment, Gabu smashed it! with a rock. The hyena yelped and pulled his paw back.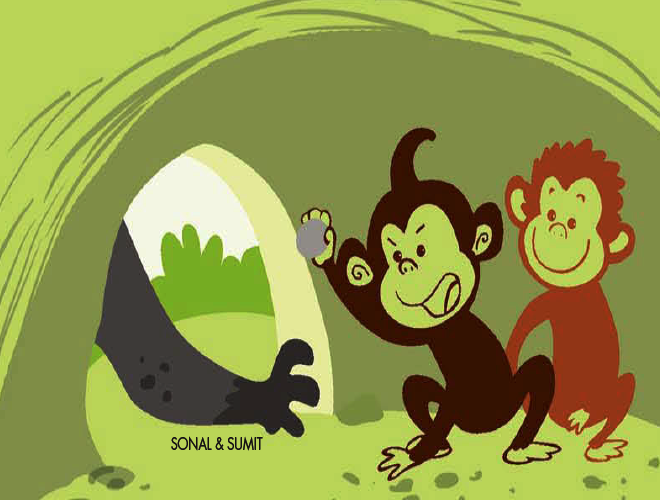 "These little monkeys aren't worth all this trouble," he said and scrambled away.
After checking whether the coast is clear, Gabu and Sabu ran as quickly as they could to their group. They realised how important it was to try and explore things for themselves and learn about things from their elders. You may never know when they might come in handy.