More from Champak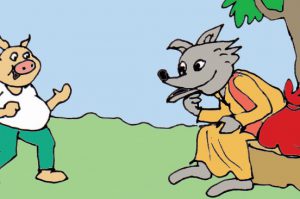 Enjoy Cheeku and Meeku's fun encounter with Foxy fox!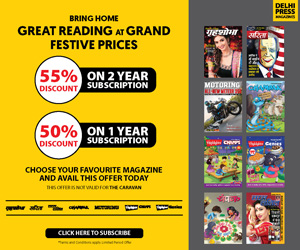 One afternoon, Anusha came running back from school with a trophy in her hand.
"Mamma, look! I won the first prize in the painting competition at school," said Anusha excitedly.
"That is great! I am so proud of you, Anusha!" said her mother.
"I must thank Neha didi for this trophy," said Anusha. "I would always be in a hurry to complete my painting, therefore miss out on the finer details. She encouraged me to take my time and add details. Now my paintings are appreciated by everyone."
"Yes, you can thank her in person. You can meet her when you go tomorrow for your morning class," said her mother.
"Oh yes! Neha didi is taking us on a field trip. Last month, she took us to an art gallery. I wonder where she will take us tomorrow," said Anusha.
"Wherever it is, I am sure it will be as good as your last trip," assured her mother.
Next morning, Anusha and her art school friends were seated in the van along with their art teacher, Neha didi. Each one carried along with a small bag packed with their drawing tools, lunch box and a bottle of water.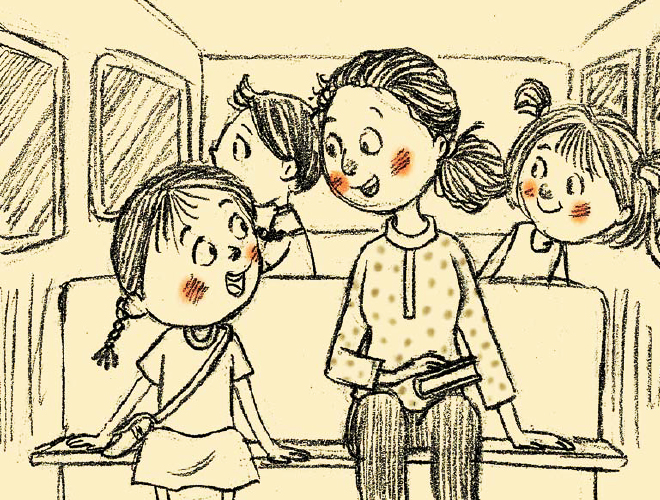 "Didi, where are we going today?" asked Diksha.
"You will know once we reach the place in about 40 minutes," replied Neha didi with a smile.
After a while, the van stopped and Neha didi called out, "We have reached our destination! Let's explore."
The students looked around confused.
"Where are we?" asked Riya puzzled.
"It looks like some historical place," mumbled Dev.
"I think I know where we are. This place was excavated by archaeologists just a few months ago. I read about it in the newspaper recently," said Anusha.
"But what are we going to learn in these old caves?" Anirudh wondered aloud.
Neha didi, who was listening to their conversation, said, "I promise that you will really like this place. There is so much to see and learn here, especially for people like us who are artists."
"What is this place, didi?" asked Anusha.
"As you rightly said, it's a recently excavated natural cave shelter. Inside, you will see proof of what great artists our forefathers were, even at a time when there was no technology, said Neha didi, leading them into the cave.
Once inside, everyone was surprised. The walls of the caves had magnificent paintings and sculptures of kings in their chariots, common folk going about their daily lives, and of animals like fish, lion and elephant.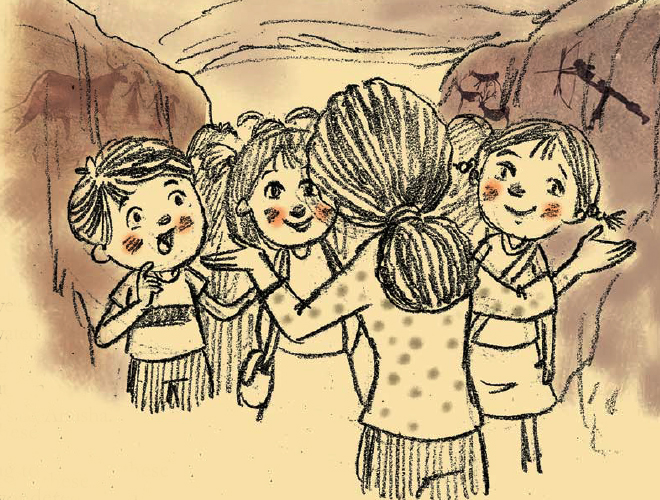 Neha didi turned around to them and said, "Aren't these paintings wonderful? Natural caves and shelters like this one contain several prehistoric paintings. Some of the paintings here are thousands of years old."
"How did these paintings survive for so many years?" asked Dev curiously.
"These kinds of caves are generally carved out of tough rocks like granite and basalt which form the perfect base for painting. Since these frescoes—that's what we call paintings on walls—are made deep inside the cave, they get shielded from harsh sunlight and other weather elements, and so they last long," explained Neha didi.
The children listened in awe.
Neha didi continued, "Another reason why the paintings last long, is because of the different techniques used. The stone surface of the famous Ajanta caves in Maharashtra, for example, were chiselled and then plastered with a combination of clay, lime, hay and dung. This formed the canvas for the paintings. The unusual shine was achieved by adding powdered conches and seashells. Kuda Caves—also in Maharashtra—were plastered with a mix of mud and rice chaff."
"But how is it that they have used so many colours? They certainly must have used some chemicals," said Anusha.
"The colours are natural dyes made from plants and minerals that don't change colour when mixed with the lime surface," explained Neha didi.
"Were all the paintings done by one artist?" asked Anirudh,
"Actually, one artist would draw the outlines, another would fill it with colours and a third artist would give it finishing touches and add details," said Neha didi.
As they walked along the cave, Diksha took out a pen to scribble something on the cave wall. Neha didi quickly stopped her.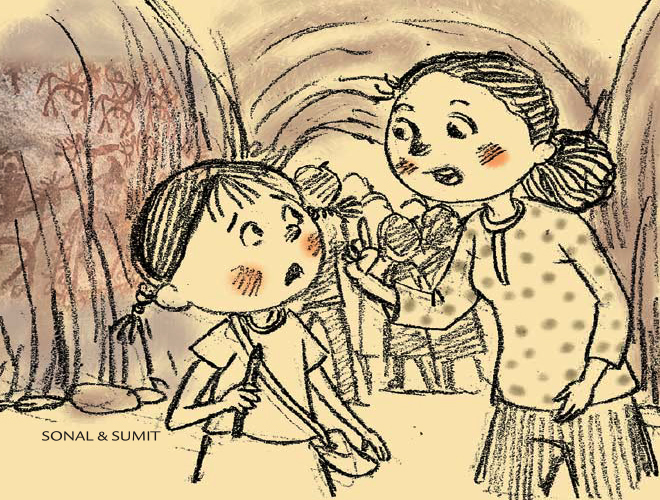 "These paintings are very old and fragile. This type of graffiti can damage them. We must respect the art and the artists," said Neha didi.
Diksha apologised and put her pen away.
Later, they all sat down in the garden outside the caves and drew some sketches.
"So, did you enjoy the trip?" asked Neha didi, while they were on their way back in the van. "We loved it!" said the students together. "We want to go on more such trips to learn about Indian art."
"Great! I will start planning the next trip right away!" said Neha didi.