It was a beautiful and sunny day. Mini, the bird was flying around cheerfully and then decided to perch on a tree and sing. But when she started to sing, she was rudely interrupted.
"Stop singing!" said Tony, the tiger harshly.
"Oh! But why? I was only singing," responded Mini politely.
"Keep quiet, will you? Don't argue with me!" growled Tony.
Mini noticed that the tiger was in a rather foul mood, so she decided to stop singing. Instead, she simply looked around and observed: "This is a zoo; that's why there are so many animals here. But I wonder why this tiger didn't want me to sing."
Just then, Mini noticed that a lot of people came to visit Tony who was in a cage.
"Oh! Now I understand why this tiger is annoyed. He has to live inside a cage. Even though he's been given a big one, he must be used to the freedom of the jungle where he would take long walks. He really must be unhappy here. And here I was thinking that it must be because I was a bad singer!" thought Mini.
"He still looks very angry," she murmured as she observed him closely.
Just when Mini was about to talk to him, a few kids came running towards Tony's cage.
"Look! It's a tiger. Don't go near it," cautioned a kid.
"Hey, don't be silly! He's inside his cage. There's nothing to worry," said another and walked up to the cage and started teasing Tony.
Tony was now getting angrier. He roared loudly.
"Oh! He's roaring. What fun! If we tease him more, he'll roar louder," suggested one of the kids.
Soon, all of them started teasing Tony which annoyed him more and he roared even louder.
This excited the kids and they continued to tease him. Tony, who finally got fed up of them, got up and moved to a far corner of his cage. Wanting to draw him closer to them, the kids they started throwing stones at him.
"Naughty kids! I will teach them a lesson," resolved Mini.
She flew straight towards the kids and attacked them by pecking their heads. Scared, the kids ran away.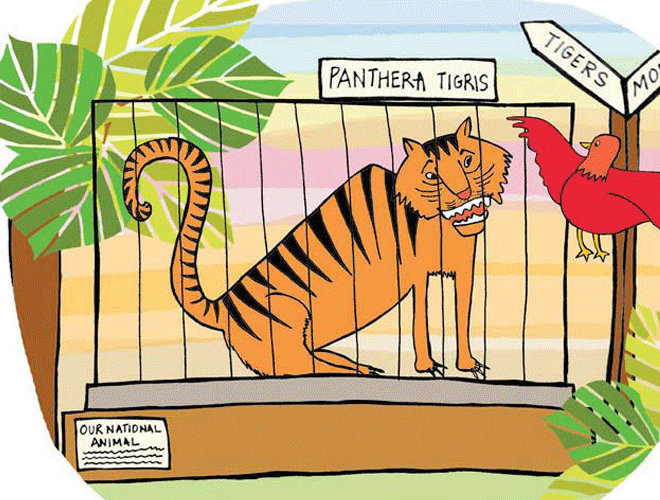 "Thank you so much, Mini," said Tony with a relieved smile.
"I didn't know that it was so difficult living inside a cage. It must be suffocating for you," said Mini.
"No, Mini. I am used to living inside this cage. I don't feel sad here. The people who take care of me are good people. I only have a problem with these kids who come to see me every day. Their idea of fun is to annoy me," explained Tony.
"I always thought the animals that lived in the zoo were happy. But many of you look sad," said Mini.
"Yes, that's because of some people's behaviour, we're always angry at all the other visitors. The other day, somebody threw a big stone at the crocodile and he was hurt," said Tony.
More from Champak: Bunty Bear's Missing Key
"There are some kids who are nice. Not everyone wants to torture you. But these naughty kids needed to be taught a lesson," said Mini. "And if you get bored, I could come here every day and entertain you. Just don't be mad at me."
"Oh!" That would be wonderful! exclaimed Tony. "If you come to meet me every day, I will never be in a bad mood again!" he said with a wide grin on his face.