Blacky, the bear, loved weekends. Weekends meant a trip to his grandma's house. He liked to walk through the woods to reach his grandma's house. Little birds and honey bees used to greet him on the way. He always carried some homemade goodies for his grandma. Blacky's mother used to bake some cakes or cookies and give them to Blacky to take to Grandma. He used to spend the night at his grandma's house and then come home the next morning. He liked to listen to grandma's funny stories and play with the rabbits who lived near her house.
The much-awaited weekend came, and Blacky finished his homework as soon as he got home from school so that he could be completely free for two days.
Blacky's mom called out, "Blacky, I have kept some honey buns for grandma. Take them with you when you go, and give my love to grandma. Come soon tomorrow. We are going out for a birthday party."
Blacky said, "Ok, mom. I will come soon. Don't worry." He took the basket of honeybuns and filled his water bottle, and started to walk towards the woods. It was quite a distance but Blacky loved to walk instead of going by cycle. It was a sunny morning and he stopped to watch the tailor bird weaving its nest. Then, he came across two deer playing hide and seek. The elephants were bathing in the river and Blacky waved to them. They too waved back.
After walking for half-an-hour, he felt tired and sat under a tree to rest. The cuckoo bird who lived in that tree was singing a melodious tune. Blacky drank some water from his bottle and settled for a small nap. Soon, he was asleep.
Baddy, the fox, was watching Blacky from behind a tree. Seeing him asleep, he came near him. Baddy's mouth watered as he could sniff the sweet smell of honeybuns coming from Blacky. He crept up to Blacky and took the basket of honeybuns. He went behind a bush and opened the basket. The honeybuns were very delicious and he ate them all. Then, he took some grass and hay and filled the basket. He kept it near Blacky and left the place.
After some time, Blacky woke up and rushed to reach his grandma's house in time. His grandma greeted him with a warm smile and gave him strawberry milkshake. Blacky said to his grandma, "Grandma, open the basket and see what I have brought for you."
Grandma opened to find only grass and hay. She was disappointed. So was Blacky. He said, "Oh, my! I had brought honeybuns for you, Grandma. I do not know what happened. I am very sorry."
His grandma said, "Don't worry my child. Come and play with your friends. They are waiting for you." Blacky went to play with Cheeku, Meeku, and all his other friends and had a good time at his grandma's house, but at the back of his mind, he was always worried about what had happened to the honeybuns. Blacky left for his home the next day.
More from Champak: The Night Ghost
Next week, Blacky carried some grapes in a tiffin box but the grapes were replaced by pebbles by the time he reached his grandma's house. Another time, Blacky took some cookies but found only rotten eggs on reaching grandma's place. Blacky realized then that someone must be replacing his basket of goodies when he takes his nap on the way to his grandma's house. So, Blacky decided that he would plan a trick to catch the thief in action.
The next time he was going to his grandma's house, he took some mango juice in a bottle and added a lot of chilly powder to it. Before his usual nap, he said loudly, "I hope grandma likes the delicious mango juice that I have gotten for her this time." Then, he fell asleep.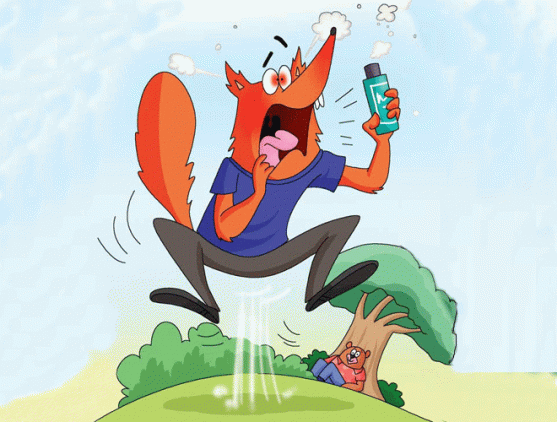 Baddy, who was waiting for Blacky to come and fall asleep so he could steal his goodies, heard this. He hurriedly stole the basket and drank the juice inside in one gulp but soon his mouth and throat started burning. He started howling badly. Hearing the noise, Blacky opened his eyes and caught hold of the fox. He dragged Baddy all the way to his grandma's house, and told her, "See, grandma, this is the thief who has been stealing all the goodies meant for you!"
Blacky's grandma congratulated Blacky on figuring out a smart way to catch the thief, and called the Police to come and take Baddy to his parent's house so that he could get a scolding. Blacky never had any problems bringing goodies to his grandma ever again.