In the forest of Champakvan lived Cheeku and Meeku. They were the best of friends. While Cheeku was bright and knew no fear, Meeku, over the days had grown lazy and wasn't as brave as Cheeku. Nevertheless, they played together every day. Their arch rival was a fox. He'd always try to catch Cheeku and Meeku, but Cheeku would always foil his plans. But the fox refused to accept defeat.
One day, the fox dressed up like a saint and walked up to Cheeku and Meeku.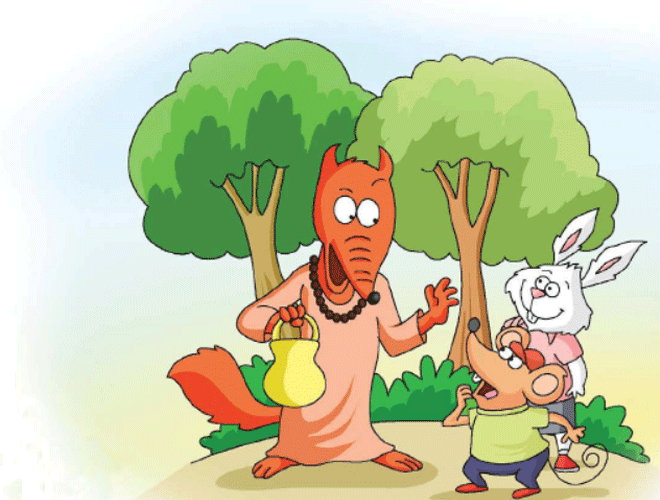 "Where are you going, children?" he asked them.
Cheeku immediately understood that this was just another ploy to catch them. But, he decided to play along. With his hands joined and his head bowed in respect, Cheeku replied, "We're off to play sir. But why are you dressed this way?"
With the deep sigh, the fox replied, "I have done a lot of bad things in my life. I want to make amends. This is why I have decided to live life as an ascetic and help the little animals of the forest."
While Cheeku saw through the foxes plan, Meeku was fooled.
"You seem like a weak little mouse," said the fox, turning to Meeku. "I have the recipe for an amazing tonic that will make you big and strong."
"Is this tonic the secret behind your strength? " asked Meeku.
"That's right my child," said the fox. "I'd love to share some with you, but I've left it at home. Would you like to come to my home with me? I have an extra bottle just for you."
More from Champak: Cheeku and Meeku are Sitting Under A Tree
Meeku was ready to go, but Cheeku spoke before him and said, "We'd love to. But we can't come with you until you prove to us that you drink this tonic too."
The fox was in a fix. Unless he did as Cheeku says, they would never come with him to his house. As he wondered what his options were, Cheeku said, "Do you see that tree over there? If you can touch it and come back before I count to ten, we'll come with you."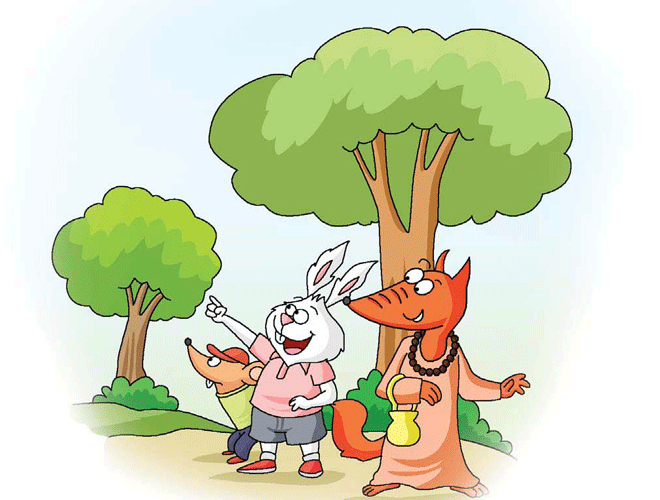 The fox was relieved. He was glad it was something so simple. "A little exercise before a meal is good for you," he said to himself and took off. The long, flowing clothes weren't the best for running, but he still managed to run.
As the fox ran towards the tree, Cheeku turned to Meeku and said, "Run! By the time the fox reaches the tree, we'll be long gone."
"But why, Cheeku? That Baba will help me get strong and fast like him," said Meeku.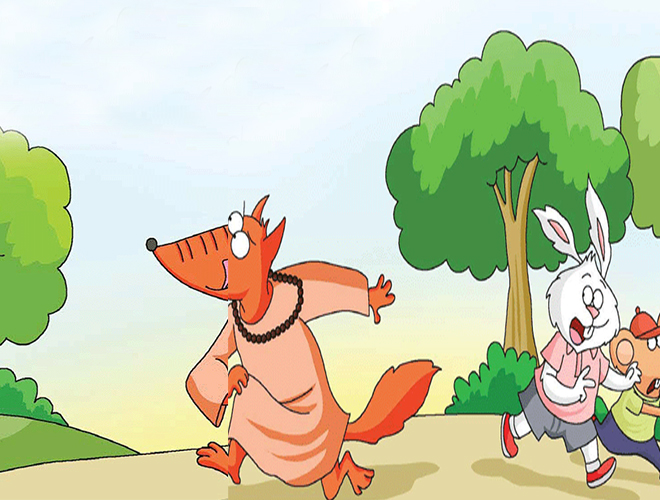 "Of course not, Meeku. If there was such a tonic, you think he would be giving it to strangers for free? He is surely a con man – or worse, a predator out to eat us!" explained Cheeku.
Meeku thought about what Cheeku said, and agreed that the two of them should run before the fox got back. Cheeku was relieved that by running home at least his friend Meeku was getting some exercise.
The fox wondered what he should cook when he got home. The thought of the yummy food made his mouth water. The fox touched the tree and turned around only to find that Cheeku and Meeku were missing.
He saw that they had run far away and that there was no way he could catch them now.