Tarry, the frog lived in a small pond. He was very fond of flowers, so he grew lotuses, water lilies and many other kinds of water plants in his pond. For any special occasions such as birthdays, he would readily give his flowers to anyone who asked.
One day, Blacky, the bear was walking past Tarry's house as Tarry was cleaning his pond. He would remove weeds and other waste from the pond frequently.
"What are you doing?" asked Blacky.
"These weeds do not allow the good plants to grow well. They feed on the nutrition that these other plants could use," Tarry replied. "In a way, they are parasites. So, it's important to rid the pond of them."
"Tarry, the lotuses of your pond are very exotic. Nothing can match them," said Blacky.
Tarry, as always, replied modestly, "Thank you so much, Blacky."
Just then Cheeku, the rabbit came there and asked Tarry for some lotuses. "Tomorrow is Meeku's birthday. I want to gift him some lovely flowers," said Cheeku.
"OK, I shall give you these flowers in the morning," said Tarry. "These fresh buds would bloom by tomorrow."
"Thank you! I'll meet you tomorrow then," said Cheeku and bid him goodbye.
But the next morning proved to be a surprise for Tarry. All the lotuses were gone!
"Oh my!" cried Tarry. "Where have the flowers gone?"
Cheeku too was sad on not getting the flowers. He said, "Don't worry, Tarry. Whoever did this will soon be caught."
Cheeku was on his way back, thinking to himself, "I'll have to think of something else to gift Meeku." He noticed Baddy, the fox selling lots of flowers. There were also many lotuses and water lilies there.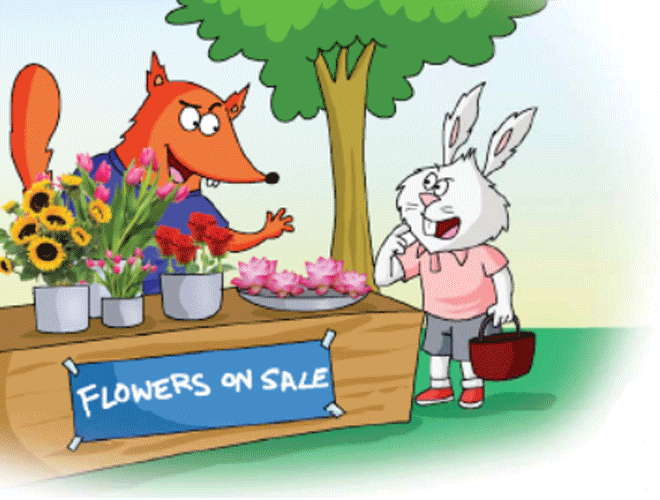 Cheeku was curious, and so he asked Baddy where he got all these flowers. "I have started selling flowers to make money. I do not own a garden or a pond but I get these from my friends in other forests," replied Baddy.
Cheeku looked at Baddy with suspicion, "Well, who are these friends?"
Baddy laughed slyly, "I can't disclose my business secrets to you."
It was getting late, and Meeku's birthday party was about to start, so Cheeku bought five lotuses from Baddy and left.
At Meeku's birthday, everyone praised the beautiful lotuses, which were placed in a vase at the centre of the table.
Blacky complained, "Even I had gone to Tarry's house to get flowers but he had none. I wonder how he gave you these flowers."
Cheeku said, "I got these from Baddy, the fox."
Blacky sniffed the flowers and said, "I don't believe it. These flowers are surely from Tarry's pond, I can recognise their fragrance anywhere."
Cheeku said, "Even I had my suspicions about where Baddy got these flowers from, but I don't know how I can prove it."
"Let's go to Tarry's house to look for clues tomorrow," suggested Meeku.
"Yes!" everyone agreed.
The next day Cheeku, Meeku and Blacky went to Tarry's pond. Tarry was standing outside his gate with a worried look.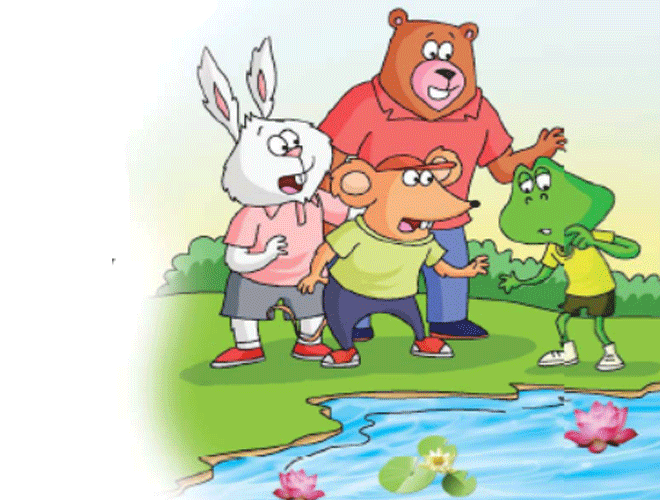 "Hello, Tarry. What's up?" asked Blacky.
"My flowers have been stolen again! This time even the buds have been snipped!" wailed Tarry.
"Did you lock your gate properly?" asked Meeku.
"Of course, I did!" cried Tarry.
Cheeku had a thorough look at the pond and said, "We all should guard Tarry's pond tonight to catch the thief red-handed. But first, I need to do some investigation."
Everyone worked together and they were shocked to find Crocky, the crocodile stuck in the net.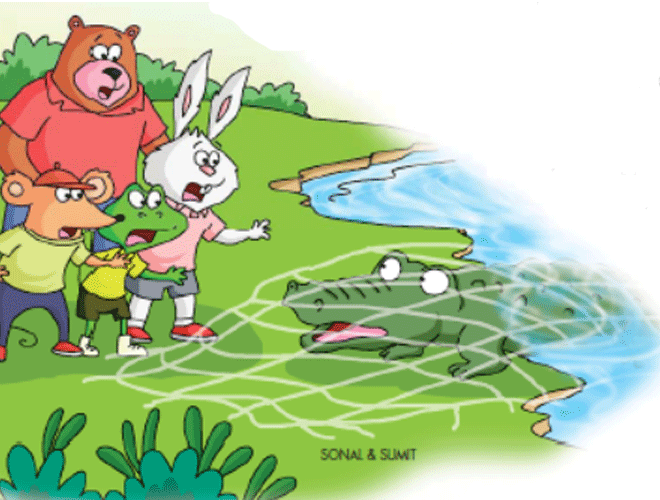 "Crocky, you!" said everyone in disbelief.
Crocky was very embarrassed.
"I… I am sorry," he said. "Baddy promised me a bag of fishes if I help him steal flowers," he blurted.
"But, how did you come into the pond unnoticed?" asked Meeku.
"From the underground tunnel inside the pond, right?" answered Cheeku instead.
Crocky nodded.
More from Champak: Naughty Baddy Gets Caught
Looking at the surprised glances of his friends, Cheeku explained, "I knew it because the theft was done even with the gates locked, so the thief was coming in through another route. I asked Jumbo, who used to live here before, and he told me about the underground tunnel under the pond. So, I realized that the thief was someone who was a good swimmer."
They all went to Shersingh, the King of Champakvan and explained to him all that had happened. Shersingh was very angry at Baddy and ordered him to return the flowers he had stolen and the money he had made selling the stolen flowers.
Baddy was also sentenced to clean weeds in Tarry's pond for six months as punishment, and Tarry and his friends got to share his beautiful, fragrant flowers once again.