Hurray! Our experiment is successful!" cheered Blacky, the bear and Jumbo, the elephant as they saw their car floating mid-air.
On hearing their excited shouts, Baddy, the fox came into the garage where the two were working to see what was happening.
"Blacky and Jumbo, is your experiment over? Why do you both look so happy?" asked Baddy.
"Yes! We have successfully built a solar hover car," said Jumbo excitedly. He then pressed a button on the remote and the car started to rise from the ground.
"Wow! This is incredible!" exclaimed Baddy.
"Day after tomorrow, we shall exhibit it before the entire jungle," said Jumbo.
"We will become famous and everyone will refer to us as the inventors of this impressive solar hover car," said Blacky happily.
"But we must thank you, Baddy, for letting us work in your garage. Thank you so much!" said Jumbo.
"Yes, Baddy too is responsible for the invention of this solar hover car," pitched in Blacky.
"I am more than happy to have helped you both. I am happy for your success," said Baddy.
The three then locked the garage and went home.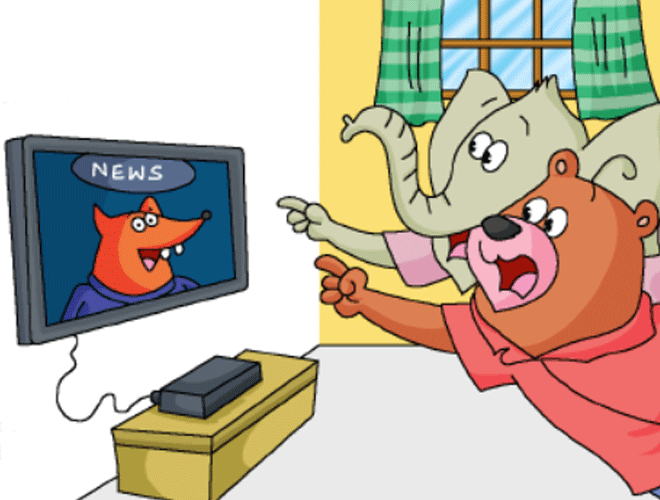 The next morning, NEWS when Blacky and Jumbo switched on the television, they saw Baddy all over the news and that everybody was praising him for his new creation—the solar hover car!
"What's this, Jumbo?" asked Blacky shocked.
"I have no idea. I am quite surprised myself," replied Jumbo.
Both of them hurried to Baddy's house where a lot of reporters had already gathered and were waiting to interview Baddy.
"How does your invention work, Baddy?" asked one reporter.
"My latest invention is a car that can be driven with the help of sunlight. But the best part is that it is not to be driven on the road like other ordinary cars; it actually flies! It is a solar hover car," said a boastful Baddy.
"Fly? Could you demonstrate?" asked the reporter.
"I would have given you a demo but it is very cloudy right now, so it will not work," said Baddy.
"Does that mean we will not be able to use this car at night?" asked the reporter. "You will be able to operate it in the night but it needs to be charged for which you will need sunlight. Right now, it is not fully charged and so I cannot demonstrate how to use it," answered Baddy.
"Did anybody else help you build it?" asked another reporter.
"Yes, Blacky and Jumbo helped me. One of them got me tea and the other got me snacks while I was working on the car," said Baddy with a laugh.
More from Champak: The Case Of The Missing Lotuses
All the reporters started laughing too.
"Liar! We built this solar car!" interrupted Blacky and Jumbo angrily.
"What? Why are you both lying? Now that my experiment is successful, you want credit for it?" asked Baddy.
"No, we are telling the truth. This is our invention and we worked very hard on it," said Blacky angrily.
"If both of you built this car, why didn't you inform us earlier and how come Baddy knows all about it?" questioned one of the reporters.
Blacky and Jumbo tried their best to convince the reporters but nobody was ready to believe them. Baddy then announced that he would demonstrate the car's flying capabilities the next day at 11 a.m., following which everyone dispersed. Blacky and Jumbo went home disappointed.
The following morning, Baddy had parked the car in the garden so that it would be charged by the time everyone arrived. When it was 11, he stepped outside to see people already waiting for him.
"I know that all of you have been eagerly waiting to see this car hover in the air. You shall witness it now," announced Baddy as he sat in the car.
He switched it on but it didn't start. Baddy tried again and this time, the car slowly started floating in the air. There were loud gasps of surprise from the crowd. And then some started to clap.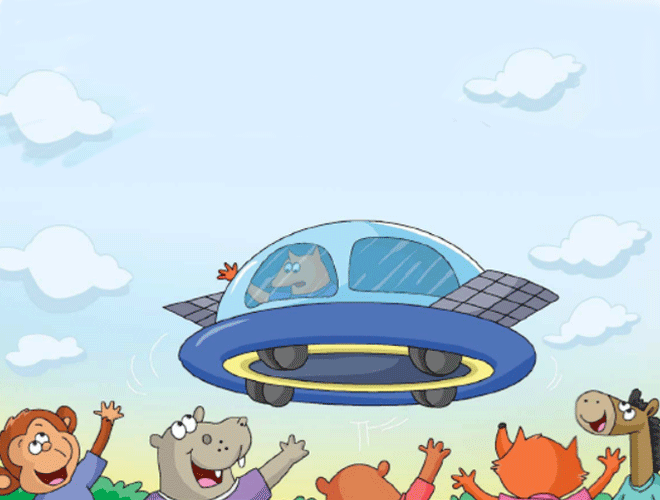 Carried away by the applause, Baddy failed to notice that the car was rising fast. Suddenly, he realised what was happening and tried to slow it down but he couldn't do it. He tried everything but the car just kept rising and rising.
Baddy panicked and started yelling for help. By then, the car had already risen so high that nobody could hear his cry for help. Everyone assumed he was waving his hands because he was excited. As the car flew higher, it became difficult for Baddy to breathe and he eventually fainted.
When Baddy finally woke up, he realised he was lying on his bed at home and noticed the reporters gathered around him.
"How did I get here?" asked Baddy.
"Your car was out of control. We didn't know what to do when we didn't see you for a long time. Your car had risen so high that we couldn't even see you. That's when Blacky and Jumbo arrived and they brought the car down with the help of a remote," explained a reporter.
"Yes, and they brought you down in time, otherwise it would have been fatal for you," said Dr Drake, the deer who was called in to check on Baddy.
"They're waiting for you outside now," he informed.
Baddy immediately rushed outside to apologise to Blacky and Jumbo.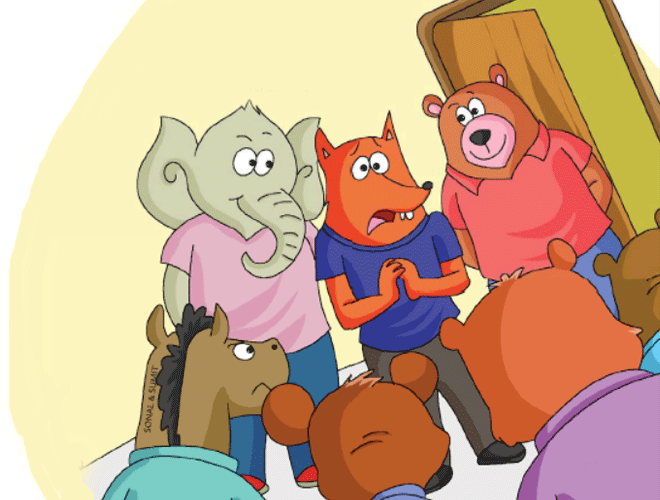 "I am sorry. I lied about the invention. It was yours and I wanted to take all the credit for it," said Baddy regretting his behaviour.
On hearing his confession, everyone who was gathered there became angry with Baddy and started yelling at him.
"Please, stop! We have forgiven Baddy. We request you to forgive him too," said Jumbo to all the reporters present there.
Baddy apologised to everybody and assured them that he will never try to steal the credit for someone else's hard work.