"Oh my, look at all the idlis and dosas over there. Are you ready to have the feast of your life?" Coco, the crow asked his wife, Kiki, as he looked down at the idli stall from a tree.
Just as he was about to swoop down on the stall, his wife stopped him and said, "We've been here a few and I noticed that this city is full of mice and other little animals for us to eat. Do we really e really need to spend our days stealing food from the humans when we could feast on all the food we hunt? Besides, what if the humans caught us stealing?"
"Listen, your words have no effect on me. Whether it's a mouse or free food, I still put in the effort of going and getting it. If you'd rather starve, then be my guest. Just don't make me feel bad when I work hard to fill my stomach," said Coco and swooped down.
A man had just purchased a plate of hot idlis and was having them with sambar. Coco flew past him and in a flash, grabbed an idly with his beak and flew away. The man and all the other people standing nearby were dumbfounded and simply stared at Coco as he perched on a tree and ate the idli.
Kiki shook her head as she watched Coco eat the idli. "It's not nice to eat food that's stolen from another," she said.
"You worry too much," said Coco after finishing his meal. "Let's go to the market.
I hear there's a store called Kallu's Sweets and that their rasagullas are the best."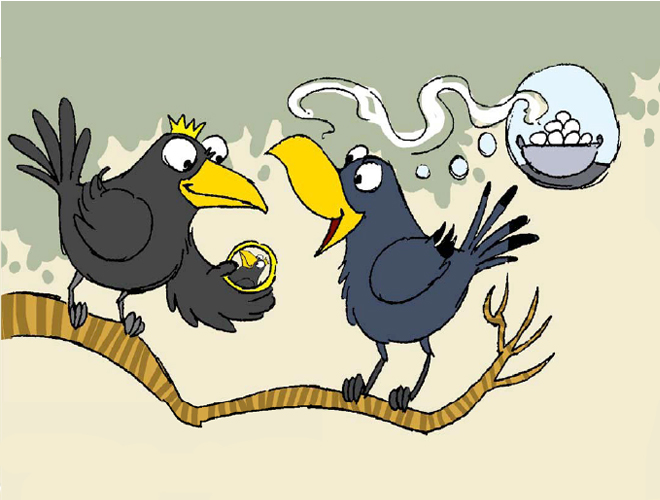 "You'll never change," said Kiki, shaking her head. She reached into her back and fished out a golden crown. Placing it on top of her head, Kiki began admiring herself in a pocket mirror.
"Where did you get that from?" asked Coco curiously.
"I was down by the lake, looking for some food and I found this under a tree," Kiki said.
"Well, I must say, you look fabulous in it. It really brings out your eyes," said Coco.
Together, the two crows flew back home for the night. Early the next day, Coco was ready to raid Kallu's sweet shop. Despite Kiki clearly telling him that she wasn't interested, Coco insisted that she accompany him.
They perched on a lamppost just outside the shop and Coco keenly observed what was going on at Kallu's shop.
"It looks like Kallu has placed all the rasagullas in that drum full of sugar syrup. I'll wait here until the moment is right. When Kallu is busy with something else, I'll swoop down and grab the biggest rasagulla. In a few minutes later, we'll be enjoying the most delicious meal of our lives," said Coco.
Even though Kiki tried to dissuade him, Coco was determined to make his plan work. In just a few minutes, the perfect moment had arrived and Coco swooped down towards the rasagullas.
Coco perched on the edge of the drum full of rasagullas and was about to pick out the biggest piece he could see. Sadly, Kallu noticed Coco trying to steal a rasagulla.
Kallu reached for a ladle nearby and in one swift move, threw it at Coco. Coco was a little too slow to realise what was happening and the ladle hit him squarely in the face.
Both the ladle and Coco landed noisily on the sweet shop's floor. Kallu stepped out from behind the counter and approached Coco.
When Kiki saw Coco fall to the floor, she was shocked. She saw everything that had happened and knew that if she didn't act fast, her husband would be in some serious trouble. She swooped down from the lamppost and into Kallu's shop. Fishing out the crown from her bag, she threw it at Kallu. The golden crown caught his eye and he immediately jumped at it.
More from Champak: Fearless Mongoo Gets a New Home
Kiki swiftly landed near Coco and helped him up and the two of them flew away to the safety of the shop's terrace.
"Thank you for saving my life, Kiki," said Coco. "If only I had paid heed when you warned me of stealing. If I had agreed to hunt for our food like you had suggested, not only would I have not been hit by a ladle, but you would also still have your crown. Please forgive me."
"Don't worry, Coco," said Kiki. "I'm glad that you're not hurt and that this turned out to be a learning experience for you."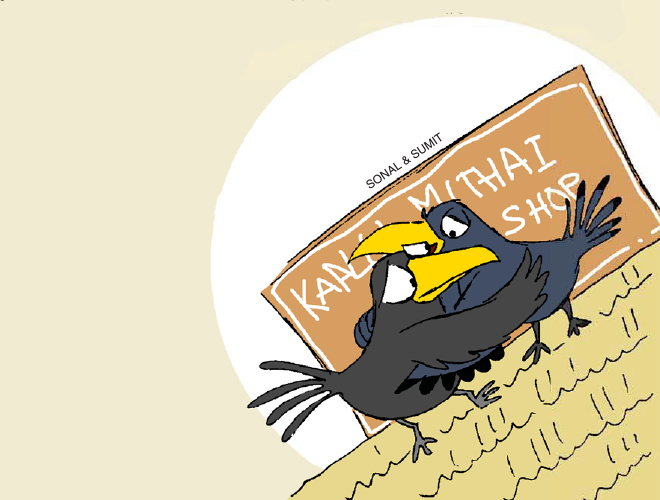 Having learnt his lesson, Coco gave Kiki a hug, and the two flew off to hunt for food.