In the forest of Champakvan, Jumpy, the monkey sold watermelons every summer. His watermelons were bright red, juicy and sweet, but for some reason, things looked bleak this summer.
Not only did he not have as big a yield as last year, his watermelons didn't taste as nice as they did last year.
Jumpy's friend, Cheeku, the rabbit munched on a watermelon and said, "Your watermelons this year aren't quite as nice as the ones you had last year."
"You're right," said Jumpy. "It's giving me sleepless nights. If my watermelons are going to taste like this, nobody is going to come to my shop. I'll barely be able to make any money."
Right next to Jumpy's store, Baddy, the fox had opened his store. He had opened it only a few days after Jumpy had opened his for the season and had placed red, juicy watermelons on display.
The mere sight of these watermelons made all the animals' mouths water and they all lined up in front of Baddy's store for some.
"Your watermelons are so tasty, Baddy," said Meenu, the cow.
"Thank you, Meenu. I had them imported from another forest. That's why they taste so good," said Baddy.
Even Kamli, the camel couldn't help but praise Baddy's watermelons. "Juicy watermelons like these are just what the doctor ordered for this heat. I have never tasted such nice watermelons in my life."
Soon, all the praise led to lots of customers for Baddy. His watermelons were the perfect treat for the hot, sunny days and his business was doing very well. Sadly, this was eating into Jumpy's business and only Jumpy's friends came to his shop.
The next day, Cheeku came to Jumpy's shop. "Why don't you try importing your watermelons like Baddy?" he asked Jumpy.
"That sounds like a very good idea. If I keep trying to sell these watermelons, I'll never be able to make any money at all. I'll go ask Baddy where he gets his watermelons from tomorrow," said Jumpy.
The next morning, Jumpy asked Baddy where he bought his watermelons. "No way am I going to tell you," said Baddy immediately. "If I did, you'll take away all my customers."
Jumpy was disappointed that Baddy didn't want to help, but he was determined to find out where the watermelons came from. So, Jumpy started keeping a close eye on Baddy.
A few days later, Jumpy came running to Cheeku's house. When Jumpy told Cheeku what he had seen, Cheeku was left speechless.
The next day, Cheeku and Jumpy went to Baddy's shop. They ordered two watermelons and started eating them. As they enjoyed the watermelons, Jumbo, the elephant came to meet them.
"It's so hot, Jumbo. Would you mind spraying us with some water from your trunk?" asked Cheeku.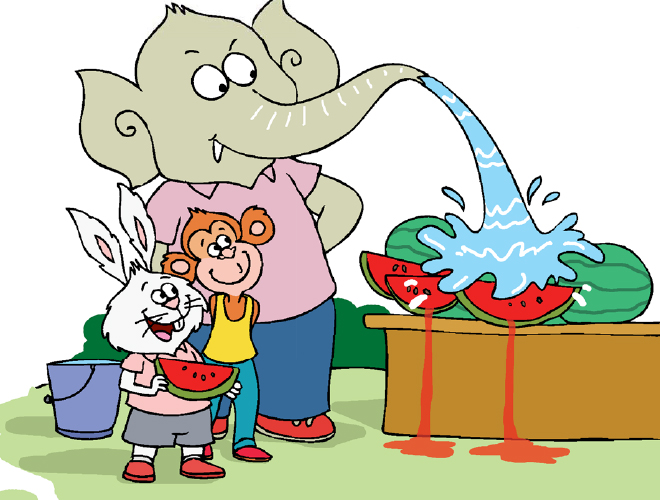 Jumbo put his trunk in a bucket of water and sprayed all the water on Baddy's shop. As soon as the water splashed on the watermelons, they began to lose their colour. Red colour began to flow down to the ground and all the watermelons looked pretty bad.
"What is the meaning of this? Are you trying to sabotage me?" asked Baddy.
"This is us exposing you to the forest as a cheater!" said Cheeku.
Turning to Meenu, Cheeku said, "If you don't mind, Ma'am, could you please sample some of Baddy's watermelons?"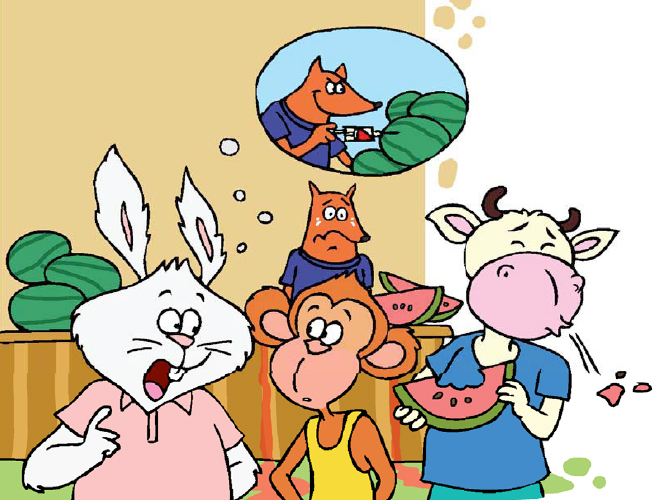 Meenu took one bite and spat it out. "These watermelons taste terrible," she said.
"Exactly," said Cheeku. "He's been injecting the watermelons with red colour and sugar syrup. He's been cheating you all."
"That's a lie! I'm being framed," cried Baddy.
More from Champak: Jojo's Junk Food Problem
"Then how do you explain what I saw? I followed you home last night. After closing your shop, you went straight to Blacky, the bear's shop and bought some sugar and red colouring. Then late at night, when no one else was around, you came back to your shop and one by one injected all the watermelons with sugar syrup and red colouring. I've been observing you for a few days. To teach you a lesson and let the other animals know that you've been cheating them, I came up with this plan with Cheeku and Jumbo," said Jumpy.
Now that everybody was aware of his plan, Baddy decided to make a run for it. But, he wasn't fast enough and the crowd was too thick for him to make his way out. Jumbo picked him up with his trunk brought him back to the shop.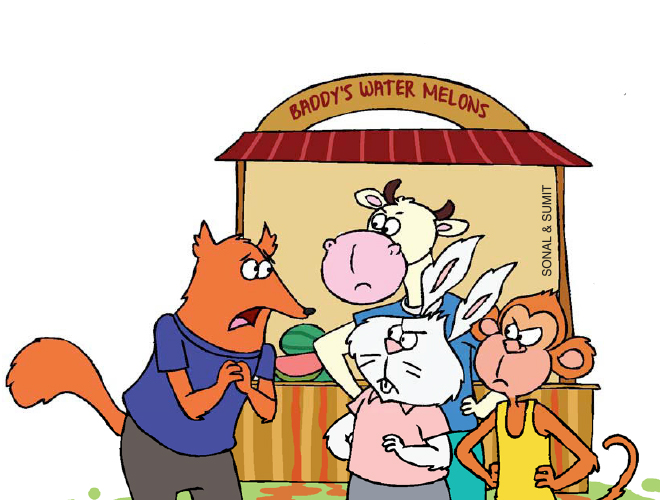 Baddy was trembling in fear. "Please forgive me. I only did it because my crop of watermelons had come out badly this year. I just wanted to make them taste juicy. I promise to never do this again," said Baddy.
It seemed like Baddy had learnt his lesson. Jumpy asked Jumbo to let Baddy go. Baddy apologised to all the animals and ran away from the forest.