All schools across the country had been shut due to the lockdown.
But in July and August, schools were reopening in some cities for students in higher grades. Students started preparing for their new school year. 
While most of them were buying new school bags, books, tiffin boxes and water bottles for the new year, Kinjal was nervous about joining a new school this year. 
Kinjal's father had been officially transferred from Kolhapur to Mumbai in March, before the lockdown. The entire family had moved to Mumbai with him. 
Kinjal was going to grade 6 and school would begin in August this year. 
Her father had enrolled her in one of the reputed schools in the city. When she had first visited the school, she had noticed that the new school was nothing like her previous school. It was huge and had so many classrooms. This thought was making her nervous.
One morning, Kinjal sat in her garden, thinking about her new school. She had many questions that bothered her.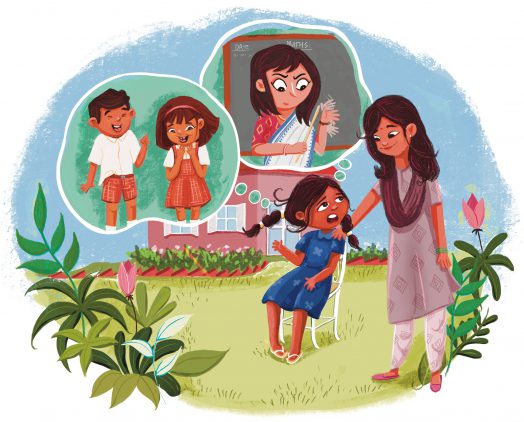 "How will I adjust to the new school? Will I be able to make new friends? How will my new friends be? How will the new teachers be?" She could not any find answers. 
Ma saw her looking worried and asked, "Kinjal, why do you look so worried? What is bothering you?"
"I am thinking about my new school, ma, and I am really scared. Will I be happy in my new school? I have too many questions and no answers," replied Kinjal.
"I can help you get answers to your questions," said ma. 
"How can you help me?" asked Kinjal.
"You'll see tomorrow. Now, let's go inside and have dinner," said ma. 
Next morning Kinjal's mother took her to their next-door neighbour's house. They had a daughter named Neha whom she had met when they just moved in. Neha's mother welcomed Kinjal and her mother. She served them tea and some snacks. 
"Kinjal has been worried about going to her new school so I thought she could meet Neha before school starts," said Kinjal's mother. 
Kinjal was confused when her mother said, "This is Neha and she too is in grade 6 with you. She has been going to this school since she was in class one. She knows the school well so you can speak to her and get some answers to the questions you had." 
Kinjal was relieved to hear this and smiled.
Neha and Kinjal greeted each other and began talking. They became friends in
no time. 
On the first day of school, Kinjal and Neha boarded the school bus together. They chatted on the bus and Neha told Kinjal many more things about the school. 
Once they reached the school, Neha guided Kinjal to their class. She made her sit beside her and introduced her to all her friends before the teacher came. They all welcomed Kinjal.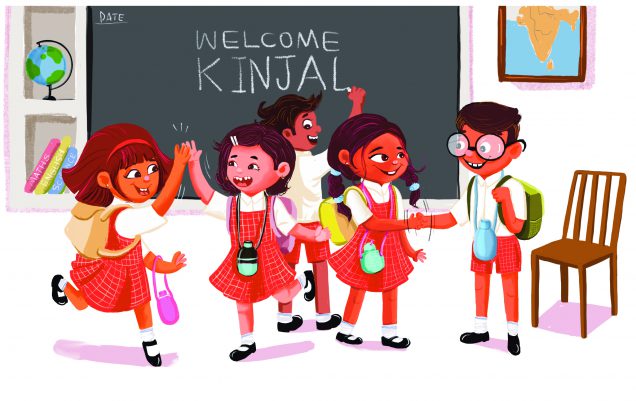 Neha even introduced Kinjal to their teacher who knew that Kinjal was new and made her feel welcomed. 
Kinjal had lunch with her new friends and even shared her tiffin with them. Before the recess got over, Neha took Kinjal around the school and showed her the school library, the playground and other classes. 
Kinjal was happy as she learned so much about the school in very little time. 
After the lunch break, Kinjal focused on her studies. She felt confident and responded to the questions in class. 
When school was over, Kinjal felt good about the day. She was grateful to Neha for being so helpful. 
When they sat on the bus, Kinjal said, "I was afraid of joining a new school and feared my first day, but with your help, I feel much better. You helped me sail through my first day in school. Thank you very much, Neha." 
"You're most welcome. I, too, had fun being around you and making a new friend this year," replied Neha. 
Kinjal shared the experience of her first day with ma who was happy that Kinjal had already made friends and was comfortable in her new school. 
Kinjal and Neha started going to school together every day. Kinjal made many friends in her new school and was happy that she overcame her fear.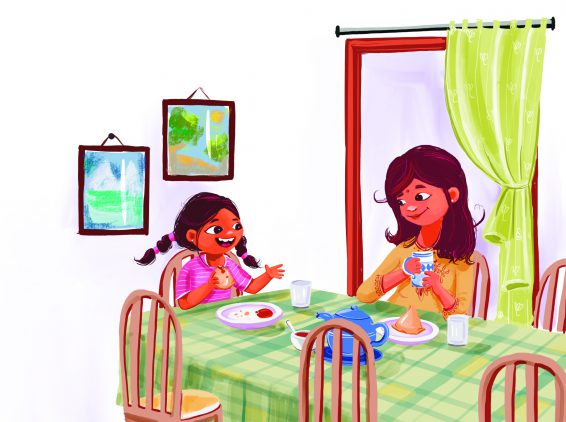 Tags:
anxious
,
bedtime stories
,
bedtime stories for kids
,
bedtime stories stories for children
,
empathize
,
empathy
,
first day of school
,
friends
,
friendship
,
friendship stories
,
friendship story
,
fun stories for kids
,
kids stories
,
new school
,
parents read
,
read aloud stories
,
school jitters
,
school stories
,
what if