Little Chichu mouse was too naughty. She was not scared of anyone. She would proudly jump about without a care in the world. Even in front of Binno cat, she would confidently run around scaring the wits out of Pimpoo squirrel who lived under the ashoka tree. Once Binno almost pounced on little Chichu, and Pimpoo realized that it was only a matter of time before the cat would catch hold of the silly mouse. But every time, Chichu would run into her hole and escape, and Pimpoo would sigh in relief.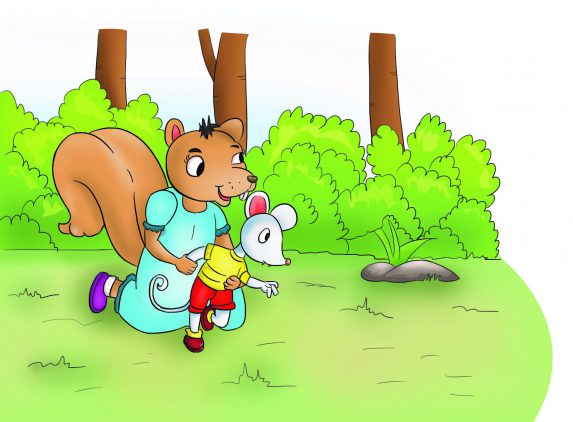 Pimpoo appreciated how Chichu could run to save her life, but her running around aimlessly was not the best way to spend time.
One day, Pimpoo stopped Chichu as she was running and said, "Chichu, why do you waste your time every day running around here and there? Don't you have any work to do?"
"But if there's no work, why should I work? My parents love me and never ask me to do any work," said Chichu proudly.
"All parents love their children. What's special about that? But tell me something—I never see you looking for food. How do you get your food?" asked Pimpoo.
Chichu kept a straight face and said, "I just told you! My parents adore me. When I run back home after playing, my mom has food arranged for me. I eat that and go to sleep without any worry."
"Don't you think, Chichu, that you're grown now, and you should look for your own food?" asked Pimpoo.
"Well, I've already told you that my mom arranges everything for me. Why are you so bothered?" said Chichu and tried to run from there.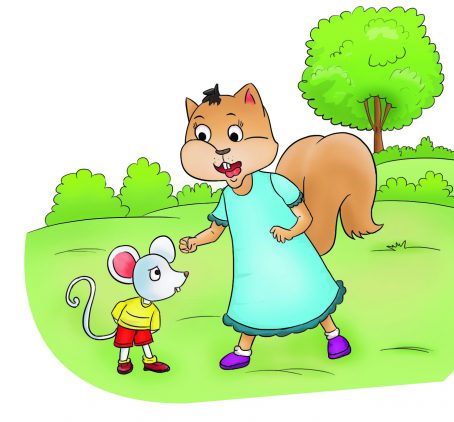 Pimpoo decided not to let her go and caught her before she could get away and said, "Hey, wait! Listen to me! Don't get offended! I really like you. I would like to be your friend and so I spoke."
"Oh, you should just have said that! Even I don't have anyfriends. I mostly play alone and now we shall play together!
"All right! Let's play now!" said Pimpoo excitedly. But Chichu had other plans.
"Not right now! I have to go home for lunch with my mom. I'll come back, and then we can play," said Chichu and ran to her hole.
After lunch, Pimpoo was resting under the ashoka tree, when Chichu came back. Pimpoo was ready to play and they played for quite a long time. When they were tired, they went back to their homes.
Chichu and Pimpoo continued to play every day. While playing, sometimes when Pimpoo would come across food and start eating, Chichu would become irritated. But Pimpoo explained, "My friend, I don't have a mother to arrange food for me.
I must look and arrange for my own food. And what about when you run away home whenever you're hungry? I don't get irritated by that."
"I'm sorry! I won't mind. But I really am hungry now. I'll quickly run home for food and be back in no time." said Chichu.
"Take your time. Get some rest. I too am exhausted and need some sleep." said Pimpoo.
No sooner had Chichu left, Pimpoo fell asleep.
She woke up hearing Chichu calling out to her, "Pimpoo, where are you? Please come out fast!"
"What happened, Chichu? Why do you look so worried?" asked Pimpoo, coming out of her nest.
"A sack of vegetables fell on mom, and she's injured. She can't move and is resting. Dad has gone to look for food. He has to work harder now. He would usually look for his own food and then help mom out. What do I do now? I'm really hungry!" said Chichu, worried.
"I can share food with you but from today, you will search for your own food and then eat. I will, of course, help you." replied Pimpoo.
Chichu did not say anything.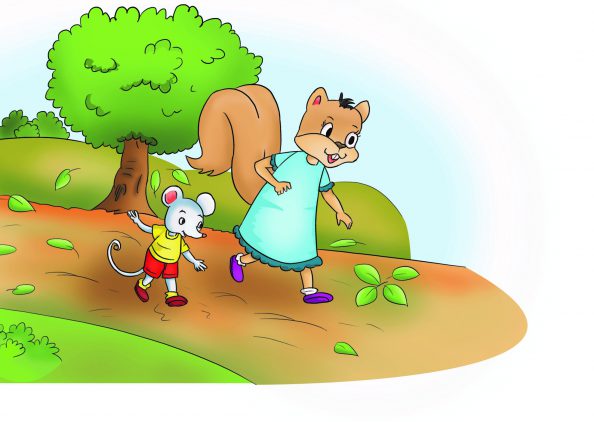 With Pimpoo's help, Chichu looked for food. Chichu enjoyed herself. Once she was full, she said, "Thanks a lot, my friend! I really enjoyed hunting food with your help. Now I'm sleepy; I must go home," she said.
"Chichu, why don't you take something for your mom?" suggested Pimpoo, empty handed?" asked Pimpoo.
Chichu was surprised and replied, "I go home like this every day, so it's usual. What's so special about today that I must take something for mom?"
"Well, on other days, your mom is not injured on bed." said Pimpoo exploding.
"Oh! What do you suggest I do?" Chichu asked.
"Your mom always arranges for food. Today, take some food for her?" said Pimpoo.
"Where will I get food for her? I can't think of anything," said Chichu, sadly.
"I'll help you out," said Pimpoo.
The two friends started collecting food. When they had collected enough, Pimpoo
said, "Here, Chichu, take these to your mom. That should be enough."
Chichu ran home, went straight to her mom and asked, "How are you feeling now, mom?"
"I am fine. But you must be hungry. Your dad will soon be here with food. You have to wait a little longer." answered mom.
"Mom, I got food on my own. And I've brought food for you too. Here, have some nuts," she said and kept the food in front of
her mom.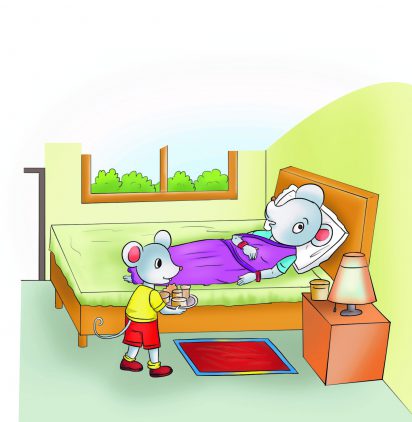 Her mom had tears in her eyes and she said, "My little daughter is all grown up now. But you've never done this before. How did you become so independent?"
"Mom, it's all because of my friend, Pimpoo. She showed me to collect and cook food."
"I'm glad that you have such a smart and thoughtful friend. Such true friends are gems. You must get your friend home one day. I want to meet her," said mom.
Chichu ran to Pimpoo and said, "I've never seen my mom so happy, and it's all because of you. You made me self-confident and self-reliant. Now I'll not simply depend upon mom, but in fact, help her out."
Seeing the change that came about in Chichu, Pimpoo was pleased. They went together searching for food every day