More from Champak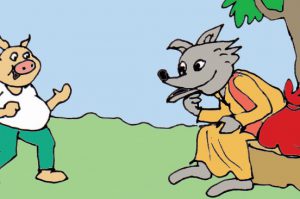 Enjoy Cheeku and Meeku's fun encounter with Foxy fox!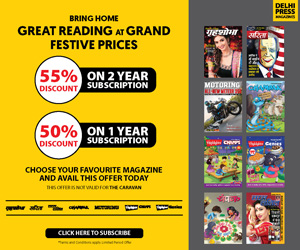 Ravi Shankar was born Robindro Shaunkor Chowdhury on 7 April 1920 in Varanasi to a Bengali Brahmin family. He was the youngest of seven brothers. His father, Shyam Shankar, was a barrister who worked in London. Shankar met his father for the first time when he was 8 years old!
Every day as a child he would wake up to the sounds of songs on the ghats of the Ganges. This instilled in him a deep love for music. He was a quick learner and soon, began to play a number of instruments.
As a boy of 10, he joined his brother Uday's dance troupe in Paris. There he was exposed to a whole new world of music and he started to understand and appreciate Western classical music, jazz and cinema. He met great musicians and dancers, including Anna Pavlova, the famous Russian ballerina, the prima donna of The Swan Lake!
In Paris, he shortened his name, Ravindra, to Ravi, which means, "sun".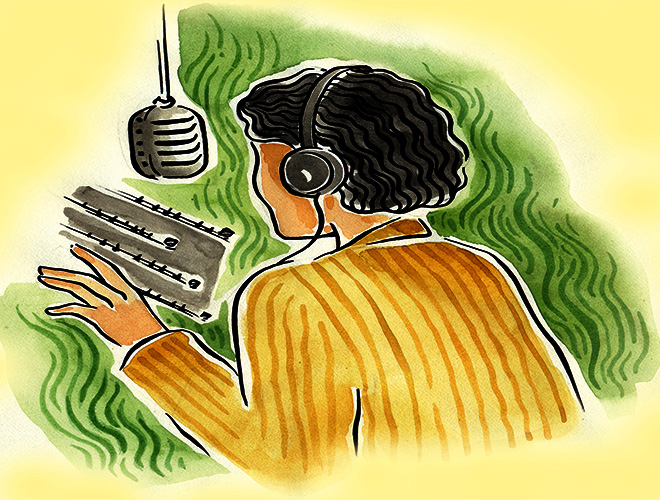 His world changed when his brother Uday persuaded Allaudin Khan, the great sarod player, to tour Europe as a soloist along with them. Shankar was fascinated by the great maestro and began taking lessons from him. Seeing his interest and talent, Baba, as Allaudin Khan was affectionately known, offered to teach Shankar.
Shankar went to live with Baba's family in Maihar, Madhya Pradesh. Under his guidance, Shankar's talent bloomed. He learnt to play not only the sitar but also the surbahar. He learned ragas and the musical styles like dhrupad, dhamar and khyal. He was taught the techniques of the instruments like rudra veena, rubab, and sursingar.
And finally, six years later he had his first public performance on the sitar in December 1939—a jugalbandi (duet) with Ustad Ali Akbar Khan.
After that, Shankar was unstoppable. He went on to win many national and international awards and also composed several new ragas, including Tilak Shyam, Nat Bhairav and Bairagi, which are still very popular. He also incorporated ragas from the South Indian Carnatic music.
Later, he moved to Mumbai and joined the Indian People's Theatre Association, for whom he composed music for ballets. He recomposed the music for the popular song "Sare Jahan Se Achcha at the age of 25! He began to record music for HMV India and worked as a music director for All India Radio (AIR).
As luck would have it, one day, the director of AIR introduced the Western violinist Yehudi Menuhin to him. Menuhin invited Shankar to perform in New York City (United States of America).
Seeing the great interest in Indian music, Shankar toured the United Kingdom, Germany, and the United States of America, educating the western audiences on classical Indian music. No wonder he was invited to perform during the 10th anniversary of the United Nations and the UNESCO* music festival in Paris—a great honour!
Even George Harrison, of the Beatles band, the heart-throb of millions, the world over, became attracted to Shankar's music and became his disciple.
More From Champak: Straw Flute
Harrison's wife once said, "His meeting with Ravi was not just between two individuals, but of two cultures."
In 1968 the Beatles won the Grammy Award for Album of the Year for Sgt. Pepper's Lonely Hearts Club Ban. It included "Within You Without You" by Harrison, a song influenced by Indian classical music.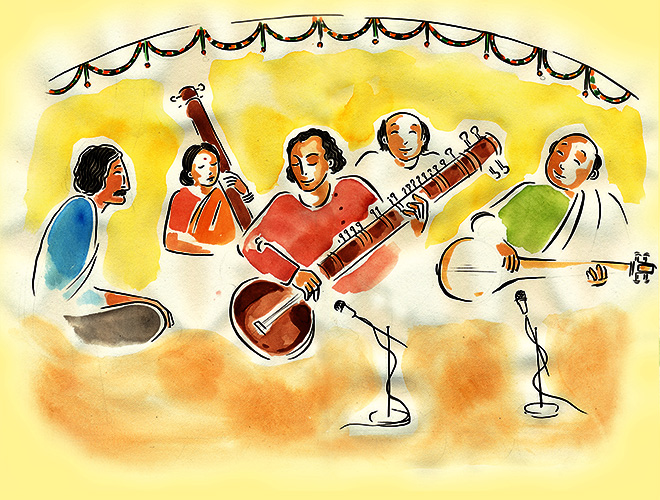 Shankar opened a Western branch of his Kinnara School of Music in Los Angeles, California and also taught music in many universities in the United States of America. Shankar also performed at the Woodstock Music Festival, but the hippie culture did not appeal to him.
"Get high on music," Pandit Ravi Shankar always urged the audiences. Even at the age of 90, one would often see him strumming the chords of the sitar in riyaaz.