There was chaos and confusion in Champakvan.
"Don't crowd around him. Leave him alone. Look, he's frightened," said
Jumpy monkey, asking everyone to move to the side.
"He is a stranger. He is not from our jungle. We should send him away," said Vivi wolf.
"Vivi is right. He could be a spy from another jungle," agreed Baddy fox.
"We shouldn't give shelter to refugees. Outsiders shouldn't be allowed in our jungle," added Jugoo jackal.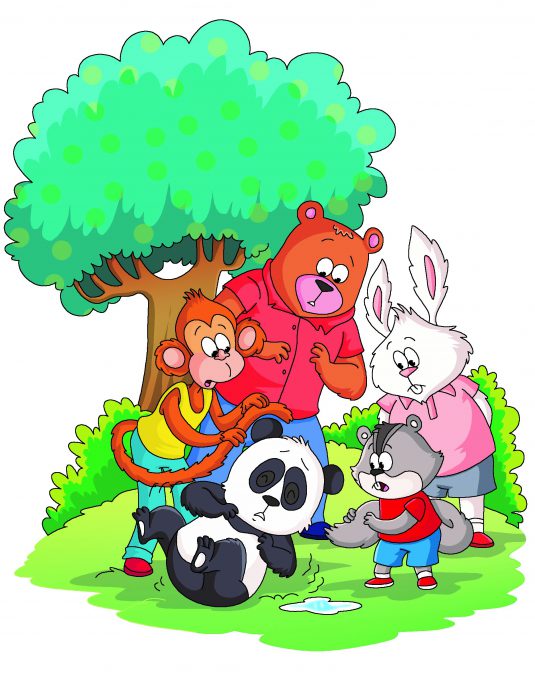 "Friends, let him rest and let his wounds heal. Then, we can find out who he
is and why he has come here," said Cheeku rabbit.
All the animals stepped back. After a while, Blacky bear came in running and said, "This is a panda. He fell from a tree into the river and ended up here. I don't think he's a threat to Champakvan. We should be kind and helpful towards him."
"Who told you this?" asked Baddy.
Hopping forward, Harry squirrel replied, "I saw him fall into the river. He struggled to get out. Before I could tell Blacky, he came here. I think we should feed him. He looks tired and hungry."
"We cannot just share our food with him," retorted Baddy.
"Why not? We don't have a shortage of food and we should try and do everything to save a fellow being," said Blacky.
"Harry and Blacky are right. Panda is helpless. We should save him first," added Cheeku. Baddy, Vivi and Jugoo walked away. Harry, Cheeku, Jumpy and Blacky began cleaning panda's wounds and dried his wet fur.
"He is shivering. I think because he was in the water for so long, he is also finding it difficult to breathe," said Jumpy.
"You are right. Let's take him to my den. We can keep him safe there. I do not trust Vivi, Baddy and Jugoo. They might try to harm him," said Blacky.
Charmy eagle, sitting on the tree, said, "I too will help. I will sit near the entrance of the den and let you know if anyone is coming."
Many animals visited the den to see panda and one day, after he had recovered, they asked him his name.
He said his name was Poh and he was from China.
Next day, Baddy said to Blacky, "Now that panda has recovered, ask him to leave Champakvan. Otherwise, it will not be good."
"Is this your jungle? And his name is Poh. Don't call him panda. If Poh wishes to leave, then he will go. Till then, we're his friends and we will take care of him," said Jumpy.
"Till when will you keep him coddled inside the den? He doesn't belong here. The day I get my claws on him, he won't be spared," threatened Baddy.
Poh had grown stronger, he played in the den and started climbing the tall trees around the den. Blacky showed him where he could get bamboo, Poh's favourite food.
One day, Baddy saw Poh step out of the den and walk towards the hill. He called Jugoo and they followed him silently. "Today, we will finish Poh. The moment he climbs down the tree, I will grab him. His caretakers are busy bathing in the river," hissed Baddy.
Suddenly, they heard Poh scream, "Move aside, move aside, a huge rock is falling from the hill."
Baddy and Jugoo ran out of their hiding places, just missing the huge rock by a second. Otherwise, they would have been crushed under it. Charmy came flying towards Baddy and Jugoo and said, "You should be ashamed. Poh, who you were planning to kill, saved your lives. If he hadn't warned, you both would have been crushed to death."
Baddy and Jugoo wondered how Poh knew they were on the hill behind him. As if reading their minds, Poh said, "I could see you both following me, but didn't want to say anything."
"We did leave Poh alone on purpose. After all, till when could we protect him. In the end, he has to learn the laws and dangers of the jungle," Blacky said.
"The Earth belongs to all of us. Thinking that this is 'my jungle' or 'your jungle' is incorrect. This is 'our jungle'," added Charmy.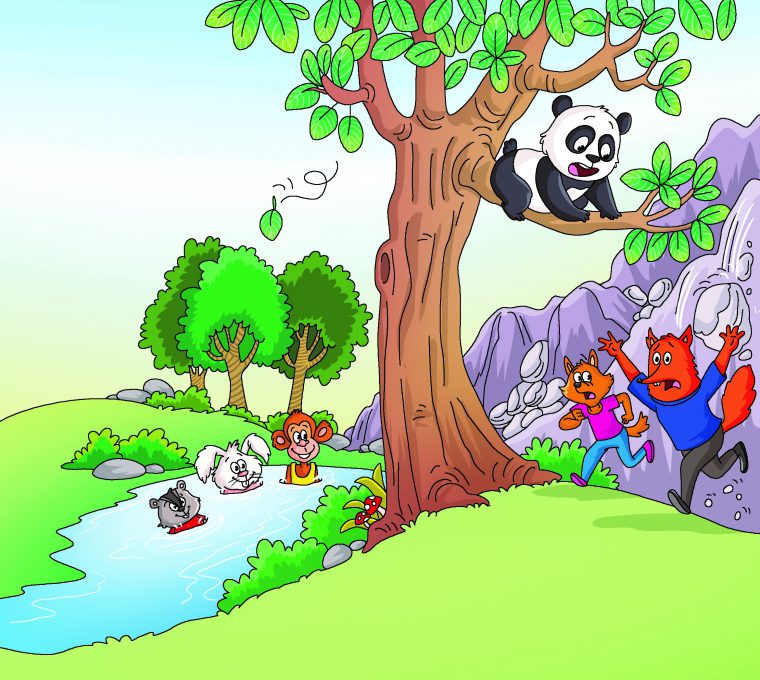 Baddy and Jugoo walked away after thanking Poh who climbed up the tree to complete his meal!