Neel was very excited. He had been selected to take part in the Republic Day parade at his school's function.
Neel gave this news to his father and told him that from next week, he will have to stay back after school for parade practice.
Neel's father was very happy for him. Although Neel was happy about being able to participate, he wanted to know why Republic day was celebrated on 26th January and not any other date.
"Father, we got freedom on 15th August, 1947. That's why we celebrate Independence Day on that day every year, but then why do we celebrate Republic Day on 26th January?" he asked.
Father replied, "Oh! That's a good question dear son, but let me ask you
one question before answering. Have you heard about the Constitution of
India?"
Neel said, "Yes father, we have a lesson about the Constitution of India in our Civics book."
"My dear boy, our Constitution came into force on 26th January 1950. To mark that day, we celebrate Republic Day on 26th January," replied Father.
"Dad, why the date 26th January only and no other date?" asked Neel.
"26th January was selected for this purpose because it was this day in 1930 when the declaration of Indian independence or Purna Swaraj was adopted by the Indian National Congress all across the country," explained Father.
Father asked, "Do you know about Dr B. R. Ambedkar? He is the father of the Constitution along with 15 members."
Neel added he knew that Dr Ambedkar was the father of the Indian Constitution and also India's first law minister.
Neel was still curious to know about how Republic Day was actually celebrated.
"The main Republic Day celebration is held in the national capital, New Delhi, at the Rajpath before the President of India. The ceremonious parades are performed as a tribute to India; its unity in diversity and rich cultural heritage. The parade in its present form has been going on since 1955 and the head of state or government of another country is invited as the guest of honour," said Neel's father.
"Oh, that's great," said Neel.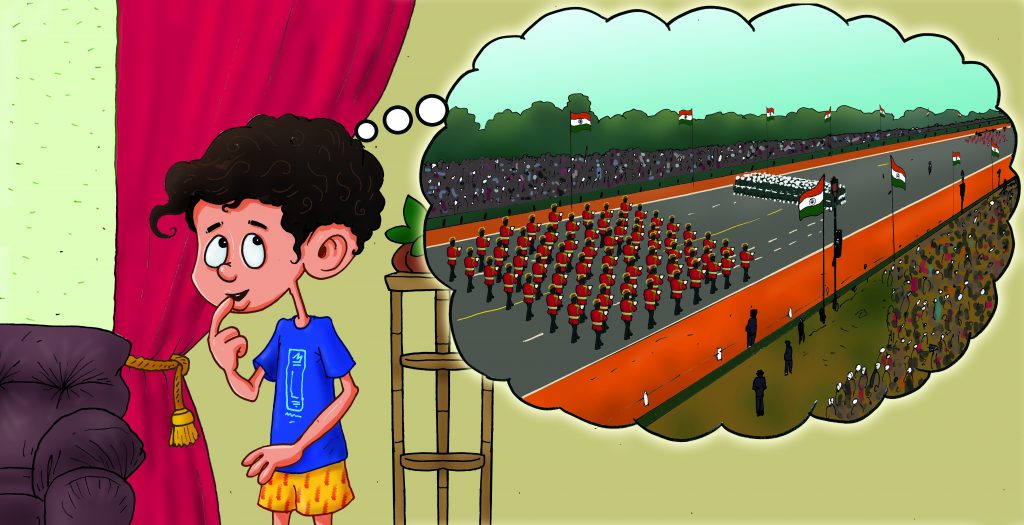 Looking at Neel's interest and curiosity, his father then asked, "Have you heard about the Beating Retreat ceremony?"
Neel was surprised. This was the first time he had heard about this. "No," he said. "What is it?"
"Beating Retreat is a traditional ceremony that marks the end of the Republic Day celebrations. It is held on the evening of 29th January. It is performed by the bands of the three wings of the military – the Indian Army, Indian Navy and Indian Air Force," said Neel's father.
Neel hugged his dad and said that he will share this information with his classmates as well.