Ranu was very happy that day. He had just won the 100-metre race in school. Ranu had been the school running champion for the past two years. He was a rich child who boasted about his wealth. His friends followed his lead and troubled other children in school.
Rohan studied in the same class as Ranu. He was an intelligent student. All the teachers in the school loved him. He was helpful, contributed to the cleanliness of the school, conserved plants and inspired others to do so. He gave his best in every competition—be it in drawing or debate.
Ranu was jealous of Rohan. He wanted everyone to love and follow him around. And to achieve that, he looked for ways to trouble Rohan.
One day while Ranu was sharpening his pencil in class, he deliberately threw the pencil shavings on the floor. Rohan saw him doing that and scolded him, "What is this, Ranu? You should not throw trash like this in the class."
Before Ranu could respond, Dipesh mockingly said, "If it is bothering you so much, why don't you pick the shavings up yourself?"
"Yes, you should pick them up. As it is you are an expert in cleanliness," Deepak too mocked.
This was not the first time when Ranu and his friends, Deepak and Dipesh, had picked on Rohan.
Rohan quietly picked the pencil shavings from the floor and threw them in the dustbin.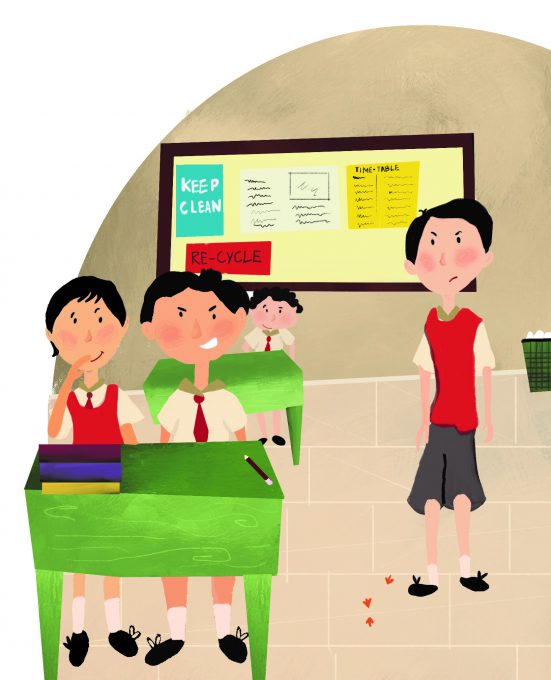 "Ranu, you will have to pay a price for your wrongdoings one day. Just wait and watch," Rohan told Ranu. As soon as Rohan said that Dipesh pushed him to the ground.
"What is happening here? Everybody go back to your seats." They heard the teacher come in and everyone went back quickly.
Rohan could have complained to the teacher but he kept quiet.
The other kids in the class too kept quiet in fear of the teacher and Ranu and his friends.
"Children, I have some good news for you. Ranu has been chosen from our school for this year's inter-state running competition. Ranu, will you please stand up?" asked the teacher.
Ranu stood up and everybody clapped for him. Ranu was overjoyed.
"Ranu, you have to start practising with dedication. I am confident that you will give this competition your best." Ranu stood arrogantly when the teacher announced.
"Children, I am going to the principal's office for some time. Meanwhile, please finish your revision. Ranu, please come with me," said the teacher.
Ranu followed his teacher while his friends started teasing Rohan. They crossed all limits when they emptied the dustbin in the classroom.
"Come on, Rohan; get down to your favourite job for which you get the prize every year." Rohan won the first prize for cleanliness every year. He was teased for that by Ranu and his friends.
Rohan understood that only time would teach them a lesson. He could have complained but he did not want to. Rohan picked up the garbage and threw it back in the dustbin and then sat on his seat and started studying.
The inter-state competition was just around the corner. Teachers and students were busy preparing for the competition. Rohan did not participate in sports because he had a foot problem. He either stayed back in his class and studied or took rounds of the school to check for cleanliness. He was on rounds that day too, when suddenly someone threw a banana peel in front of him. He saw Dipesh laughing at him.
"Pick this up too, you cleaning staff," Dipesh mocked. This made Rohan angry and he said, "Pick it up, Dipesh; otherwise I am going to complain to the principal about you." This turned into a heated argument between the two of them when, suddenly, Ranu came running towards them and pushed Rohan aside. But unfortunately, he stepped on the banana peel and fell down.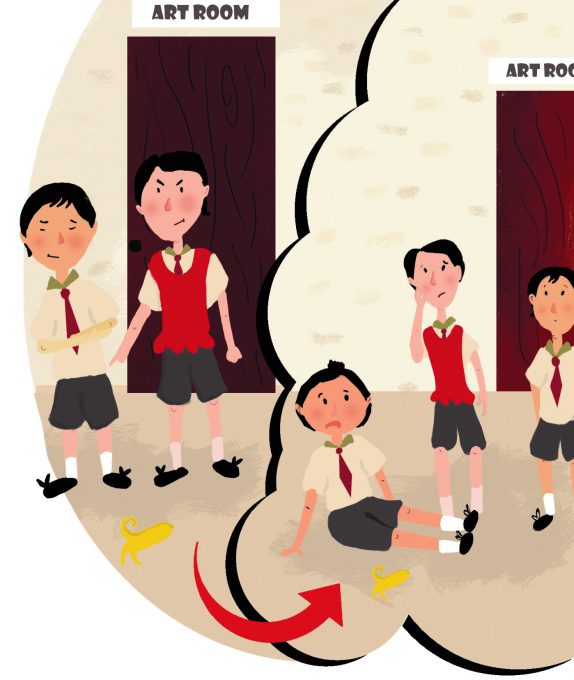 "O dear!" cried Ranu in pain.
Seeing Ranu fall, Rohan helped him to get up and asked, "Are you hurt, Ranu?"
Rohan saw Dipesh quietly getting away from the scene.
"Oh, I think I have sprained my leg. I cannot stand up," Ranu cried in pain.
Soon, some of the teachers came there and asked, "What happened? How did you fall, Ranu? Who threw the peel here?"
Before Rohan could say anything Ranu said, "Ma'am, Dipesh threw the peel."
Not only was Dipesh scolded, he was fined for throwing garbage outside the dustbin.
Ranu's foot had swelled and the doctor instructed three weeks of rest as he had torn his foot ligament. Ranu was upset as he had to withdraw from the inter-state competition but had no choice.
He felt guilty about his behaviour. He never realised he would have to pay such a heavy price for it and started maintaining distance from his good-for-nothing friends.
After his foot healed, he went back to school as a transformed person. During lunch break, when all the children were playing and eating, a boy threw a napkin towards the dustbin that fell outside it. Before Rohan could get up, Ranu picked up the napkin and threw it in the dustbin.
"Thank you, Ranu" said Rohan.
Ranu could not control his tears and started crying.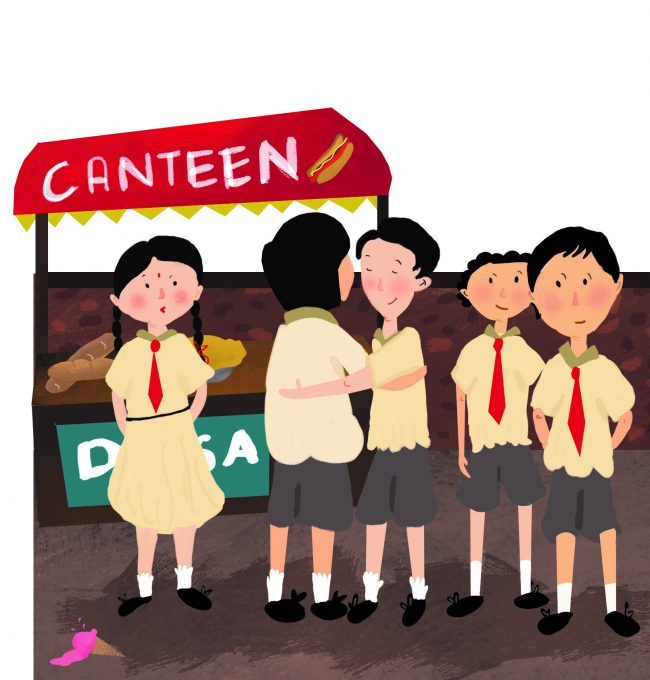 "It is alright Ranu, there is always a next time. You will definitely win the trophy next year," Ranu heard Rohan's encouraging words and hugged him.
He was a changed person now.
Tags:
bedtime stories
,
bedtime stories for kids
,
bedtime stories stories for children
,
children moral stories
,
children stories with morals
,
empathize
,
empathy
,
friends
,
friendship
,
friendship stories
,
friendship story
,
fun stories for kids
,
inspirational
,
kids stories
,
moral stories
,
moral stories for children
,
new school
,
parents read
,
read aloud stories
,
school jitters
,
school stories