Rina's dad worked at a bank and was transferred to a small city. As her annual examinations were over, Rina too went to the new city with them and her parents took her admission in a school there.
The infrastructure of the new school was not as modern as her old school's, though the teachers and education was up to the mark. 
On her first day, after returning from school, Rina threw her bag on the sofa and said angrily, "I'm not going to this school from tomorrow!"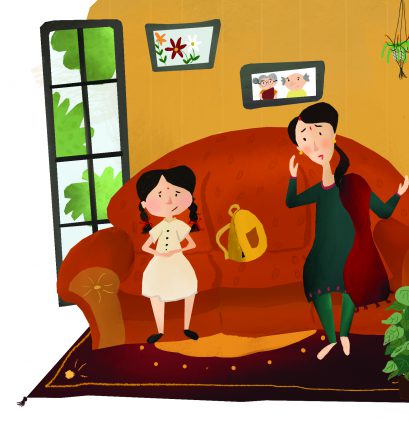 "But why? Today was just the first day!" asked mom. 
"I don't like the school nor do I like the students!" she said angrily. 
"Rina, you shouldn't judge people so quickly, before you get to know them. You may make friends here too," explained mom.
"Huh!" said Rina, and stomped to her room.
Rina was a smart kid, but she could not bring herself to like the new school. She thought that the students here were less than her in the way they spoke, the clothes they wore­­—in every way. 
She wouldn't mingle with them. She was too proud of her knowledge and intelligence and became a nuisance in class, always looking for weaknesses in others and making fun of them. 
The other students avoided her because of her behaviour. Even though the class teacher advised her to make friends, she turned a deaf ear to him.
At home, mom explained, "You shouldn't look down upon others. Everyone is different and special in their own way." But nothing could convince Rina to change her behaviour.
A few months later, the school arranged a visit to a historical site, a few hours away from the city. Rina too, put her name upon the insistence of her parents.
The bus left at eight o'clock in the morning with two teachers and students. All the students were excited about the trip and were laughing and talking amongst themselves, except Rina.
After they reached the spot, they all had their breakfast and trekked to see the fort.
As per the teacher's instructions, they all walked in small groups. Only Rina walked alone.
The rains had started and the hilly region had become moist. Rina was admiring the greenery around when her foot hit a boulder and she tripped and fell.
The students closest to her rushed to help. Her face and head were bleeding. The teachers too came to help her. Some of the students ran and got the first-aid box from the bus. One of the teachers applied to medicine, put a bandage on her wound and asked her to rest in the bus. 
Rina was sad because her trip was ruined, and because she was hurt, her eyes
started watering.
After the students came back, they all had their lunch and the bus started its return journey. 
Seeing Rina quiet and upset, the other students told her stories about the fort, and asked if she wanted water. One of them told her many jokes to make her laugh. They all looked after her and Rina now regretted her behaviour. She had wasted a lot of time without making friends because of her pride.
After the bus reached school, everyone headed for home. When Rina reached home, she told her mom everything. 
Two days later when Rina went back to school, she could not see eye-to-eye with anyone. She quietly sat at her desk. During lunch break, she took her tiffin-box and went to a small group of friends who were surprised to see her approach them. 
"I'm so sorry for how I've behaved with all of you. Please forgive me. Can I sit with you for lunch?" she asked.
They were stunned for a moment, but then welcomed her warmly and joined as if nothing happened before. Rina was overjoyed because she had made many friends today.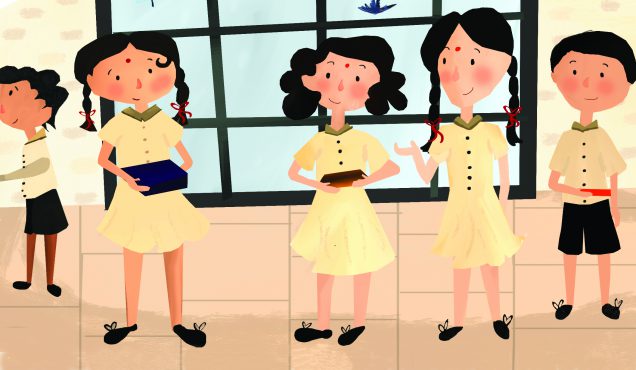 She returned home and told her Mom about her new friends. Ma too was happy seeing the change in her daughter's behaviour.
Tags:
bedtime stories
,
bedtime stories for kids
,
bedtime stories stories for children
,
children moral stories
,
children stories with morals
,
empathize
,
empathy
,
friends
,
friendship
,
friendship stories
,
friendship story
,
fun stories for kids
,
inspirational
,
kids stories
,
moral stories
,
moral stories for children
,
new school
,
parents read
,
read aloud stories
,
school jitters
,
school stories
,
short stories with moral
,
stories with morals
,
value and morals