Skip, the rabbit was very happy as New Year was about to arrive. Every year, he used to do something naughty on New Year's Day to get his younger brother, Jack, in trouble.
Skip enjoyed watching Jack get scolded. This was how Skip's new year used to start. And it had been that way for the last two-three years.
This time too Skip was eagerly waiting for the New Year.
Their mother strictly instructed Jack to clean his room before New Year.
Skip made up his mind of going to Jack's room quietly and messing it. That way Jack was sure to get into trouble with Ma and Skip would watch Jack get scolded.
Sitting in the veranda and lost in his thoughts, Skip suddenly heard Jack talking to someone over the phone.
"No. I will not be cleaning my room this time at all. Every year I clean my room, but bhaiya comes and messes it up. Later, mom shouts at me, thinking that I did not clean my room," said Jack.
He nodded his head a few times and then continued, "This time I have found a way of teaching my brother a lesson. Like always, he will come to mess my room. Instead of cleaning my room this time, I will tell mom about it. This way bhaiya will get scolded when mom actually comes to see my room and finds it dirty. It will be my turn to enjoy the sight of him getting scolded."
After secretly listening to Jack's plan, all the excitement faded from Skip's face.
He thought, "Oh! What will happen now? If Jack will not clean his room then there will be no fun in messing it up as mother won't scold him. On top of that, he too has made his plan to get me scolded by mom," thought Skip. He decided that he had to do something about this plan.
Skip thought long and hard and finally got an idea and felt good again. He started waiting eagerly for the New Year.
On New Year's Day, Skip got up early in the morning.
When he saw Jack walking out of his room, he quickly got into Jack's room and started cleaning the room.
Skip picked up things from here and there, organised them properly and finally he cleaned the room completely.
He looked at the neat and tidy room and felt extremely happy.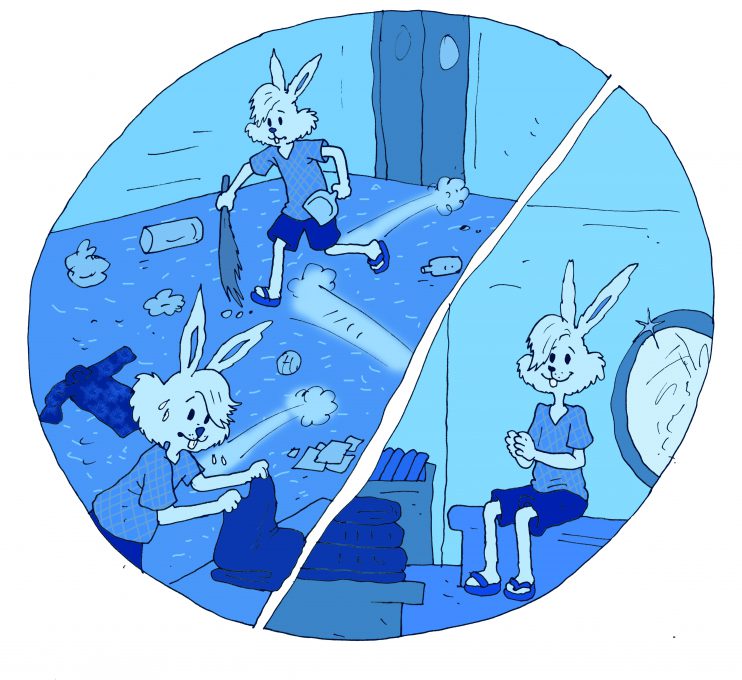 "Now, I'll have some real fun. Jack will tell mother that I have spread the things in his room and made it dirty. But when mom sees that the room is clean and well organised, she will get angry about Jack lying to her. And then she will scold him," thought Skip and smiled.
He went out of Jack's room and started waiting for Jack and his mother to come.
After a while, he saw both of them coming towards the room. He put on a sad expression and sat in a corner.
When Jack and mother went into Jack's room, Skip too went behind them.
Mother looked at the cleanroom and she smiled at her sons.
Skip, who was waiting for his mother to scold Jack, was surprised to see her smiling.
"Why is mother smiling? She should have scolded Jack for telling a lie about the room," thought Skip.
"Skip, this time Jack has taught you a lesson," said mother, laughingly.
Skip surprisingly asked, "What lesson are you talking about, mom?"
She explained, "Skip, every time you make Jack's room dirty and this innocent child used to get scolded for it. But this time Jack made a plan to teach you a lesson."
Jack said, "This time I pretended to speak over the phone, saying that I will not clean the room and I will complain to mom about you. I already knew that if I say something like this, then you will clean my room in order to get me scolded for telling lies."
"And see, it happened like that only. Jack had already told me about all this," said Mom.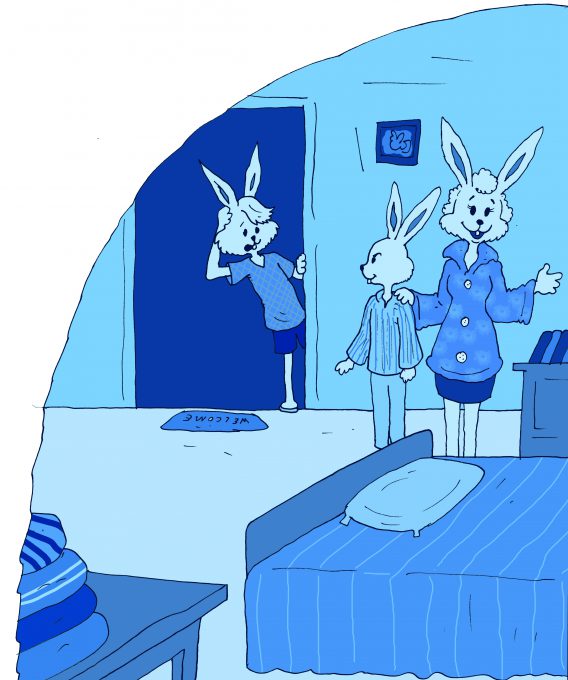 "Happy New Year bhaiya," teased Jack said. Skip wished them too and also realised his lesson.
Tags:
animal stories
,
animal stories online
,
animated stories
,
bedtime stories
,
bedtime stories for kids
,
boasting
,
champak stories online
,
Champakvan
,
Champakvan story
,
children moral stories
,
children online stories
,
children short stories
,
children stories
,
children's short stories
,
english short stories
,
english stories for kids
,
fun stories
,
funny stories
,
kids short stories
,
online stories
,
read aloud stories
,
school stories
,
stories to read