More from Champak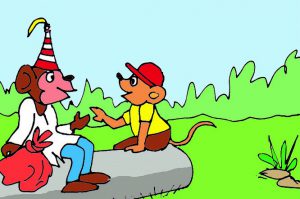 Is Jumpy monkey really a magician? Find out with Cheeku and Meeku!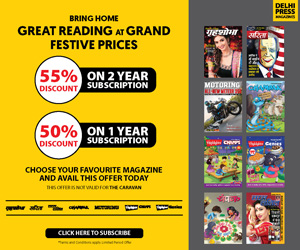 The entire stadium was packed with animals. The final round of the prestigious Maharaja Sher Singh Memorial Football Match was about to begin. It was being played between Jumbuvan and Nandanvan. Jumbuvan's captain Blacky Bear was very worried. "How will we play without Golu Deer?" he told Uchalu Monkey who was the vice captain. "He is our main goal scorer. Why did he have to fall sick today?"
"Why wouldn't he fall sick?" Uchalu Monkey said, sounding annoyed. "I saw him stuffing himself with deep-fried snacks like pakodas and kachoris at Ballu Ox's roadside shop just yesterday evening. I know that Golu is one of our best players but I must say that when it comes to his taste buds, he forgets everything and turns very careless."
"Forget Golu for now!" Blacky Bear growled. He was growing anxious about the match. "Let's focus on who we could get to replace him at such short notice."
"Why don't we ask Timbu Donkey to take Golu's place?" Uchalu Monkey suggested. "His kicks are really powerful. He is quite good at saving goals too. Our defense line-up will surely benefit if we take him on."
"Hmm," Blacky Bear said, sounding slightly unsure. "You are right, Uchalu. Timbu Donkey can kick the ball really well. He can save goals too. But I still don't feel very confident about him. He acts irresponsibly and can be very stupid sometimes. Even a slight mistake on his part can prove dangerous for our team."
"Don't worry, Blacky," Uchalu Monkey said confidently. "Taga Tiger is Nandanvan's main goal scorer. We will give Timbu the task of surrounding him so that he doesn't get to the ball. I think this strategy will work for us. What do you think?"
"Alright then," Blacky Bear said. He then called out to all his team players and explained the game plan. "Uchalu will attack the Nandanvan team. I will take care of the midfield. Timbu's job will be to surround Taga so that he doesn't get an opportunity to get hold of the ball."
All the players nodded as they understood and approved of the line of attack. When Timbu Donkey heard that he would be replacing Golu Deer in the game, he felt overjoyed. "Hooray!" he cheered to himself. "I have finally got a chance to play in this prestigious match!"
As soon as the game began, Jumbuvan's Uchalu Monkey scored a goal through a header and made his team lead. Ding! The score on the leader board changed to '1-O'. The Jumbuvan fans whistled. "Well done, Jumbuvan!" they cheered. The Nandanvan team grew furious. They decided to become more aggressive in their attack. Taga Tiger roared and struggled to score a goal.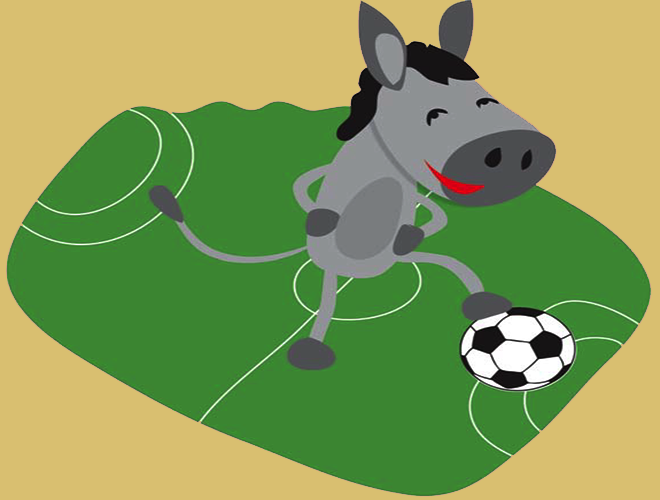 But Timbu Donkey's powerful kicks ruined all his chances as he kicked the ball faraway from Taga Tiger.
When the ball came into the possession of the Nandanvan players the next time, they raced towards Jumbuvan's goalpost. As they grew closer, they made a pass. Taga sprinted towards the ball, hoping to score a goal. Unfortunately, he lost his balance and hit the goalpost.
Taga was so badly hurt that he had to be taken to a hospital in an ambulance. Nandanvan's players felt bad about losing one of their best players. But they tried their level best to score goals. Sadly, they didn't make any and Jumbuvan won the match. Timbu Donkey was declared as the Best Player of the defense line. Everyone praised his powerful kicks. But where was the Best Player? Timbu couldn't be seen anywhere on the field. He didn't even show up when he was called to receive the trophy.
Well, Timbu Donkey had gone to the hospital in the ambulance with Taga Tiger. His sympathetic attitude towards an opponent player impressed everyone.
"We should take a cue from Timbu and meet Taga in the hospital," Captain Blacky told his team. "We should leave all our differences here on the field and be friends with our opponents outside the stadium, just like Timbu."
Timbu Donkey was sitting near Taga Tiger's bed in the hospital room when Blacky Bear and the rest of the Jumbuvan team walked in. He looked very relieved to see them. "Captain, for how much longer do I have to surround Taga?he immediately asked Blacky Bear. Timbu Donkey's question perplexed all the animals. "What?" Blacky Bear said. "Timbu, have you come here only because I had asked you to surround Taga all the time?"
Yes, of course," Timbu Donkey replied innocently. "I was following your orders. You are the captain after all."
The whole room echoed with the sound of laughter. "You silly donkey!" Blacky Bear said, giggling. "When I told you to surround Taga, I actually meant that you should only do so on the playground, so that he doesn't get too close to the ball! But you took me so seriously that you even followed him to the hospital! And you are 'surrounding him here too!" Timbu Donkey felt very silly. He didn't know what to say or do.
Uchalu Monkey, who was known for his sense of humour, decided that it was time for him to crack a joke. "Okay, Timbu," he said. "Now tell me, if Taga had gone to the washroom, would you have accompanied him to surround him there too?"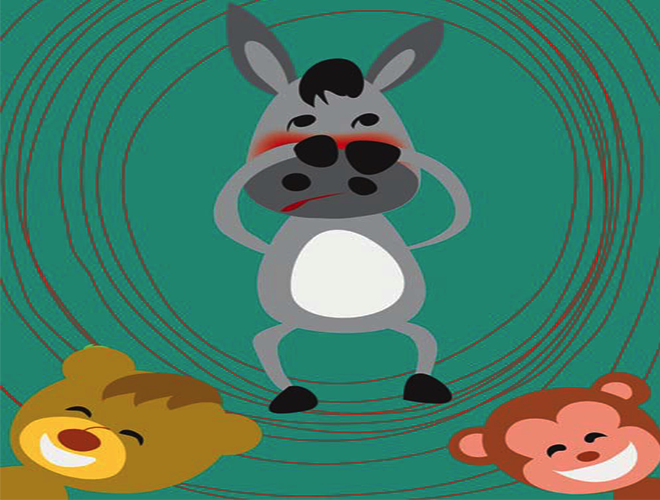 Uchalu Monkey's question caused another of laughter. Timbu Donkey once again didn't know what to do. He simply hid his long face behind his hands and gave himself one of his powerful kicks.
Timbu Donkey was declared as the Best Player and everyone praised his powerful kicks. But where was the Best Player?He didn't even show up when he was called to receive the trophy.